5G Magazine – Open RAN Edition
Get an in-depth view of the current state of global Open RAN deployments - How to successfully deploy Open RAN? Where and who has deployed or trialing Open RAN? Who are the ecosystem partners? What are the benefits? What are the challenges? Who are the top ecosystem vendors for vRAN, Radio Units, RAN chipsets, SIs. Featured articles/interviews from Amdocs, VIAVI Solutions, Small Cell Forum (SCF), and Jio.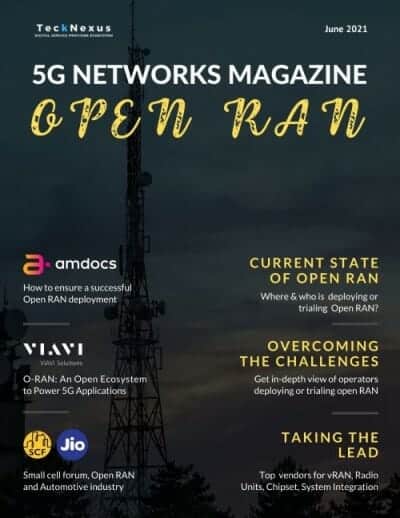 Hello, and welcome to the July issue of the 5G Networks Magazine, a publication that explores the 5G networks industry through the ecosystem players' expectations, challenges, strategies, deployments, architecture, and use cases. In this issue, we focus on Open Radio Access Networks (RAN).
We start with the current state of global RAN deployments and trials, roadmaps, and the ecosystem partners enabling the Open RAN journey.
We follow up with a talk from Sameh Yamany, CTO of VIAVI Solution, about O-RAN. Ian Wong, the Co-chair of O-RAN Testing and Integration Focus Group (TIFG) and VIAVI's Director of RF and Wireless Architecture, CTO Office, updates us on how O-RAN supports its members and contributors in testing and integration of their O-RAN solutions.
Karpura Suryadevara, Director of emerging technologies at Amdocs, walks us through the steps to ensure a successful Open RAN deployment. Ravi Sinha, Director of Product & Technology Development at Jio, talks about Small Cell Forum (SCF)'s Open RAN Interfaces, 5G Use Cases, and deep-dives into the Automotive industry use case.
We then cover the global Open RAN ecosystem players, including the standard organizations, industry bodies, and related software and hardware vendors. 
Read the complete article in the 5G Magazine
All
2022 Predictions
2023 Predictions
5G Edge
5G for Manufacturing
5G for Transportation
5G Monetization
5G Towers
Featured
Foundation
Leaders
Open RAN | 2021
Open RAN | 2022
Perspective
Private Networks | 2021
Private Networks | 2022
Security
Tech and Connectivity
TechFusion
Telco Cloud
All
2022 Predictions
2023 Predictions
5G Edge
5G for Manufacturing
5G for Transportation
5G Monetization
5G Towers
Featured
Foundation
Leaders
Open RAN | 2021
Open RAN | 2022
Perspective
Private Networks | 2021
Private Networks | 2022
Security
Tech and Connectivity
TechFusion
Telco Cloud
All
Aerospace and Defense
Agriculture
Commerce
Datacenter
Education
Energy & Utilities
Financials
HealthCare
Industrial Automation
Innovation Hub
Manufacturing
Media and Broadcast
Mining
Ports
Public sector
Retail
Smart Cities
Sports
Transportation
All
Aerospace and Defense
Agriculture
Commerce
Datacenter
Education
Energy & Utilities
Financials
HealthCare
Industrial Automation
Innovation Hub
Manufacturing
Media and Broadcast
Mining
Ports
Public sector
Retail
Smart Cities
Sports
Transportation