SCF and Automotive Industry Use Case – Ravi Sinha
An in-depth Conversation with Ravi Sinha on SCF and Automotive Industry Use Case - Software-Defined Car-Ecosystem with Small Cell Cloud, CV2X - The Airwave (Spectrum), SCN Service Slice - CV2X (Opportunities), Automotive World - CV2X NW status, SCF Cloud-Native Framework for 5G Network Functions and Services.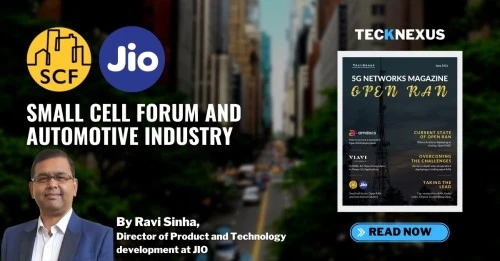 Software-Defined Car-Ecosystem with Small Cell Cloud
Software-Defined Cars are the future of the automotive industry, and a complete ecosystem is a perfect example of how Hyperscalers, MNO, Private and Automotive infra vendors, Smart City County Networks will coordinate and complement each other. This ecosystem will be a perfect multitenant platform to serve Enhanced Autopilot- OTA, Safety, Infotainment Cognitive Analytics, and security needs of SDC.
SCF is interested to contribute to this use case along with the industry partners, where a balanced & distributed 5G NR, Core, Edge infra, and CV2X RSU can share the coordinated common platform with Smart City and Hyperscaler networks.
In this way, the CAPEX has uniformly distributed to all stakeholders and the Automotive platform is fully programable and dynamically configurable as per the requirements. Major modules like EEA, ECU, Mobile applications, Infotainment, Safety, and Security modules are going through a major transformation.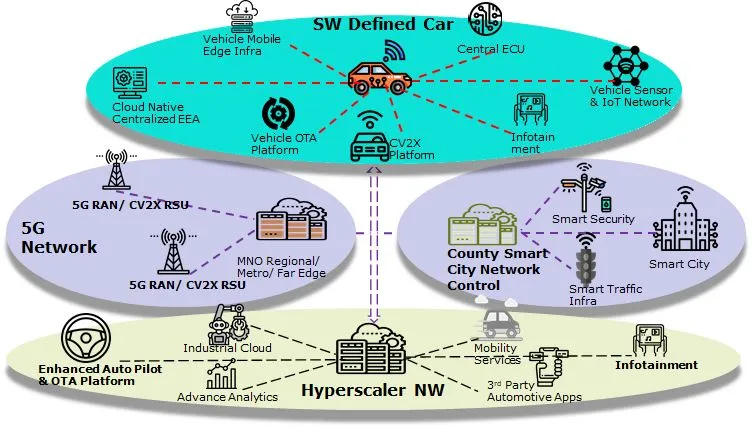 ---
CV2X: The Airwave (Spectrum) Over
Automotive is one of the most prominent use cases for 5G auto-drive connectivity, governments across the globe need to have a global spectrum strategy. In the United States, FCC is in the process to reassign 30 MHz of spectrum @5.9 GHz to CV2X. 30 MHz Spectrum is fully dedicated to CV2X (Intelligent Transportation System-ITS) sidelink units in the car to communicate to the Roadside Units- RSU (Radio units- connected to the county or smart city transport infra network. In 2020 Virginia VDOT started the initial deployment of CV2X infra (5.895 ~5.925 GHz).
In addition to the United States, globally, 15 to 20 countries are working on spectrum strategy for the automotive industry.
"Global CV2X market value will be over US$1 Billion in 2026" Source: Global Market Insights
All Major Carriers have an existing Automotive Service based on LTE and transitioning to 5G NR (CV2X) services. Car Infotainment is another area that needs to be combined with the Roadside Units. SCF is working towards the Blueprint of the Combined unit (Small Cell & Roadside Unit). 5G NR nFAPI and Management can play a big role here.
Major ITS Use Cases include:
Road Works Warning

Speed Limit Warning

Red Light Violation

Intersection Movement Assist

Tele Operations

Automated Vehicles
---
SCN Service Slice: CV2X (Opportunities)
Read the complete article in the 5G Magazine
All
2022 Predictions
2023 Predictions
5G Edge
5G for Manufacturing
5G for Transportation
5G Towers
Featured
Foundation
Guest
Leaders
Open RAN | 2021
Open RAN | 2022
Private Networks | 2021
Private Networks | 2022
Security
Telco Cloud
All
2022 Predictions
2023 Predictions
5G Edge
5G for Manufacturing
5G for Transportation
5G Towers
Featured
Foundation
Guest
Leaders
Open RAN | 2021
Open RAN | 2022
Private Networks | 2021
Private Networks | 2022
Security
Telco Cloud
All
Aerospace and Defense
Agriculture
Commerce
Datacenter
Energy & Utilities
Financials
HealthCare
Industrial Automation
Innovation Hub
Manufacturing
Media and Broadcast
Mining
Ports
Public sector
Retail
Smart Cities
Sports
Transportation
University Campus
All
Aerospace and Defense
Agriculture
Commerce
Datacenter
Energy & Utilities
Financials
HealthCare
Industrial Automation
Innovation Hub
Manufacturing
Media and Broadcast
Mining
Ports
Public sector
Retail
Smart Cities
Sports
Transportation
University Campus