Everything you need to know about 5G Networks
5G is the next generation of cellular mobile communications. It will provide a higher data rate, lower latency (or time delay), and will increase system capacity to meet the ever-increasing demands for mobile broadband services.
With the world becoming more connected, 5G is a necessary upgrade to keep up with all of this technology. Not only will it provide faster speeds for you and your family but also allow things like remote medical appointments or self-driving cars that can't yet communicate wirelessly!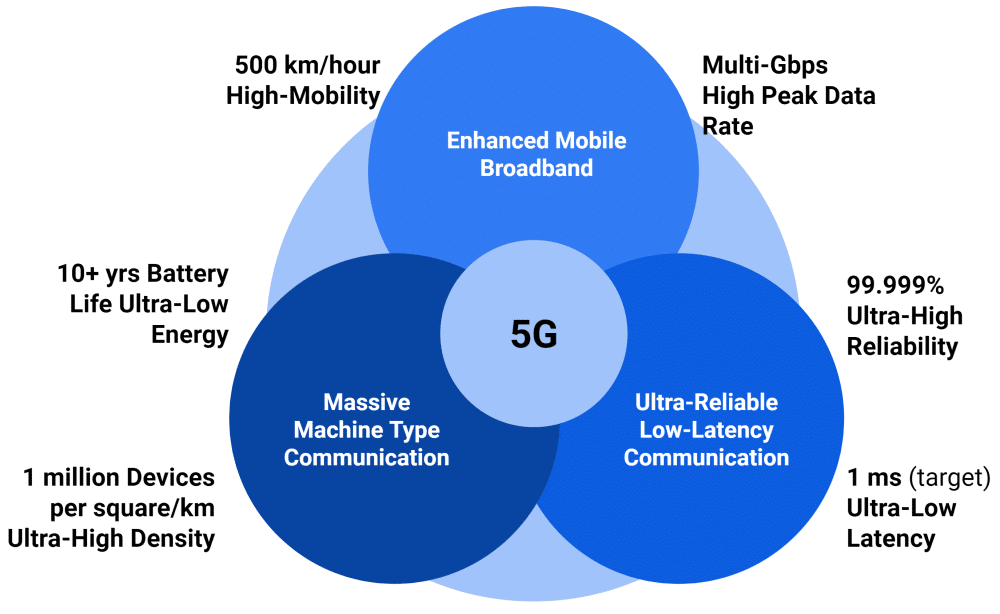 Key 5G Characteristics include:
The peak data rate of 20 Gbps for downlink and 10 Gbps for uplink for Enhanced Mobile Broadband (eMBB) 

Ultra-low latency of less than or equal to 1 millisecond for near real-time response 

99.999% ultra-high reliability

1 million connected devices per square kilometer enabling Massive Machine Type Communication (mMTC)

500 kilometer/hour high mobility rate for users 

Increased Spectrum Efficiency with advanced techniques will enable 3x bits per hertz
Since the 1G mobile network was launched, a new generation of mobile network technology is coming out around every 10 years on average. With 4G/LTE, it gave us a new generation of consumer-focused mobile applications such as Facetime, Uber, and Snapchat. In addition to making these applications popular, it has a profound impact on our daily lives. With 5G, the expectation is even higher as 5G can be up to 100 times faster than 4G.
In the beginning, existing applications that are bandwidth hogs such as Netflix and YouTube will probably benefit the most from the transition to 5G. While many people are waiting for new applications that can consume the bandwidth from 5G, what really sets 5G apart from 4G/LTE is latency. Low latency is the prerequisite for real-time applications and edge devices are going to benefit the most from the low latency of the 5G networks.
Below are the high-level differences between 4G and 5G as per the  International Telecommunications Union, "Key features and requirements of 5G/IMT-2020 networks".
| | | |
| --- | --- | --- |
| Specifications | 4G | 5G |
| Peak data rate for Enhanced Mobile Broadband (eMBB) | 1 Gbps for downlink and 500 Mbps for uplink | 20 Gbps for downlink and 10 Gbps for uplink |
| Ultra Reliability and Low Latency Communication (URLLC) for near real-time response | 10 millisecond  | Less than or equal to 1 millisecond with 99.999% reliability  |
| Number of connected devices per unit area enabling Massive Machine Type Communication (mMTC) | 100 thousand devices per square kilometer | 1 Million devices per square kilometer |
| Communication with high mobility rate for users who are traveling | 350 Kilometer/Hour | 500 Kilometer/Hour |
| Increased Spectrum Efficiency with advanced techniques will enable more bits per Hz | 1x bits per second per hertz  | 3x bits per second per hertz |
| Optimized network energy consumption through efficient processing | 10x | 100x |
Below are the key 5G use cases or services impacting the consumers directly.
5G Fixed Wireless Access (FWA) in the home: FWA service is an alternative to a wired broadband connection. In most geographics, the choice of broadband providers is very limited and in some cases, a single broadband provider has a monopoly and thereby high cost of service. Additionally, currently, the broadband providers have to send an engineer not only for installation but also for issue resolution in some of the cases. If service providers can offer 5G FWA at a competitive price, with DIY (Do-it-Yourself) installation, higher speed, and increased reliability compared to existing broadband providers, 5G FWA providers would become a preferred choice for consumers.
5G Video: Consumers have increased usage of video calling, monitoring, and alerts during the Covid-19 pandemic for

Calling friends and family

Office meetings or attending remote classes with apps like Zoom and Webex

Consulting doctors remotely with Telehealth apps such as Teledoc

Monitoring doorbell via security devices as Google Nest or Amazon Ring

Keeping track of elderly family members and getting alerts in case they fall or need help

4K/8K HD video content 
Augmented/Virtual Reality (AR/VR): 5G-enabled AR/VR can provide immersive experiences to consumers with ultra-low latency. Sample applications include:
AR/VR-assisted immersive and interactive educational training

AR/VR based sports and gaming e.g. with VR headset 

AR/VR based entertainment e.g. virtual music events

AR/VR based shopping with retail apps and more
Below are sample 5G use cases for enterprises enabled via private or hybrid 5G networks. 
Monitoring & Control: Connectivity of machines, people, and systems allow manufacturers to have better visibility and control over the status of their production systems, enabling managers to make better-informed decisions and reduce lead times and resource allocation.
Tracking and control: Connecting all sites to evaluate the relative performance of similar processes, implementing a Manufacturing Execution System (MES) to have full traceability and visibility on the status of each production batch to anticipate problems and update schedule, connecting different parts of the supply chain to evaluate global performance and anticipate bottlenecks, providing location-based services to track products and assets, etc.
Predictive Performance & Condition Based Maintenance: Digital simulations of production processes, labs, factories, or entire networks allow companies to steer processes proactively.
Predictive analytics technologies will enable us to understand better how input parameters such as machine settings, operator training levels, or raw material options will affect quality and productivity.
Predictive performance: Use of advanced stochastic simulation techniques to model the behavior of the factory and predict performance in changing environments, including new products being introduced, change in product mix, increase or decrease in volumes being applied across new factories, etc. There could also be the use of analytics to understand the performance of individual processes depending on the process parameters and then be able to predict the result (good or bad batch) of the production.
Condition Based Maintenance: Analyze the behavior of individual components in machines and predict when they should be replaced to avoid degraded quality or machine shutdown
Digital Assistance: The shop floor has become increasingly digital, powered by new systems that support operators' daily tasks.
Augmented Reality: Tools such as Augmented Reality (AR) shows operators the checklist of steps needed to finish specific processes or confirm that required measures have been completed, along with gathering and reporting data to fuel analytical models or guide technicians during the QC process in the lab through the use of augmented spatial reality.
Virtual Reality: Use of Virtual Reality (VR) in immersive environments to facilitate and speed up training for processes in which it is impossible, difficult, or inconvenient to work with the original equipment for example, if you want to train people before the equipment arrives at the site or if they are in a sterile area and do not want people to change clothes for training, or if we do not want to stop production for training. Combination of VR/AR and connectivity to facilitate remote expert support to people operating and maintaining the equipment, applications, and wearables to inform the shift leaders of any significant issue in their area of responsibility.
Worker safety: Ensuring worker's safety through wearables measuring fatigue, heart rate, breathing, motion, or sensors detecting exposure to smoke or toxic gas and alerting them.
Process Automation: Automating processes in manufacturing, assembly, logistic and transactional activities reduce variability, increase throughput, and reduce operating expenses and inventory. The combination of classical automation with collaborative robots, intelligent vehicles, and robotic process automation delivers excellent results. This can be the use of Automated Guided Vehicles (AGV) or Automated Intelligent Vehicles (AIV) connected to the MES (Manufacturing Execution System) or EBR (Electronic Batch Record) to handle material in the plant, specifically customized automation of manual processes (usually handling).
Based on the global analysis of 100+ enterprise use cases in-deployment mode/trial -mode, the top industry verticals investing in 5G are Manufacturing, Transportation, Energy & Utilities. 
To get high live insights from this analysis, download our free whitepaper "Private 5G Networks and Testing Report".
To get an in-depth update on the 5G verticals, subscribe to our premium reports for industry verticals:
The International Telecommunications Union (ITU) has defined below 3 main application areas for enhanced 5G applications.
Enhanced Mobile Broadband (eMBB)

Ultra-Reliable Low Latency Communications (URLLC)

Massive Machine Type Communications (mMTC)
Enhanced Mobile Broadband (eMBB)
eMBB uses 5G as a progression from 4G LTE mobile broadband services, with extreme data rates, lower latency, higher throughput, and more capacity. With eMBB, the IMT-2020 goals are to support applications & services that require:
High data rates or traffic densities such as peak download speeds up to 20 Gbps, user experience data rate up to 100 Mbps with only 4 ms latency

In different service areas such as indoor/outdoor, urban and rural areas, office and home as well as local and wide areas connectivity

In special deployments areas such as massive gatherings, broadcast, residential, and high-speed vehicles

Immersive applications that need fast video downloads, ultra high definition screens, and augmented & virtual reality
Ultra-Reliable Low Latency Communications (URLLC)
URLLC is required for mission-critical and time-sensitive applications such as autonomous vehicles, remote healthcare, emergency responses, and industrial automation. With URLLC, the IMT-2020 goals are to support scenarios that require ultra-high reliability and 1-millisecond low latency communications for use in mission-critical applications that could mean life or death. 
The overall service latency depends on the radio interface's delay, transmission within the 5G system, transmission to a server outside of the 5G system, and data processing. Some of these factors depend directly on the 5G system itself. In contrast, for others, the impact can be reduced by suitable interconnections between the 5G system and services or servers outside of the 5G system, for example, to allow local hosting of the services. 
URLLC example applications & services for industry automation include:
Automated remote driving – which enables a remote driver or a V2X application to operate a remote vehicle with no driver or a remote vehicle located in a dangerous environment

Automated rail communications (e.g., railway, rail-bound mass transit) – with URLLC, train operation can be fully automated with highly reliable communication with moderate latencies at very high speeds of up to 500 km/hr.

Automated processes for reactive flows at refineries and water distribution networks

Automation for electricity distribution (mainly medium and high voltage)

Automation of roadside wireless infrastructure supporting street-based traffic, connecting different infrastructure units such as roadside units with traffic guidance systems.
Massive Machine Type Communications (mMTC)
mMTC,  is also known as massive machine communication (MMC) or a massive machine to machine communication, will support very high traffic densities of the internet of things (IoT) devices. Gartner estimates over 20B IoT devices will be installed by 2020, while IoT-related spending will reach nearly $3T. 5G standards will have to include adaptable communication requirements for supporting the diverse range of communication needs required by IoT devices. The systems should be able to support battery-operated sensors with low-power and low-data rate requirements, in addition to the high-data-rate and low-latency requirements for industrial automation.  mMTC sample applications & services include:
Smart cities – 5G is an enabling technology for IoT. As smart cities essentially rely on IoT to function, 5G will play a critical role in allowing information gathered through sensors to be transmitted in real-time to central monitoring locations.

Smart metering enables smart grids to connect to water, gas, oil, and electric utilities. Utilities and consumers can get real-time info on water quality, temperature, pressure, consumption rate, and additional data collected via sensors and shared via a 5G network.

Smart logistics – Many logistics services providers (LSPs) are already using IoT devices to track shipments' locations using a combination of GPS and wireless connectivity. 5G will take this to the next level, as low latency would enable continuous, up-to-the-second tracking of the exact location of the goods
Spectrum determines coverage and speed. Much of the 5G network's performance depends upon our proximity to the cell site. Broadly, the 5G spectrum can be classified into below 3 bands. Network operators need to use one or more combinations of the below-mentioned low-band, mid-band, and high-band spectrums.
Low-Band Spectrum
Spectrum is lower than 1 GHz

Provides a wide area of coverage

Speed & latency is only incrementally better than that delivered by 4G

Makes it easier for the wireless signal to penetrate windows and walls
Mid-Band Spectrum
Spectrum is in the 1 GHz – 6 GHz frequencies

Provides better coverage & capacity

GSMA describes spectrum in the 3.3 GHz to 3.8 GHz range, as ideal for 5G & many countries have already designated this frequency for 5G
High-Band Spectrum
Spectrum is in the 24 GHz and higher frequencies also referred to as millimeter wave spectrum

Delivers ultra high speed over short distances (in some cases signal travel less than a mile), if you're closer to the cell site

Millimeter-wave spectrum is susceptible to interference from things like trees and buildings
To get a complete view of how 5G mid-band and high-band spectrums are allocated and planned globally, download our whitepaper Private 5G Networks and Testing".  
The two leading traditional network technology vendors for 5G are Ericsson and Nokia based on technology footprint, market traction, and financial data. 
Ericsson has 146 commercial 5G agreements with service providers, 85 publicly announced 5G contracts, and 95 live 5G deployment globally, as of Sep 2021. Sample 5G wireless operators that have live 5G deployment on Ericsson's network equipment and solutions include AT&T, China Telecom, Deutsche Telekom, Orange, Telefonica, Verizon, and Vodafone.
Nokia has 189 commercial 5G deals, 72 live 5G operators, and 240+ 5G agreements across service providers and enterprise customers, globally as of Sep 2021. Sample 5G service providers include AT&T, DISH, T-Mobile USA, Telus Canada, TIM Brazil, BT UK, du UAE, China Mobile, China Telecom, NTT Docomo, KT South Korea, Optus Australia, and more. Sample enterprise customers include the US Department of Defense, BASF Spain, Deutsche Bahn Germany, Sandvik Finland, and more.
For Open RAN technology, see the top virtual RAN vendors include Parallel Wireless, Mavenir, and Alitostar. See details in "Top 5 virtual network vendors"
Read our blog "Top 10 5G Stocks: Who will be the 5G and Edge winners in 2021? This is based on an analysis of the 5G technology footprint, market traction, and stock information of 500+ companies related to 5G.
5G networks are facing few challenges. 5G industry standards for ultra-low latency are both complex and delayed. 3GPP is expected to address this in Release 17 which is due out in the second half of 2021.
There are some concerns around delays in low-cost devices with 5G native connectivity. Bulk deployment of 5G devices can be an expensive affair due to the limited availability of such devices or because of cost implications. For instance, smart glasses or smart sensors on AGVs or 5G CPE devices and industrial devices may not be readily available in the market with volumes that drive device cost points down. Thus, devices may turn out to be expensive for mass deployment. As the cost of these features can be high thereby Industrial networks may not migrate from deployed based on Industrial Ethernet and OPC UA etc. 
For time-sensitive networks (TSN) Use Cases of Connectivity, there are two concerns: 5G-based TSN has only been tested in trials and not in a large-scale factory.
The second concern is about the upgrade of the existing infrastructure in case it doesn't comply with the requirements of a private 5G network. This could require an investment in new infrastructure and/or replacement of existing infrastructure.
In some parts of the world, there are concerns around 5G Radio-related health and power usage i.e. perceived as not being green. However, 5G has the advanced capabilities of automated network resource management to deliver energy savings to both operators and the enterprise.
Below are the key considerations to verify industrial-grade performance, reliability, security, and operational & IT technology integration for 5G networks. 
Spectrum – Verify support for multiple frequency bands (FR1/FR2)

Interference – Identify and eliminate any interference

Device Complexity – Verify support for sub-6GHz and mmWave

Radio Access – Test multiple radio access technologies, including 5G new radio (NR) and 4G LTE

Deployment Modes – Test different deployment modes, i.e., NSA and SA

Latency – Verify whether the latency requirements specified for eMBB and URLLC use cases are met

Over-The-Air (OTA) Testing- Verify correct 5G transmission for near field and far field OTA

Bandwidth – Test variable bandwidth and subcarrier spacing (SCS)

Power Class – Support testing for different power classes
All
Aerospace and Defense
Agriculture
Automotive
Commerce
Energy & Utilities
Financials
HealthCare
Industrial Automation
Innovation Hub
Manufacturing
Media and Broadcast
Mining
Ports
Public sector
Retail
Smart Cities
Sports
University Campus
All
Aerospace and Defense
Agriculture
Automotive
Commerce
Energy & Utilities
Financials
HealthCare
Industrial Automation
Innovation Hub
Manufacturing
Media and Broadcast
Mining
Ports
Public sector
Retail
Smart Cities
Sports
University Campus