There are 172 live 5G commercial deployments globally as of June 2021. Download the "current state of 5G network" eBook to get all the details. 
To get a complete list of global live 5G deployments, along with corresponding 5G operator information subscribe to our "675+ companies 5G infographic."
Based on the global analysis of 100+ enterprise use cases in-deployment mode/trial -mode, the top industry verticals investing in 5G are Manufacturing, Transportation, Energy & Utilities. 
To get high live insights from this analysis, download our free whitepaper "Private 5G Networks and Testing Report". To get an in-depth update on the 5G verticals, subscribe to our premium reports for industry verticals:
Sample 5G use cases for consumers include:
Ultra-high-speed broadband via Fixed Wireless Access (FWA)
Video capture and streaming via eMBB (Enhanced Mobile Broadband)
Immersive experiences with AR/VR technology 
Smart Venues 
Connected Vehicles
For 5G global and regional 5G monetization strategy, offers and plans, purchase our "5G Monetization Research Report". It provides in-depth analysis based on research and analysis of all live 5G networks (updated quarterly).
Ericsson is leading the 5G technology based on technology footprint, market traction, and financial information. 
Ericsson has 122 commercial 5G agreements with service providers, 71 publicly announced 5G contracts, and 77 live 5G deployment globally, as of Dec 2020.
Sample 5G wireless operators that have live 5G deployment on Ericsson's network equipment and solutions include AT&T, China Telecom, Deutsche Telekom, Orange, Telefonica, Verizon, and Vodafone.
Read our blog "Top 10 5G Stocks: Who will be the 5G and Edge winners in 2021? This is based on an analysis of the 5G technology footprint, market traction, and stock information of 500+ companies related to 5G.
5G is the fifth generation of wireless network technology designed to support a growing number of users, an increasing number of devices, and the rising quantity of data the users and devices generate and share. It will help a wide range of vertical industries' needs – by connecting everyone and everything, including smart devices, sensors, and machines. 5G network will drive innovation and can transform the way we live, work, and play.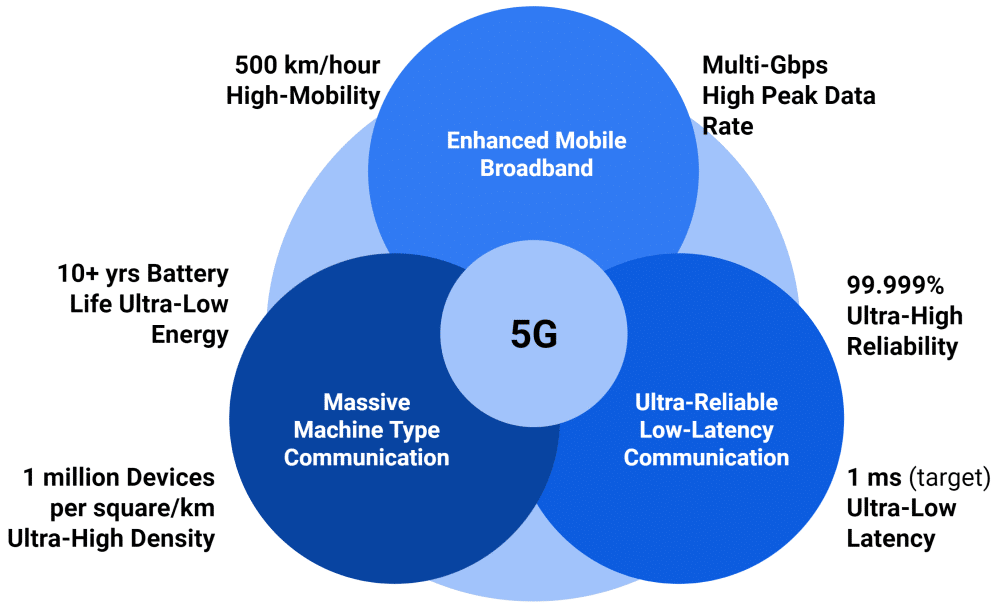 The International Telecommunications Union (ITU) has defined below 3 main application areas for enhanced 5G applications.
Enhanced Mobile Broadband (eMBB)
Ultra-Reliable Low Latency Communications (URLLC)
Massive Machine Type Communications (mMTC)
Enhanced Mobile Broadband (eMBB)
eMBB uses 5G as a progression from 4G LTE mobile broadband services, with extreme data rates, lower latency, higher throughput, and more capacity. With eMBB, the IMT-2020 goals are to support applications & services that require:
Require high data rates or traffic densities such as peak download speeds up to 20 Gbps, user experience data rate up to 100 Mbps with only 4 ms latency
In different service areas such as indoor/outdoor, urban and rural areas, office and home as well as local and wide areas connectivity
In special deployments areas such as massive gatherings, broadcast, residential, and high-speed vehicles
Immersive applications that need fast video downloads, ultra high definition screens, and augmented & virtual reality
Ultra-Reliable Low Latency Communications (URLLC)
URLLC is required for mission-critical and time-sensitive applications such as autonomous vehicles, remote healthcare, emergency responses, and industrial automation. With URLLC, the IMT-2020 goals are to support scenarios that require ultra-high reliability and 1-millisecond low latency communications for use in mission-critical applications that could mean life or death. The overall service latency depends on the radio interface's delay, transmission within the 5G system, transmission to a server outside of the 5G system, and data processing. Some of these factors depend directly on the 5G system itself. In contrast, for others, the impact can be reduced by suitable interconnections between the 5G system and services or servers outside of the 5G system, for example, to allow local hosting of the services. 
URLLC example applications & services for industry automation include:
Automated remote driving – which enables a remote driver or a V2X application to operate a remote vehicle with no driver or a remote vehicle located in a dangerous environment
Automated rail communications (e.g., railway, rail-bound mass transit) – with URLLC, train operation can be fully automated with highly reliable communication with moderate latencies at very high speeds of up to 500 km/hr.
Automated processes for reactive flows at refineries and water distribution networks
Automation for electricity distribution (mainly medium and high voltage)
Automation of roadside wireless infrastructure supporting street-based traffic, connecting different infrastructure units such as roadside units with traffic guidance systems.
Massive Machine Type Communications (mMTC)
mMTC,  is also known as massive machine communication (MMC) or a massive machine to machine communication, will support very high traffic densities of the internet of things (IoT) devices. Gartner estimates over 20B IoT devices will be installed by 2020, while IoT-related spending will reach nearly $3T. 5G standards will have to include adaptable communication requirements for supporting the diverse range of communication needs required by IoT devices. The systems should be able to support battery-operated sensors with low-power and low-data rate requirements, in addition to the high-data-rate and low-latency requirements for industrial automation.  mMTC sample applications & services include:
Smart cities – 5G is an enabling technology for IoT. As smart cities essentially rely on IoT to function, 5G will play a critical role in allowing information gathered through sensors to be transmitted in real-time to central monitoring locations.
Smart metering enables smart grids to connect to water, gas, oil, and electric utilities. Utilities and consumers can get real-time info on water quality, temperature, pressure, consumption rate, and additional data collected via sensors and shared via a 5G network.
Smart logistics – Many logistics services providers (LSPs) are already using IoT devices to track shipments' locations using a combination of GPS and wireless connectivity. 5G will take this to the next level, as low latency would enable continuous, up-to-the-second tracking of the exact location of the goods
Spectrum determines coverage and speed. Much of the 5G network's performance will depend upon our proximity to the cell site. Broadly, 5G spectrum can be classified into below 3 bands. Network operators need to use one or more combinations of the below-mentioned low-band, mid-band, and high-band spectrums.
Low-Band Spectrum
Spectrum is lower than 1 GHz
Provides a wide area of coverage
Speed & latency is only incrementally better than that delivered by 4G
Makes it easier for the wireless signal to penetrate windows and walls
Mid-Band Spectrum
Spectrum is in the 1 GHz – 6 GHz frequencies
Provides better coverage & capacity
GSMA describes spectrum in the 3.3 GHz to 3.8 GHz range, as ideal for 5G & many countries have already designated this frequency for 5G
High-Band Spectrum
Spectrum is in the 24 GHz and higher frequencies also referred to as millimeter wave spectrum
Delivers ultra high speed over short distances (in some cases signal travel less than a mile), if you're closer to the cell site
Millimeter-wave spectrum is susceptible to interference from things like trees and buildings
To get a complete view of how 5G mid-band and high-band spectrums are allocated and planned globally, download our whitepaper Private 5G Networks and Testing".  
| Specifications | 4G | 5G |
| --- | --- | --- |
| Peak Data Rates (Gbit/seconds) – for ultra-fast data sharing | 1 | 20 |
| Latency (Millisecond) – for near real-time response | 10 | 1 |
| Mobility (Km/hour) – for a large number of users traveling at speeds up to 500 km/h | 350 | 500 |
| User Experience Peak Data Rates (Mbit/second) – via enhanced capacity | 10 | 100 |
| Spectrum Efficiency – advanced techniques will enable more bits per Hz | 1x | 3x |
| Network Efficiency – optimized network energy consumption through efficient processing | 10x | 100x |
private network - may Edition