5G Tower, Small Cells, DAS Edition | 5G Magazine
Get an in-depth view of the 5G Tower industry, along with macro cells, small cells, and distributed antenna systems. Who are the global tower industry leaders? What are their solutions and 5G strategies? What are the new offerings in the market? Technology comparison between macrocells, small cells, and different categories of small cells (i.e. femtocells, picocells, microcells). Thought leaderships interview and articles from ecosystem players, including from Small Cell Forum on how they are accelerating adoption of small cells with private network blueprints and more.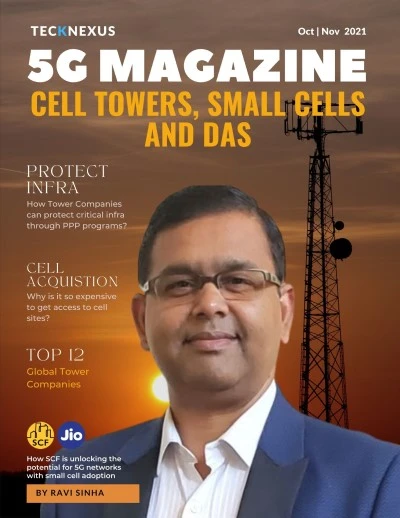 Skyscrapers' have been dominating the skyline of most of the major cities in the last couple of decades but what has been striking is the appearance of Telco Towers. Red blinking dots over the horizon under a clear sky is quite an indicator. The densification of telco towers will fuel 5G, which will mean Tower companies need to find logistics and infrastructure to deploy the technology. Two major factors will primarily dominate the expansion of 5G and its success. 5G Telecom gears and 5G passive infrastructure.
For 5G gears, we hear a lot of buzz from Global OEMs like Ericsson, Nokia, and Huawei and disrupting players like Mavenir, Parallel Wireless, and Altiostar. Cell tower companies are the key proponents of 5G infrastructure.
In this edition, we will cover in-depth 5G towers, small cells, and distributed antenna system – concepts along with the top 12 global cell tower companies. This edition features an interview with Ravi Sinha, Chairman of Emerging Technology, Small Cell Forum, and Director of Technology Development and Solutions (4G, 5G & MEC Solutions) at Reliance Jio, in the context of the blueprints that SCF is creating for the adoption of small cells.
We also present thought-leadership content from Ravi Puvvala (VP of Strategic Accounts & Partnerships in the Connectivity Business Unit at Harman), Daniel Campion (CEO of Sitenna), and other industry experts. 
Featured Articles in this edition
Key Concept Articles in this edition
We at TeckNexus hope that you enjoy this edition. See our editorial calendar for upcoming editions.
If you want to feature your content, please get in touch with us at sales@tecknexus.com or write to us via this form.
Read the complete article in the 5G Magazine
All
2022 Predictions
2023 Predictions
5G Edge
5G for Manufacturing
5G for Transportation
5G Monetization
5G Towers
Featured
Foundation
Guest
Leaders
Open RAN | 2021
Open RAN | 2022
Private Networks | 2021
Private Networks | 2022
Security
Tech and Connectivity
Telco Cloud
All
2022 Predictions
2023 Predictions
5G Edge
5G for Manufacturing
5G for Transportation
5G Monetization
5G Towers
Featured
Foundation
Guest
Leaders
Open RAN | 2021
Open RAN | 2022
Private Networks | 2021
Private Networks | 2022
Security
Tech and Connectivity
Telco Cloud
All
Aerospace and Defense
Agriculture
Commerce
Datacenter
Education
Energy & Utilities
Financials
HealthCare
Industrial Automation
Innovation Hub
Manufacturing
Media and Broadcast
Mining
Ports
Public sector
Retail
Smart Cities
Sports
Transportation
All
Aerospace and Defense
Agriculture
Commerce
Datacenter
Education
Energy & Utilities
Financials
HealthCare
Industrial Automation
Innovation Hub
Manufacturing
Media and Broadcast
Mining
Ports
Public sector
Retail
Smart Cities
Sports
Transportation