Open RAN | 5G Magazine July 2022 Edition
Where are we in the Open RAN Journey? Is Open RAN still hype, or is it ready for large-scale deployment? Get perspective from Industry Leaders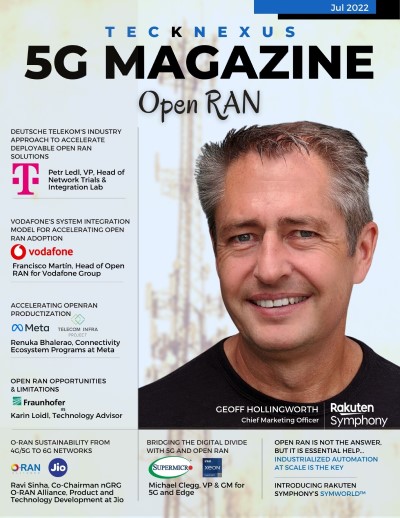 Where are we in the Open RAN Journey? Is Open RAN still hype, or is it ready for large-scale deployment? Operationally, Rakuten Mobile has already succeeded in the accelerated rollout of 275,000 cells with the Open RAN solution. Recently, DISH announced an expansion of their Open RAN-based 5G network across 120 cities, covering 20 percent of the U.S. population. So how can their success be repeated in the brownfield deployments?
We had an in-depth conversation with Geoff Hollingworth, CMO of Rakuten Symphony, Deutsche Telekom's Petr Ledl, and Vodafone's Francisco Martín to understand their Open RAN journey, related business drivers, solution approaches, standards role, and challenges. O-RAN Alliance, Telecom Infra Project's (TIP) OpenRAN project, ONF's SD-RAN project, and emerging Open RAN-focused consortiums are continuing with their work to accelerate the adoption of Open RAN.
Besides Rakuten Mobile and DISH network, as of June 2022, there are 48 ongoing Open RAN limited deployments and trials, with plans to expand their Open RAN deployments in the next 2 to 5 years. A diversified ecosystem of vendors, faster time to market with innovative capabilities, and TCO savings are some of the benefits the Open RAN operators expect in the mid to long term.
Key questions addressed in this edition
The rationale for adopting Open RAN
The solution for scaling Open RAN
The challenges they are addressing
The learnings and insights
Standards' role in accelerating Open RAN adoption
Featured Articles in this edition
We at TeckNexus hope that you enjoy this edition. See our editorial calendar for upcoming editions.
If you want to feature your content, please get in touch with us at sales@tecknexus.com or write to us via this form.
Read the complete article in the 5G Magazine
All
2022 Predictions
2023 Predictions
5G Edge
5G for Manufacturing
5G for Transportation
5G Monetization
5G Towers
Featured
Foundation
Leaders
Open RAN | 2021
Open RAN | 2022
Perspective
Private Networks | 2021
Private Networks | 2022
Security
Tech and Connectivity
TechFusion
Telco Cloud
All
2022 Predictions
2023 Predictions
5G Edge
5G for Manufacturing
5G for Transportation
5G Monetization
5G Towers
Featured
Foundation
Leaders
Open RAN | 2021
Open RAN | 2022
Perspective
Private Networks | 2021
Private Networks | 2022
Security
Tech and Connectivity
TechFusion
Telco Cloud
All
Aerospace and Defense
Agriculture
Commerce
Datacenter
Education
Energy & Utilities
Financials
HealthCare
Industrial Automation
Innovation Hub
Manufacturing
Media and Broadcast
Mining
Ports
Public sector
Retail
Smart Cities
Sports
Transportation
All
Aerospace and Defense
Agriculture
Commerce
Datacenter
Education
Energy & Utilities
Financials
HealthCare
Industrial Automation
Innovation Hub
Manufacturing
Media and Broadcast
Mining
Ports
Public sector
Retail
Smart Cities
Sports
Transportation