5G & Edge Edition | 5G Magazine
Get an in-depth view of the 5G and Edge from industry thought leaders, including 5G and edge enterprise use cases. What are the challenges? What are the solutions? What are the benefits? What are the security concerns and how to address them? What are the different technical aspects...and more? Featured articles/interviews from AT&T, Keysight Technologies, Reliance Jio, Kaloom, and Aarna Networks.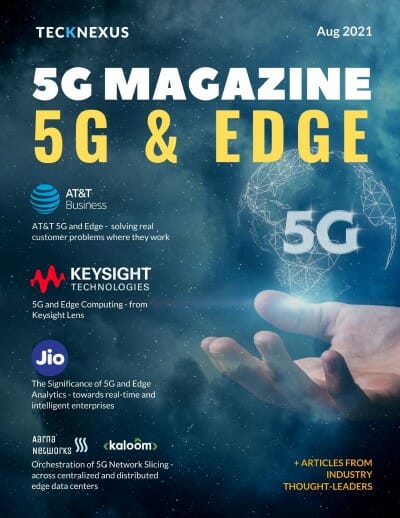 Hello, and welcome to the August issue of the 5G Networks Magazine, a publication that explores the 5G networks industry through the ecosystem players' expectations, challenges, strategies, deployments, architecture, and use cases.
In this issue, we focus on 5G and Edge, starting with an in-depth view of AT&T's 5G and Edge offerings, their vertical industry sample scenarios, and edge partnerships. Pethuru Raj Ph.D., Vice President at Reliance Jio Platforms Ltd provides his view on 5G and Edge Analytics.
Our featured article in this edition is from Kalyan Sundar, Vice President and General Manager of 5G CORE to Edge at Keysight Technologies. This article includes MEC challenges and related solutions.
Watch the conversation with Amar Kapadia, CEO, and Co-founder at Aarna Networks, and Hitendra Sonny, SVP – Head of Sales & Marketing at Kaloom, on 5G, Edge, and Network Slicing topics. In this edition, we have also included perspectives from industry thought-leaders on 5G and edge topics, such as security.
Featured Articles in this edition
We at TeckNexus hope that you enjoy this edition. See our editorial calendar for upcoming editions.
If you want to feature your content, please get in touch with us at sales@tecknexus.com or write to us via this form.
Read the complete article in the 5G Magazine
All
2022 Predictions
2023 Predictions
5G Edge
5G for Manufacturing
5G for Transportation
5G Monetization
5G Towers
Featured
Foundation
Guest
Leaders
Open RAN | 2021
Open RAN | 2022
Private Networks | 2021
Private Networks | 2022
Security
Tech and Connectivity
Telco Cloud
All
2022 Predictions
2023 Predictions
5G Edge
5G for Manufacturing
5G for Transportation
5G Monetization
5G Towers
Featured
Foundation
Guest
Leaders
Open RAN | 2021
Open RAN | 2022
Private Networks | 2021
Private Networks | 2022
Security
Tech and Connectivity
Telco Cloud
All
Aerospace and Defense
Agriculture
Commerce
Datacenter
Education
Energy & Utilities
Financials
HealthCare
Industrial Automation
Innovation Hub
Manufacturing
Media and Broadcast
Mining
Ports
Public sector
Retail
Smart Cities
Sports
Transportation
All
Aerospace and Defense
Agriculture
Commerce
Datacenter
Education
Energy & Utilities
Financials
HealthCare
Industrial Automation
Innovation Hub
Manufacturing
Media and Broadcast
Mining
Ports
Public sector
Retail
Smart Cities
Sports
Transportation