5G for Manufacturing | 5G Magazine
5G for Manufacturing - How are leading manufacturers using 5G? What are the approaches and recommendations? Security challenges & solutions...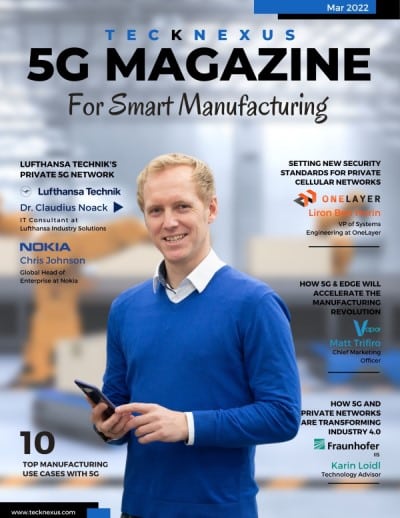 Welcome to this edition of 5G Magazine, where we focus on 5G connectivity for the manufacturing sector. To determine for which applications the manufacturing industry is leveraging 5G technology, the impact of 5G, and the leading players, we investigated 60 worldwide manufacturing use cases.
Production vs. Trial Use Cases – Out of the 60 use cases utilizing the 5G network, 70 percent of the use cases were already in production, and 30 percent were in trial mode.
Deployment Mode – Enterprises deployed a "private 5G network," with security as the main incentive in ninety-six percent (96%) of the evaluated use cases. In comparison, enterprises chose a public-private 5G combination with network slicing for two use cases.
Leading Region & Country – Europe has the most private 5G deployments for manufacturing, with German enterprises leading the way.
Who owns spectrum? – Fifty-three percent (53%) of the enterprises used spectrum from telecommunications service providers. In comparison, forty-seven percent (43%) utilized the enterprise vertical spectrum.
In addition to our independent research, we spoke with industry experts, including Dr. Claudius Noack, about Lufthansa Technik's 5G campus network, related use cases, deployment approach, outcomes, and outlook. Given that Nokia is the technology provider for one of Lufthansa Technik's use cases, which has been in production for more than two years, we present their perspective.
Liorn Ben Horin, VP of Systems Engineering of OneLayer, and Matt Trifiro, CMO of Vapor.io, cover the two critical aspects of the manufacturing use cases: security and edge. Karin Loidl, Technology Advisor at Fraunhofer IIS, sets the stage for transitioning Industry 4.0 to human-centric Industry 5.0 with 5G. 
Featured Articles in this edition:
We at TeckNexus hope that you enjoy this edition. See our editorial calendar for upcoming editions.
If you want to feature your content, please get in touch with us at sales@tecknexus.com or write to us via this form.
Read the complete article in the 5G Magazine
All
2022 Predictions
2023 Predictions
5G Edge
5G for Manufacturing
5G for Transportation
5G Monetization
5G Towers
Featured
Foundation
Leaders
Open RAN | 2021
Open RAN | 2022
Perspective
Private Networks | 2021
Private Networks | 2022
Security
Tech and Connectivity
TechFusion
Telco Cloud
All
2022 Predictions
2023 Predictions
5G Edge
5G for Manufacturing
5G for Transportation
5G Monetization
5G Towers
Featured
Foundation
Leaders
Open RAN | 2021
Open RAN | 2022
Perspective
Private Networks | 2021
Private Networks | 2022
Security
Tech and Connectivity
TechFusion
Telco Cloud
All
Aerospace and Defense
Agriculture
Commerce
Datacenter
Education
Energy & Utilities
Financials
HealthCare
Industrial Automation
Innovation Hub
Manufacturing
Media and Broadcast
Mining
Ports
Public sector
Retail
Smart Cities
Sports
Transportation
All
Aerospace and Defense
Agriculture
Commerce
Datacenter
Education
Energy & Utilities
Financials
HealthCare
Industrial Automation
Innovation Hub
Manufacturing
Media and Broadcast
Mining
Ports
Public sector
Retail
Smart Cities
Sports
Transportation