5G for Transportation | 5G Magazine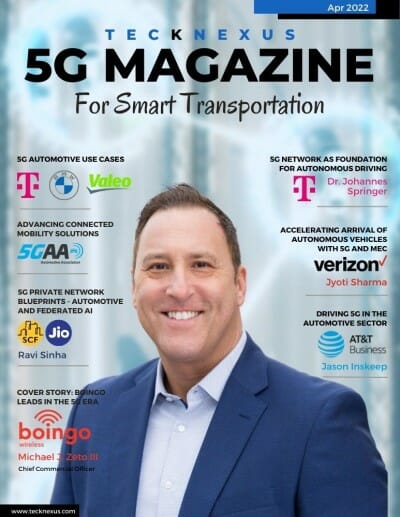 The future of transportation will be connected, autonomous, electric, and shared. But for autonomous vehicles to become a reality, they need to communicate with one another (V2V), communicate with people (V2P), communicate with the smart city infrastructure (V2I), and communicate with the network (V2N) – in real-time and in a reliable manner. 5G and multi-access edge computing technologies bring ultra-low latency, high reliability, high capacity, and higher device connectivity, prerequisites for autonomous vehicles.
Smart transportation with each stage of autonomous driving will substantially improve safety and traffic efficiency and reduce cost and save time for all. Although we are still a long way from having completely autonomous vehicles (Level 5 – complete autonomy as defined by SAE), real-time and reliable connectivity is necessary for moving from our current level (we are on the cusp of level 3) of autonomous driving to the next. The key challenges that the industry faces beyond the technological challenges include regulation, infrastructure, cybersecurity, and business models.
Despite the challenges, we see major auto companies, tier-one auto suppliers, technology leaders, road infrastructure providers, connectivity providers, early-stage startups, and VCs heavily investing in autonomous R&D. Industry associations such as 5GAA are working to bridge the gap between the ecosystem players and promote the C-V2X technology (Cellular vehicle-to-everything), a comprehensive platform for connected vehicles, safety, and transportation. In addition, we see large-scale 5G deployments at airports and other transportation venues. In this edition of 5G for smart transportation, we spoke with several ecosystem players and presented their viewpoints. 
Featured Articles in this edition
We at TeckNexus hope that you enjoy this edition. See our editorial calendar for upcoming editions.
If you want to feature your content, please get in touch with us at sales@tecknexus.com or write to us via this form.
Read the complete article in the 5G Magazine
All
2022 Predictions
2023 Predictions
5G Edge
5G for Manufacturing
5G for Transportation
5G Monetization
5G Towers
Featured
Foundation
Leaders
Open RAN | 2021
Open RAN | 2022
Perspective
Private Networks | 2021
Private Networks | 2022
Security
Tech and Connectivity
TechFusion
Telco Cloud
All
2022 Predictions
2023 Predictions
5G Edge
5G for Manufacturing
5G for Transportation
5G Monetization
5G Towers
Featured
Foundation
Leaders
Open RAN | 2021
Open RAN | 2022
Perspective
Private Networks | 2021
Private Networks | 2022
Security
Tech and Connectivity
TechFusion
Telco Cloud
All
Aerospace and Defense
Agriculture
Commerce
Datacenter
Education
Energy & Utilities
Financials
HealthCare
Industrial Automation
Innovation Hub
Manufacturing
Media and Broadcast
Mining
Ports
Public sector
Retail
Smart Cities
Sports
Transportation
All
Aerospace and Defense
Agriculture
Commerce
Datacenter
Education
Energy & Utilities
Financials
HealthCare
Industrial Automation
Innovation Hub
Manufacturing
Media and Broadcast
Mining
Ports
Public sector
Retail
Smart Cities
Sports
Transportation