Telco Cloud | 5G Magazine Sep 2022 Edition
What is a telco cloud? How is the difference between telco and IT cloud? What are the industry solutions to migrate to telco cloud? Who are the leading telco and IT cloud vendors? What are their solution offerings and strategies? How can telcos successfully migrate to telco cloud?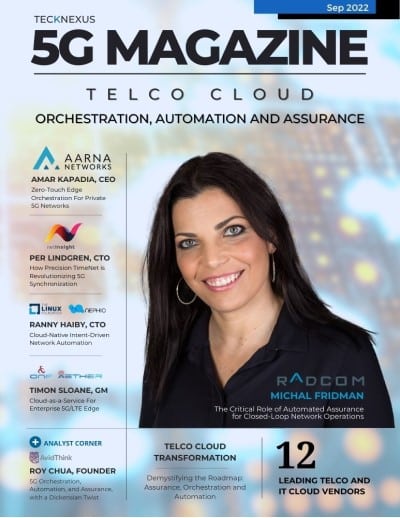 The global telecom cloud market is poised for exponential growth, and if market forecasts are to be believed, then its from USD 19.8 billion in 2021 to USD 52.3 billion by 2026. The covid-19 pandemic made the industry transition to remote working, paving the way for a transformation of the telecom cloud solution. Cloud solutions come with value propositions of reduced CAPEX and OPEX, powered by virtualization and automation. Under the shackles of the cash crunch, the telcos leaped into the transformation journey.
However, this journey wouldn't have been possible without the telco cloud companies, which powered the telcos with their industry-leading solutions and products. Cloud Computing brought a paradigm shift from the traditional way businesses think about IT resources, bringing cost, productivity, performance, and reliability benefits. While the move to the cloud-native network is relatively new for telcos, it's old hat for enterprises and web/hyper-scalers. Telco network & IT teams are under pressure to deliver applications and services faster, out-maneuver competitors, and provide exceptional user experiences while facing tighter budgets and a severe lack of cloud specialist skills.
In this edition, we cover the telco cloud transformation journey, the leading players, and industry solutions from ecosystem vendors and standard organizations and get the perspective of an industry-leading analyst.
Key questions addressed in this edition
Telco cloud transformation challenges and mitigation
Telco cloud transformation phased journey
Cloud-native automated assurance solutions for closed-loop network operations
Zero-touch telco cloud edge orchestration for private 5G networks
Open source solutions, cloud-native solutions for telcos
Leading telco cloud and IT vendors
Featured Articles in this edition
We at TeckNexus hope that you enjoy this edition. See our editorial calendar for upcoming editions.
If you want to feature your content, please get in touch with us at sales@tecknexus.com or write to us via this form.
Read the complete article in the 5G Magazine
All
2022 Predictions
2023 Predictions
5G Edge
5G for Manufacturing
5G for Transportation
5G Monetization
5G Towers
Featured
Foundation
Leaders
Open RAN | 2021
Open RAN | 2022
Perspective
Private Networks | 2021
Private Networks | 2022
Security
Tech and Connectivity
TechFusion
Telco Cloud
All
2022 Predictions
2023 Predictions
5G Edge
5G for Manufacturing
5G for Transportation
5G Monetization
5G Towers
Featured
Foundation
Leaders
Open RAN | 2021
Open RAN | 2022
Perspective
Private Networks | 2021
Private Networks | 2022
Security
Tech and Connectivity
TechFusion
Telco Cloud
All
Aerospace and Defense
Agriculture
Commerce
Datacenter
Education
Energy & Utilities
Financials
HealthCare
Industrial Automation
Innovation Hub
Manufacturing
Media and Broadcast
Mining
Ports
Public sector
Retail
Smart Cities
Sports
Transportation
All
Aerospace and Defense
Agriculture
Commerce
Datacenter
Education
Energy & Utilities
Financials
HealthCare
Industrial Automation
Innovation Hub
Manufacturing
Media and Broadcast
Mining
Ports
Public sector
Retail
Smart Cities
Sports
Transportation