SCF Open RAN Interfaces & Use Cases – SCF and Jio
A Conversation with Ravi Sinha to get an in-depth perspective on Open RAN from the Small Cell Forum (SCF) perspective. Which O-RAN interfaces SCF is working on? Which use cases SCF is focussing on?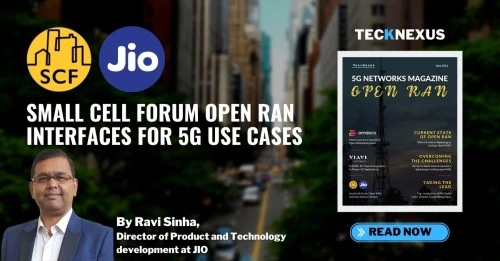 What is your perspective on Open RAN?
Open RAN is the 5G infrastructure framework that enables the operator to address one of the challenges related to vendor lockin. Beyond vendor-lockin and open architecture-based adoption, we need to understand and consider many aspects such as:
What are the advantages?

What are the challenges?

What is architecture?

What is the reference design?

Minimum viable product specifications

Complete user plane, control plane, and management plane fabric

Supply chain superiority, beyond additional interfaces

The complete partnership integration framework

Complete test framework

Complete certification or badging framework or badging
In short, there are many things engaged in totality when considering an Open RAN-based solution.
If we consider the major organizations or regulatory bodies who started working on it, 3GPP made sure that in terms of building the technology, products, and frameworks, all the specs are in place in their releases 15, 16, 17 18 onwards. But once we start thinking about open RAN, i.e., open source-based architecture, we can see the supply chain superiority in terms where each segment has enough capability to meet requirements.
ROI requirements

CAPEX requirements

Interoperability requirements
Several organizations are working towards the Open RAN architecture, including O-RAN Alliance, SCF, TIP, ONAP, Linux Foundation, and more. But, when we dissect and scan the whole offering to date, many things are still missing, e.g.,
Virtualization piece or edge piece like a hardware plugin is missing

Opening up the pieces of infrastructure management

Opening up pieces of service management

Specifications to manage the service launching as a whole where you are managing the servers and managing the auto connectivity infrastructure beneath it
In short, there are a lot of overall gaps.
The niche initiatives that are working on one or more of the above gaps need to come under frameworks like O-RAN or SCF to give consumers (whether they are mobile network operators, private network operators, or neutral hosts), a set of libraries in terms of infrastructure as a service platform or software as a service to pick and choose the interfaces that are good enough to integrate & interoperate. 
Additionally, they should also consider providing a customized test framework based on all the components they chose. There also needs to be a badging authority, whether it is TIP or SCF, or O-RAN. The industry bodies are collaborating and can coexist to bring real blueprints, in addition to the frameworks available today, so that consumers can pick and choose. And I'm hopeful that coordinating all these value-adding initiatives like O-RAN & SCF and others can bring a complete framework.
SCF has started working on the blueprints, frameworks, and cloud assets for small cells. I'm hopeful that open RAN becomes a big success in 2023, which may be the time where you can scale at a big level.
---
Which Open RAN interfaces SCF is working on?
In terms of 4G where whether it is a small cell or macro cell, the maximum it did was starting from a split 0. Split 0 means like you have the entire stack. That means you have your analog front end antennas, analog front end, digital front end, then your RRH, which is a part of the digital front end, and then the baseband and backhaul. This was a complete set for baseband radio, and everything was packed on one, which was used with split 0.
But now when the transition has started going more virtualized RAN or distributed RAN – from split 0, we have come to split 2, which is nothing but PDCP split to the RLC split. And then split 2 was deployed up to some extent with small cells and then a couple of micro and pico arrangements. But I see that the world has done a lot when we have gone even further down.
And when we go down, I think a split six is what SCF brings to the plate for open RAN initiatives. And that is related to your MAC PHY kind of split. And we have seen many benefits of doing that split. And that's the reason why, if you see the history, several years back, SCF was the one who came up with the FAPI compliances. And FAPI compliance, when you integrate your PHY to MAC, and if the stack vendors comply with it, you can choose any chipset that is complying with the FAPI PHY. You can integrate whether the PHY is coming from Radisys or PHY is coming from Altran or any other MAC vendor if they're complying with it, so you don't need a convergence layer.
And it was solving many issues related to performance and efficiency. So, the same things are carried forward.
So, we started marching from 4G, we have come to 5G, and at present, I can say that this is becoming a reality where multiple of the industry initiatives are adopting a split six. And similarly, like O-RAN has taken a split 7.x, and they're doing a great job defining the interfaces, defining the minimum viable products, all specifications management framework, you can say control framework SMO related stuff.
So, they deal with a much broader spectrum. As I explained in my earlier answer, we need to bring a framework and a blueprint to pick and choose kind of concepts or plug and play concepts becomes a reality one day. So, in that way, I can say that it's split 7.2 very much active with micro kind of domains of 5G infrastructure and also adopted to private infrastructure.
Similarly, I see split 6 very close to Enterprise Solutions use cases. I can see that they are more favorable to private network deployments, where they are more in terms of – mid-haul, integrating products, and DU and RU integrations. I can see that they have many advantages to bring it for Enterprise Services.
And similarly, if you have split 7.x interface also, ultimately you have to hit split 6, which is your FAPI because MAC and PHY integration you need to do and most of the time that goes with a FAPI compliance of 5G. I think this is how I'm seeing major two interfaces split 7.x and a split 6. These are the two, and there is a lot of great work O-RAN is doing. Similarly, SCF is also kind of taking its stake and ensuring that the promotion of split 6 for distributed RAN is going along with your 7.x.
Similarly, many upper layer integrations are also happening at a CU level where your split 2 is still valid. So we see a mixed flavor because one solution doesn't fit all in the industry. So definitely based on the use case and based on the business case you're looking into mix and match. I also see a possibility where a split 6 DU can coexist with the split 7 DU and go to a common CU. So those kinds of possibilities also tell you that the industry is ready to cooperate and bring the supply chain superiority of Open RAN to a reality. I think that is important because unless everyone cooperates and brings favorable, cost-effective frameworks, this will not be a reality. Then I feel that nobody can deny that these facts are acceptable and people work together cohesively.
---
Which use cases SCF is focussing on?
SCF is working with a split 6, and as we discussed earlier, SCF's goal is not only defining the split 6 interface. SCF split 6 is covering below three different segments.
Defining standard FAPI for 5G. There are two versions already released, and version three will be released in the coming few weeks.

Defining RF FAPI, where a lot of beamforming and other related aspects will be covered with the reference design and blueprints. So that is another piece where we are doing good. And we are expecting that in a few weeks, the first version of that specification will also go forward.

The third, last but not least, and very important is your network FAPI. Network FAPI we released 5G and FAPI specification 1.0 last quarter, and this quarter, probably in a few weeks, we are very positive to release the second version of nFAPI, which is release 15 & 16 compliant.
So, in that way, I'm feeling very happy about putting the specification in place, and multiple companies are collaborating. There was a public summit last week where Qualcomm was a great contributor, Picocom, and numerous other companies such as Radisys and Jio cooperated to bring nFAPI, whereas FAPI side Intel greatly contributed.
I also see all three things we need to put into a test framework. Multiple companies are also working on a testing framework such as Keysight. These things are in a public domain where everybody presented and updated how SCF is taking care of building this whole, open split frameworks for the customization, product ideation, and deployment for the network.
So that's all about what SCF is doing. And definitely, we are bringing another umbrella workgroup where multiple of these initiatives will be considered and worked upon under a single framework where cloud assets components and small cell ecosystems your Wi-Fi and you can say 5G convergence.
Many industry automation use cases and IoT use cases will be under a single umbrella. We can all focus and take it forward regarding frameworks, packaging, blueprints, and deployment level.
In the last couple of months, we are also focusing on taking at least two or three major use cases where all we're doing is packaging under a single blueprint or a framework. And some of those are automotive, private networks, and ports.
Read the complete article in the 5G Magazine
All
2022 Predictions
2023 Predictions
5G Edge
5G for Manufacturing
5G for Transportation
5G Towers
Featured
Foundation
Guest
Leaders
Open RAN | 2021
Open RAN | 2022
Private Networks | 2021
Private Networks | 2022
Security
Telco Cloud
All
2022 Predictions
2023 Predictions
5G Edge
5G for Manufacturing
5G for Transportation
5G Towers
Featured
Foundation
Guest
Leaders
Open RAN | 2021
Open RAN | 2022
Private Networks | 2021
Private Networks | 2022
Security
Telco Cloud
All
Aerospace and Defense
Agriculture
Commerce
Datacenter
Energy & Utilities
Financials
HealthCare
Industrial Automation
Innovation Hub
Manufacturing
Media and Broadcast
Mining
Ports
Public sector
Retail
Smart Cities
Sports
Transportation
University Campus
All
Aerospace and Defense
Agriculture
Commerce
Datacenter
Energy & Utilities
Financials
HealthCare
Industrial Automation
Innovation Hub
Manufacturing
Media and Broadcast
Mining
Ports
Public sector
Retail
Smart Cities
Sports
Transportation
University Campus