Current State of Open RAN – Countries & Operators deploying & trialing Open RAN
The current state of Open RAN - which countries have deployed/trialed Open RAN? Which operators are deploying/trialing Open RAN deployment?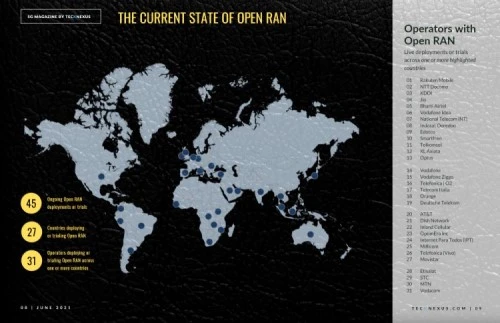 45 – Ongoing Open RAN deployments and trials

27 – Countries deploying/trialing Open RAN

31 – Operators deploying/trialing Open RAN across one or more countries
---
The current state of Open RAN in Japan
---
Rakuten Mobile has launched 4G and 5G commercial services based on open RAN architecture in Japan, leveraging multiple vendors' radios. The key vendors in Rakuten deployments include Altiostar, Cisco, Nokia, Intel, IBM Red Hat, OKI, Fujitsu, Ciena, NEC/Netcracker, Qualcomm, Mavenir, Quanta Cloud Technology, Sercomm, Tech Mahindra, Allot, Innoeye, Viavi, Robin.io, Radcom, and Airspan.
Rakuten has signed separate MoUs (Memorandum of Understanding) with NEC and Fujitsu to develop open RAN solutions for the global market. Fujitsu will develop new O-RAN-based 4G and 5G radio units that Rakuten Mobile will integrate into its Rakuten Communications Platform (RCP) offering. As per the MoU, NEC will expand its existing domestic collaboration with Rakuten to provide 5G and 4G Radios and engineering services for Open RAN systems aligned with O-RAN specifications.
Rakuten is in discussion with more than 15 operators to develop a blueprint of Open RAN deployments based on RCP.
Telefonica signed an agreement with Rakuten Mobile in Sep 2020 for research and lab trials supporting OpenRAN architecture and jointly developing proposals for optimal 5G RAN architecture and OpenRAN models.

Etisalat Group and Saudi Telecom Company (STC) already signed MoU with Rakuten in Jan 2021 and Dec 2020, respectively, to develop a reference blueprint for mobile broadband networks and open RAN technology based on RCP.

Ligado signed MoU with Rakuten Mobile to use RCP for the commercial trial of private 5G networks in Feb 2021. They will collaborate with enterprise customers on the advanced use cases and the technology stack for launching a mobile private 5G network offering.
---
NTT Docomo commercially deployed Open RAN-based 5G sites in Tokyo in Sept 2020 based on open interfaces (fronthaul and X2 interfaces) specified by O-RAN. The key vendors of this ecosystem include NEC, Samsung, Fujitsu, and Nokia.
They have been leading the O-RAN Alliance since early 2018, developing specifications and promoting solutions that enable operators to combine disaggregated base station equipment.  NTT Docomo also has an agreement with 12 vendors – Dell Technologies Japan, Fujitsu Limited, Intel, Mavenir, NEC Corporation, NTT DATA Corporation, NVIDIA, Qualcomm Technologies, Red Hat, VMware, Wind River, and Xilinx, to cooperate for building 5G Open RAN Ecosystem and accelerating the deployment of open radio access networks globally, to serve the diverse needs of the operators.
Docomo's target is to package best-of-breed RAN and introduce, operate, and manage them based on demands from operators considering the open RAN introduction.
---
KDDI plans to deploy O-RAN compatible 5G radio units from Fujitsu for constructing virtualized base stations for 5G commercial services in Japan. The 5G radio units will use O-RAN specifications for the fronthaul interface for communicating with base station controllers. KDDI plans to provide end-to-end network slicing services with the 5G network.
---
The current state of Open RAN in India
---
Reliance Jio is building its own 5G network based on Open RAN technology. Jio has already tested in-house-built 5G radios integrated with 5G core earlier this year. It plans to leverage the companies that have India-based manufacturing. Some of the companies that could potentially be part of the Jio 5G ecosystem include SignalChip, Saankhya Labs, Tejas Networks, Sterlite Technologies, and VVDN Technologies.
Radisys (acquired by Jio) and Qualcomm are already part of this ecosystem. Qualcomm's venture arm plans to invest $97.1 million in Jio's platform, about a 0.15% equity stake. In Oct 2020, Jio already achieved a milestone of 1Gbps, leveraging Qualcomm's 5G RAN platforms.
---
Bharti Airtel initiated partnered in early Nov 2021, with Amazon Web Services (AWS), Google Cloud, Ericsson, Cisco, Nokia, Accenture, Tata Consultancy (TCS) to test enterprise use cases using low-latency high-speed 5G Networks. They are working with Apollo Hospitals, Flipkart, and other manufacturing companies to demonstrate 5G solutions. The solutions will be deployed in the 5G test spectrum allotted by the Department of Telecommunications (DoT) and will include use cases for Smart Factory, Smart Healthcare, Digital Twin, AR/VR based use cases, Connected Work-force, and more. The use cases will be conducted both at end-user locations and Bharti Airtel's advanced 5G lab in Gurgaon.
Bharti Airtel has also deployed open RAN across multiple cities in India from Altiostar for 4G services. The software is 5G-ready, and as per Altiostar, it could seamlessly transition to 5G using the same network architecture. Airtel is a part of both the O-RAN Alliance and Telecom Infra Project (TIP), contributing actively to the standardization efforts. In Nov 2020, Airtel hosted the first plugfest event in the India region for O-RAN Alliance. Jointly with Alitostar and NEC demonstrated O-RAN option 7.2x split integrating virtualized O-DU from Altiostar.
Earlier in 2021, Airtel partnered with Qualcomm to deliver 5G Fixed Wireless Access (FWA) to deliver broadband connectivity for residential and business customers. It will utilize Qualcomm's Open RAN platform via its network of vendors and device partners.
In addition to Qualcomm and Alitostar, Airtel has also partnered with Intel, Mavenir, and Tata Group.
---
Vodafone Idea, in India, has deployed Open RAN solution from Mavenir at multiple sites for supporting 4G services, since Dec 2019. They are committed to Open RAN and plan to extend the deployment of TDD and Massive MIMO sites across multiple cities in India. They have partnered with many Open RAN ecosystem vendors to develop solutions for India's traffic requirements and build a 4G+ network by advancing the deployment of 5G technologies.   
---
The current state of Open RAN in Thailand
---
National Telecom Public Company Limited (NT) deployed an Open RAN-based private 5G network in Ban Chang, the westernmost district of Rayong Province in eastern Thailand, in partnership with Mavenir, Cisco, and 5GCT (local partner delivering end-to-end 5G smart cities solution).
Mavenir provided the cloud-native, open architecture-based private network solution comprising of 5G Open RAN, Millimeter wave (mmWave) radios, and 5G Core with Open API technology standards to enable state-run telco TOT (which merged NT along with CAT Telecom) to launch 5G. Cisco provided switching hardware and application services to enable the 'smart' components of the 5G solution.
---
The current state of Open RAN in 
Indonesia
---
Indosat Ooredoo, a cellular operator in Indonesia conducted OpenRAN field trials, including proof of concept and functional testing in April 2021. The field trials were carried out in several locations in the Maluku region as part of Indosat Ooredoo's efforts to improve and expand its video grade 4G network for providing better internet services to its customers. The trials were supported by TIP OpenRAN Project Group and Parallel Wireless.
---
The current state of Open RAN in 
Malaysia
---
Edotco, leading regional integrated telecommunications infrastructure services partnered with TIP to deploy & test OpenRAN 4G sites at selected high traffic areas in Malaysia. Edotco will validate TIP OpenRAN in a Network as a Service environment, providing wholesale service to mobile service providers, starting with Celcom Axiata and extending to others over time.
---
The current state of Open RAN in 
Oceania
---
Optus, Australia's second-largest mobile operator deployed an Open RAN solution from Parallel Wireless for providing 4G-based mobile connectivity for its customers in remote and underserved areas. Optus rolled out 5G in Australia in Nov 2019 and currently has network equipment from both Ericsson and Nokia.
---
The current state of Open RAN in 
Europe
---
  "Vodafone, Telefonica, Deutsche Telekom, Orange, and Telecom Italia signed a memorandum of understanding to support the rollout of Open RAN networks across Europe. They will work with ecosystem vendors, and industry bodies such as the O-RAN Alliance, TIP, and European policymakers to ensure Open RAN technology becomes competitive with the traditional RAN solutions."
Link -> OPEN RAN TECHNICAL PRIORITIES EXECUTIVE SUMMARY UNDER THE OPEN RAN MOU by Deutsche Telekom, Orange, Telefónica, TIM, and Vodafone
---
Telefonica is planning to deploy Open RAN technology in the below three phases:
Initial Phase (2020-2021): Pilots & Trials

Phase 1 (2021-2022): Initial deployments

Phase 2 (2022 and onwards): Massive deployments in Spain, Brazil, Germany, and the UK
The objective is to deploy Open RAN in 50% of the network between 2022-2025. Telefonica also signed an agreement with Rakuten Mobile in Sep 2020 for research and lab trials supporting OpenRAN architecture, jointly developing proposals for optimal 5G RAN architecture and OpenRAN models.
In Brazil, Telefonica's brand Vivo already conducted Open RAN technology-based trials for 4G and 5G with Mavenir, Parallel Wireless, Altiostar, Supermicro, Intel, Gigatera Communications, and Xilinx.
In Argentina, Telefonica's brand Movistar conducts Open RAN proof-of-concept with Altiostar, RedHat, Quanta, Gigatera, Kontron, and IBM.
Telefonica's Deutschland went live with the Open RAN network at three sites in Landsberg am Lech, Bavaria, and plans to deploy Open RAN at 1000 sites in Germany by the end of 2022. The ecosystem vendor for Open RAN deployment includes Altiostar, Gigatera Communications, Dell, Intel, Red Hat, Supermicro, Xilinx, and NEC.
In Jan 2020 Telefonica O2 initiated a range of Open RAN (O-RAN) projects to provide better network service to its customers in the rural areas and dense urban hubs, with the expectation of commercial deployment in the next 18-24 months. O2 partnered with non-traditional RAN vendors – Mavenir, DenseAir, and WaveMobile for the O-RAN projects.
In partnership with Mavenir, O2 enhanced coverage and capacity in high-density environments in London. They provide enhanced mobile connectivity and a better customer experience in areas such as stadiums to shopping centers.

In partnership with DenseAir, O2 is deploying O-RAN-based 4G and 5G networks at Millbrook. O2 works with Millbrook Proving Ground, a neutral host provider for public and private 5G connectivity, for testing and developing CAV technology.

O2 has deployed O-RAN-based coverage solutions developed with WaveMobile, across several sites in the UK, including Woldingham, Surrey, which carry mobile traffic for O2 customers
In Jan 2021, leveraging the work done in the last 12 months, O2 conducted a successful Open RAN trial with NEC, Altiostar, GigaTera, Supermicro, and other ecosystem partners.
NEC developed customized Open RAN architecture, conducted end-to-end testing and interoperability verification in its UK center of excellence running via O2's core network

Alitostar provided the virtualized RAN software

GigaTera and Supermicro provided the hardware for the trial
Link -> Telefónica views on the design, architecture, and technology of 4G/5G Open RAN networks
---
Deutsche Telekom plans to deploy in 2021, Open RAN technology-based 4G and 5G services at 25 sites in Neubrandenburg, a city north of Berlin, in Germany. The key vendors part of this Open RAN validation process include Mavenir, Fujitsu, NEC, Nokia, Dell, and others. Based on the results of the small deployment, DT may plan for wider deployment of Open RAN technology in 2023-24.
---
Orange plans to deploy solely Open RAN compliant network equipment starting 2025 and conduct virtual and automated network trials by the end of this year. They believe that Open RAN will provide opportunities to the new vendors but not at the expense of Nokia and Ericsson.
---
Telecom Italia is deploying Open RAN technology for 4G services in Faenza, Italy. The Open RAN deployment initiative is part of the signed MoU between Vodafone, Telefonica, Deutsche Telekom, Orange, and Telecom Italia to deploy Open RAN technology across Europe. The key vendors enabling the Open RAN-based 4G deployment for TIM include JMA wireless and Microelectronics Technology (MTI). TIM will extend the Open RAN solution to support 5G services in the future.
---
Ireland: Vodafone plans to launch Open RAN-based 4G services at 30 locations in Ireland, in partnership with Parallel Wireless. It was initially trialed in North Kildare and then rolled out across the North West region.  Additionally, Vodafone will also leverage system integrators to improve product automation covering zero-touch provisioning, testing, and operational process definition for Open RAN. In this process, it will further extend the developing ecosystem to include RAN automation vendors.
UK: Vodafone has launched the first commercial OpenRAN 4G site in a rural area at the Royal Welsh Showground in Powys, Wales, the UK, with Mavenir, Dell, Kontron, and Lime Microsystems. In Nov 2020, Vodafone announced that it would be deploying OpenRAN technology at 2,600 mobile sites across Wales and the South West of England. Italy, Romania, and Spain: Vodafone also conducted field/lab trials with Open RAN technology for 4G services with Parallel Wireless and Lime Microsystems, in Italy, Romania, and Spain. Vodafone Ziggo (Netherlands): Vodafone Ziggo is conducting a trial of Open RAN technology with NEC Europe and Altiostar. They tested the first voice call over the Open RAN network in Oct 2020. They plan to integrate solutions from other technology and radio vendors using commercial off-the-shelf hardware from third parties to transform the VodafoneZiggo network into a software-based network. Globally across countries:
Vodafone also announced in Nov 2020 that it would open multiple OpenRAN Research & Development labs across Europe. This is another commitment to the Open RAN ecosystem as a part of Vodafone's European innovation strategy. In April 2021, Vodafone opened its first Open RAN test and integration lab at Newbury, UK, tech campus. The lab is currently in the early stages of development, and it will have 30 Vodafone engineers to integrate and test Open RAN technology from multiple vendors. 
Vodafone partnered with Qualcomm to develop the reference designs and technical blueprint for more equipment suppliers to help build the 5G networks of the future using Open RAN technology, enabling further diversification of network equipment vendors.
The Open RAN reference design will combine Vodafone's engineering expertise at building high capacity, large-scale networks with Qualcomm Technologies' leadership in developing high performance and low power Application-Specific Integrated Circuit (ASIC) solutions for device and infrastructure products. The combined solution will ensure Open RAN is ready for use in 5G networks and capable of supporting applications with high bandwidth requirements such as virtual and augmented reality devices, even in urban areas.
---
The current state of Open RAN in North America
---
AT&T has commercially deployed an Open RAN-based 5G network at a few sites in Dallas in Aug 2020 with Ericsson and Samsung. AT&T has also conducted several O-RAN trials to demonstrate a mmWave 5G gNB and open front haul leveraging developments with CommScope and Intel. They are expected to incorporate O-RAN-compliant network equipment in their network from 2022 and maintain the same level of high performance.
AT&T believes that the industry will gradually introduce Open RAN into existing networks, and some deployments may continue to use existing traditional network infrastructure.
The dish network is building the cloud-native, Open RAN technology-based 5G broadband network that would comply with its O-RAN specifications. They tested a fully virtualized standalone 5G core using the industry's first O-RAN compliant FDD radio by MTI, along with Nokia and Mavenir in Wyoming in Dec 2020.  The key vendors part of the Dish 5G network ecosystem includes Altiostar, Mavenir, Fujitsu, Intel, Qualcomm, Nokia, VMware, Ciena Blue Planet, Matrixx, Hansen Technologies, DigitalRoute, and MTI. DISH will use AWS Outposts and AWS Local Zones to build its 5G Open RAN network in the cloud.
The dish is a strong proponent of Open RAN.
Inland Cellular deployed TIP OpenRAN based solution for commercially launching 4G services and laid the foundation for future OpenRAN based 5G services. ExteNet Systems, Parallel Wireless, Dell EMC, and Intel are the key vendors in their 4G Open RAN deployment. Inland Cellular opted for Open RAN for price and features. It helps them drop each cell cost by about 40%.
OptimERA, a telecommunication provider in Alaska, is working on Open RAN-based LTE services with Parallel wireless to provide broadband services to consumers and businesses.  
Verizon believes that operators should decide for themselves depending on the circumstances whether Open RAN or traditional proprietary network is the right choice. They have mentioned to Federal Communications Commission (FCC) as part of the agency's inquiry into open RAN that much work needs to be done from a standards perspective. There are adoption challenges, specifically for existing networks (compared to greenfield deployment). Verizon plans to use Open RAN equipment to construct a 5G network in its mmWave and C-band spectrum once its existing vendors – Ericsson, Samsung, and Nokia start supplying open RAN compliant equipment later this year. Early this year, Verizon deployed 5G vRAN leveraging Samsung, Intel, HPE, and Wind River.
T-Mobile currently does not have any plans to deploy Open RAN technology.  
---
The current state of Open RAN in South America
---
Internet Para Todos (IPT), a wholesale operator in Peru owned by Telefonica, Facebook, and Latin American banks IDB Invest and CAF Bank, launched commercial 4G mobile broadband based on TIP OpenRAN architecture based in May 2019. IpT will offer wholesale connectivity access on the revenue share model to mobile operators for delivering communication services to rural communities. Parallel Wireless and Altiostar are the key OpenRAN vendors in this deployment.
Millicom plans to deploy 4G services in rural parts of Columbia via O-RAN compliant technology via Parallel Wireless. The first phase of deployment will begin early 2022, followed by new rollouts over a 4-year period. Parallel Wireless will also be a key system integrator, bringing together ecosystem partners for hardware, software, RIC, orchestration, and applications.
Telefonica Vivo conducted Open RAN technology-based trials for 4G and 5G in Brazil, with Mavenir, Parallel Wireless, Altiostar, Gigatera Communications, Supermicro, Intel, and Xilinx. They are also validating AWS outposts as infrastructure options. This is part of Telefonica's wider strategy to conduct O-RAN trials across its core markets of Germany, Spain, the UK, and Brazil.
Movistar, the Telefonica brand, is conducting Open RAN proof-of-concept in Puerto Madryn, Argentina. Altiostar, RedHat, Quanta, Gigatera, and Kontron are key vendors in this Open RAN proof-of-concept. IBM is the system integrator responsible for end-to-end deployment & integration of components from the mentioned vendors for this Open RAN trial.
---
The current state of Open RAN in Middle-East
---
Etisalat, the UAE-based operator, was the first to launch an Open virtual Radio Access Network (Open vRAN) in Jan 2020. It gradually plans to expand the rollout of Open vRAN across the UAE. The key vendors in the Open vRAN deployment included Parallel Wireless, Altiostar, Cisco, and NEC. It is using commercial off-the-shelf hardware as an alternative to traditional proprietary network equipment.
Global Open RAN: Etisalat operates in 16 markets across Middle-east, Asia, and Africa. They recently signed an agreement with Parallel wireless to deploy O-RAN compliant network in Afghanistan in partnership with Intel and Supermicro, replacing existing legacy applications. Intel will provide a 3rd generation Xeon processer, which would run on Supermicro servers.
MoU with Rakuten: Etisalat has been exploring the Rakuten Communications Platform (RCP) for some time.They signed a Memorandum of Understanding (MoU) with Rakuten Mobile to develop a reference blueprint for mobile broadband networks and Open RAN technology based on the RCP.  
STC tested O-RAN sessions in Saudi Arabia in partnership with STC Solutions and Altiostar in Dec 2020. The Open RAN testing aligns with STC's DARE strategy for a bright digital future.
MoU with Rakuten: STC signed a Memorandum of Understanding (MoU) with Rakuten Mobile to collaborate on various technologies, including OpenRAN deployment options for greenfield and brownfield use cases. The goal is to accelerate the delivery of mobile network services via OpenRAN technology.  
---
The current state of Open RAN in Africa (4G/5G)
---
MTN has deployed over 200 commercial rural sites across its geographical footprint, using OpenRAN technology. They are projecting to deploy more than 5000 sites in rural areas across 21 operations, bringing 2G,3G, and 4G connectivity. Zambia: MTN technology group conducted the first trials of OpenRAN in 2018 and deployed commercial sites in 2019 in Zambia with Parallel Wireless. Mozambique: MTN conducted OpenRAN based trials for 4G in Mozambique. Key vendors included Parallel Wireless, Mavenir, CrowdCell, and Lime Microsystems. Uganda and Guinea Conakry: MTN has ongoing OpenRAN based operations for 4G commercial services in Uganda and Guinea Conakry, with VANU, Parallel Wireless, and NuRAN wireless. South Africa: MTN conducted 4G trials based on OpenRAN in South Africa with Parallel Wireless. As one of the key members of the TIP, MTN carries out solution testing on all hardware and software elements at its state-of-the-art head office in Johannesburg, South Africa.  
Vodafone (

Democratic Republic of Congo, Mozambique)
  Democratic Republic of Congo (DRC): Vodacom has conducted trials with TIP OpenRAN in the Democratic Republic of Congo (DRC) with Parallel Wireless. Mozambique: Vodafone (Vodacom) conducted OpenRAN based trials for 4G in Mozambique. Key vendors included Parallel Wireless, Mavenir, CrowdCell, and Lime Microsystems.
Read the complete article in the 5G Magazine
All
2022 Predictions
2023 Predictions
5G Edge
5G for Manufacturing
5G for Transportation
5G Monetization
5G Towers
Featured
Foundation
Guest
Leaders
Open RAN | 2021
Open RAN | 2022
Private Networks | 2021
Private Networks | 2022
Security
Tech and Connectivity
Telco Cloud
All
2022 Predictions
2023 Predictions
5G Edge
5G for Manufacturing
5G for Transportation
5G Monetization
5G Towers
Featured
Foundation
Guest
Leaders
Open RAN | 2021
Open RAN | 2022
Private Networks | 2021
Private Networks | 2022
Security
Tech and Connectivity
Telco Cloud
All
Aerospace and Defense
Agriculture
Commerce
Datacenter
Education
Energy & Utilities
Financials
HealthCare
Industrial Automation
Innovation Hub
Manufacturing
Media and Broadcast
Mining
Ports
Public sector
Retail
Smart Cities
Sports
Transportation
All
Aerospace and Defense
Agriculture
Commerce
Datacenter
Education
Energy & Utilities
Financials
HealthCare
Industrial Automation
Innovation Hub
Manufacturing
Media and Broadcast
Mining
Ports
Public sector
Retail
Smart Cities
Sports
Transportation