System Integration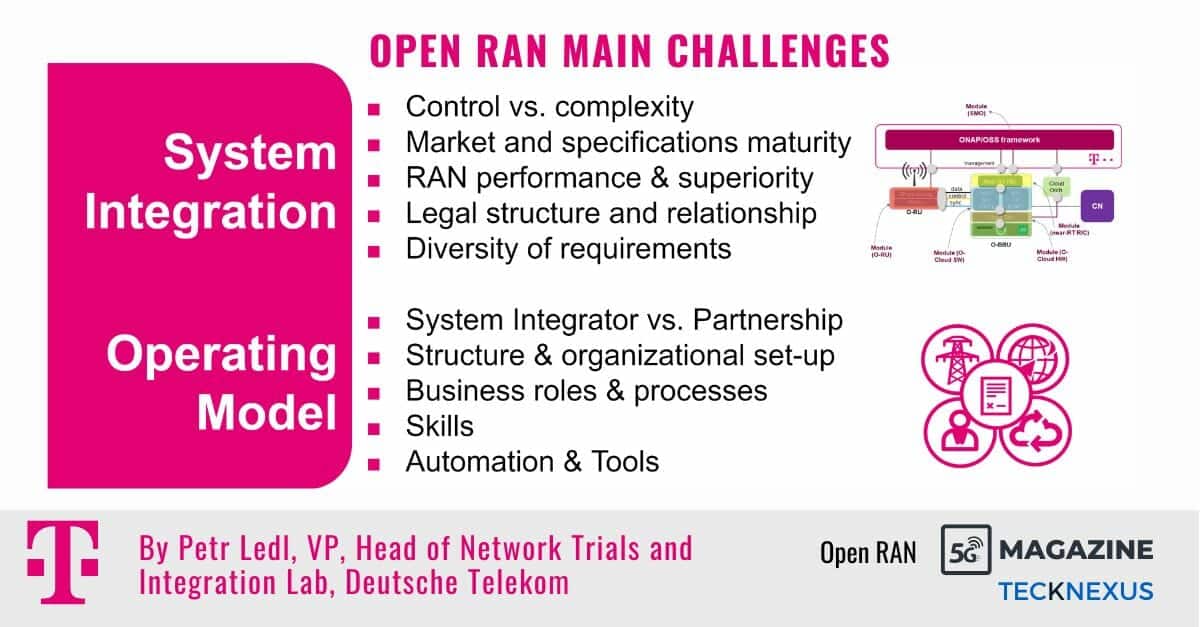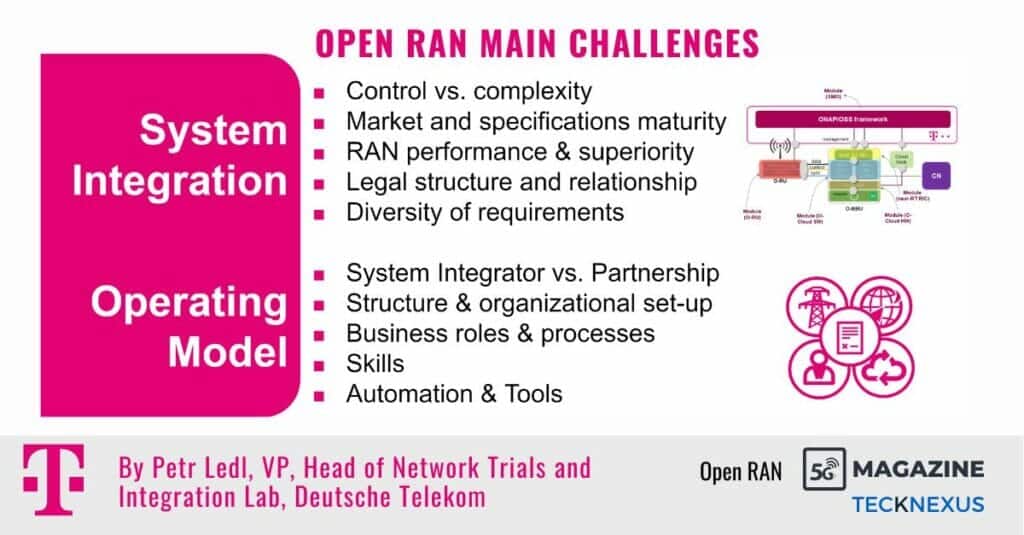 Control vs. complexity – As a service provider, we at Deutsche Telekom must decide how much control we should take in the overall Open RAN deployment to manage the related complexity. This is one reason we limited our focus to three areas in the initial phase of Open RAN.
Market and specifications maturity – If the market and specifications are not mature, we end up building a lot of proprietary extensions to make the system work according to our requirements. This also increases the overall cost.
RAN performance and superiority – RAN performance and superiority are highly debated parameters and very important for our market. Our focus is on the highest user experience, highest network quality, and performance. Hence, we must ensure that the systems we are deploying deliver on this parameters.
Legal structure and relationship – One challenge is how to structure the relationship in the context of the ecosystem we are deploying. For example, whether we should have one contract or multiple contracts.
Diversity of requirements – Addressing the diverse requirements of the multi-vendor ecosystem is also one of the challenges.
Operating Model
System Integrator vs. partnerships – There is a significant shift in what responsibility we as an organization take in the Open RAN ecosystem. In the traditional approach, we got an end-to-end integrated system from a supplier. We focused on efficient integration into the IT/BSS systems and the network infrastructure.
Structure and organizational setup – The Open RAN solution needs to be integrated into our environment to a certain extent. How do we take more responsibility and structure the organization to support the distribution of responsibilities between multiple suppliers and us?
Business roles and processes – The roles of the subsystem suppliers, system integrators, and service providers need to be defined. What the winning strategy looks like is something we will know over time.
Skills – With the shift in the responsibility of various tasks from traditional suppliers to service providers, developing the right skillsets for the organization becomes a key priority.
Automation and Tools – The challenges and complexity of disaggregated RAN solutions can only be managed with a high degree of automation and tools.