Deutsche Telekom introduced a vendor-independent Service Management and Orchestration (SMO) component based on ONAP open source to automate services on all network domains. The SMO is at the heart of the complete lifecycle management of all O-RAN components in the deployment for managing the RAN disaggregation complexity.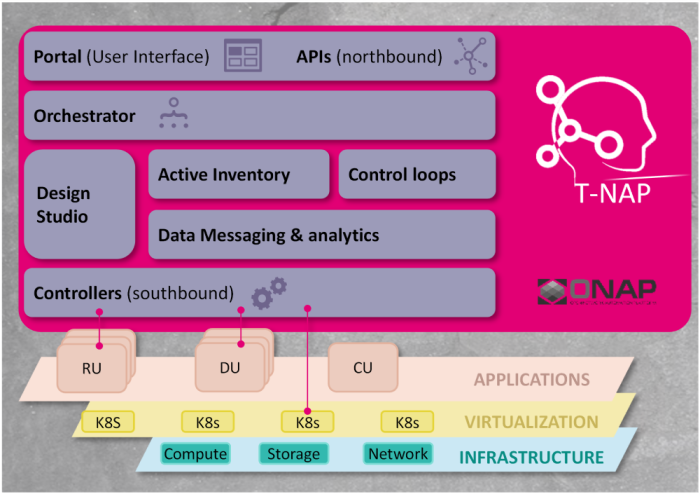 Deutsche Telekom is on its way to bringing ONAP from the labs into pilot production. Deutsche Telekom has already deployed ONAP-based SMO at their O-RAN Town project in the city of Neubrandenburg, a multi-vendor Open RAN trial network for 4G and 5G services with massive MIMO integrated into the live network — the first in Europe.
Rationale for choosing ONAP-based SMO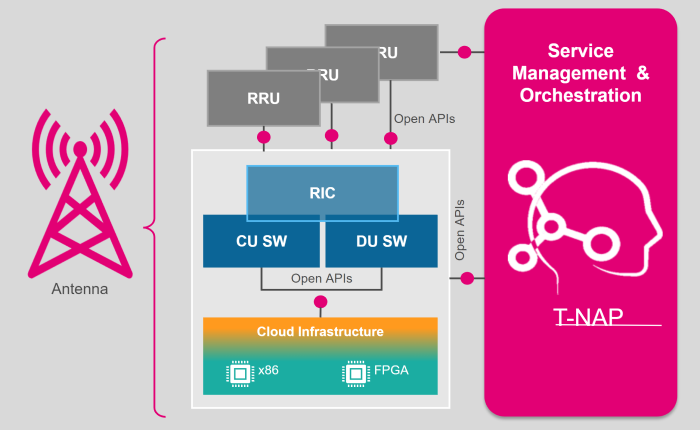 Enables desired supplier flexibility
ONAP supports the lifecycle management of disaggregated network functions in the radio access network (RAN). This enabled Deutsche Telekom to expand the choice of vendors and solutions in the O-RAN Town project in New Brandenburg.
Integration into the legacy networks, existing processes, and landscapes
Deutsche Telekom relies on ONAP support for the O1 interface for configuring O-RAN and integrating FCAPS — fault, configuration, accounting, performance, and security — spanning their most common operations functions.
The Controller Design Studio (CDS) framework inside the Common Control SDK offers blueprint definitions and archives for config management processes. The specific blueprints as part of the service model helped during the integration of their processes in the RAN domain, such as handling disaggregated 4G or 5G workloads.
Enables flexibility and fosters automation
Deutsche Telekom values the flexibility of ONAP to span and automate the entire lifecycle of a network function, from design time to runtime, and offer control at every point. The automation gains will help reduce the effort on operations and increase the quality of the network services.
Open RAN focus areas in Initial Phase and Approach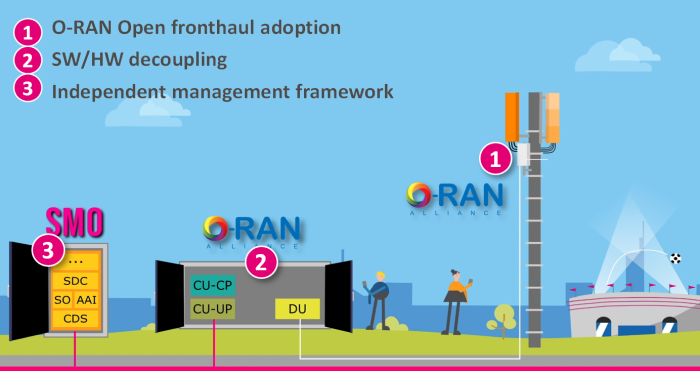 O-RAN Open fronthaul adoption for RU/BBU decoupling
Adopting the open front haul enables us to deploy a multi-vendor radio access network from the perspective that the radio unit comes from one vendor and the baseband unit for the RAN protocol comes from another vendor. That's what we mean by RU/BBU decoupling.
SW/HW Decoupling to bring cloudification benefits into RAN
New RAN vendors will not develop their own bare-metal solutions but instead will use COTS hardware. Software-hardware decoupling addresses the innovation challenges and allows us to use different approaches in both domains to gain faster innovation speed.
Independent management framework
An independent management framework allows resource sharing with other use cases and applications, especially on the network's edge.