5G & Edge Applications Scaling Out with Infrastructure Build Out
5G & Edge Applications are scaling with infrastructure build-out as we can see with the rise of the private 5G Networks across industry verticals such as Industry 4.0, Healthcare, Transportation driving road safety, and more.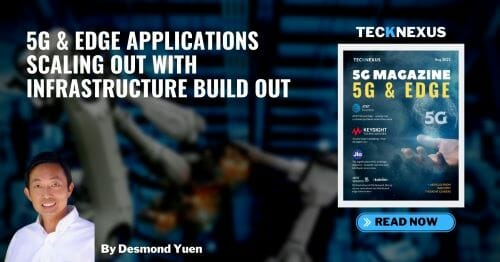 From 1G to 5G
Since the 1G mobile network was launched, a new generation of mobile network technology is coming out at around every 10 years on average. With 4G/LTE, it gave us a new generation of consumer-focused mobile applications such as Facetime, Uber, and Snapchat. In addition to making these applications popular, it has a profound impact on our daily lives. With 5G, the expectation is even higher as 5G can be up to 100 times faster than 4G.
In the beginning, existing applications that are bandwidth hogs such as Netflix and YouTube will probably benefit the most from the transition to 5G. While many people are waiting for new applications that can consume the bandwidth from 5G, what really sets 5G apart from 4G/LTE is latency. Low latency is the prerequisite for real-time applications and edge devices are going to benefit the most from the low latency of the 5G networks. Please see the related diagram in 5G Magazine.
The Rise of Private 5G Networks
For many 5G applications that rely on public networks, full-scale deployment of 5G infrastructure has to be there. For example, autonomous driving relying on 5G might not work in rural areas if the infrastructure is not there. It will take time for wireless carriers to build out their public networks. While 5G public networks are being built, 5G Private Network (On-Premise) is gaining popularity.
For many companies, a private 5G network offers the control and reliability they will need for certain mission-critical activities, along with seamless integration across their existing systems. Since bandwidth does not need to be shared and additional encryption can be used, private 5G networks are more secure. Data inside a private 5G network can also be monitored closely. In some countries, businesses can either buy the spectrum to build their own private 5G network or have the telco companies to build and maintain their private 5G networks.
Industry 4.0 Plant Powered by a Private 5G Campus Network
One company that is leveraging the 5G private network for manufacturing is Bosch (see the related figure in the 5G Magazine). They plan to deploy 5G to 250 of its plants worldwide. What drove their decision to adopt the 5G private network versus other technologies? Bosch needs a robust network that can transfer data reliably and ultra-fast, and machines communicate in real-time. Reliability is important in manufacturing. A few dropped packets could mean a robot missing its cue or stop working, resulting in a costly production shutdown. A 5G private wireless network can guarantee coverage. 5G includes several features that make it more reliable than existing wireless solutions, including protocols for recovering lost packets quickly and ways for routing data around network bottlenecks.
5G promises latencies as low as a millisecond, compared with around 30 milliseconds for current 5G networks. For smart machines to communicate in real-time, low latency is important. Low latency means there is no longer a need to have a wired connection for improved latency. 5G wireless network increases the mobility of robots which, in turn, can increase the utilization and efficiency of the robots. In addition, adding 5G wireless links to robots and other equipment allows them to be synchronized and calibrated more precisely, helps predict costly malfunctions and downtime, and allows sophisticated software, including artificial intelligence, to be piped in to make them more capable. Let's look at another industry that is ripe for 5G transformation.
Ushering in The Next Generation of Healthcare With 5G
VA's Palo Alto Health Care System is the first fully 5G-enabled hospital in VA (Veterans Affairs). They did not enable 5G for people to get faster download on their phones. Their 5G infrastructure is to enable mobile connectivity between medical devices, augmented reality, and virtual reality tools to support medical training, etc. 5G is perfect for these advanced tools which require greater data transfer rates to support the large amounts of information transmitted across devices.
To turn the idea into reality, the team from VA Palo Alto Health Care System collaborated with Verizon, Microsoft, and Medivis: Verizon provided the 5G network backbone, Microsoft offered the HoloLens headset and information delivery platform from Microsoft, and the imaging software from Medivis. Physicians at VA's Palo Alto Health Care System can now transform complex health data into interactive 3D holograms, models, and overlays. Let's examine another application that is moving the computing power to the edge of the 5G network.
Why 5G is Critical for Road Safety
What does 5G have to do with self-driving cars and safety? 5G's increased throughput, reliability, availability, and lower latency will enable new safety-sensitive applications which are known as V2X or Vehicle-to-Everything. The low latency is important for real-time decision-making scenarios. Self-driving cars can generate terabytes of data daily. See Figure 2 in the 5G Magazine. Anything over a hundred milliseconds of latency is going to disrupt the operation of self-driving cars.
Recognizing the importance of lower latency and reliability offered by the 5G wireless network, Honda and Verizon have teamed up to explore how 5G and MEC (Mobile Edge Computing) can improve road safety. With Verizon 5G Ultra-Wideband and 5G Mobile Edge Compute, it can ensure fast, reliable communication between road infrastructure, vehicles, and pedestrians.
Decentralized Edge Computing
With the applications named above, it is really about the need to process a large volume of data at a faster speed in real-time. Some of the 5G applications will require an on-premise edge to process the data. As the demand for real-time processing and low-latency connectivity increases, edge computing will drive the growth of more 5G applications. Businesses are already building products that could be supercharged by 5G and edge computing. 5G applications are not a dream anymore. It is here.
Read the complete article in the 5G Magazine
All
2022 Predictions
2023 Predictions
5G Edge
5G for Manufacturing
5G for Transportation
5G Monetization
5G Towers
Featured
Foundation
Guest
Leaders
Open RAN | 2021
Open RAN | 2022
Private Networks | 2021
Private Networks | 2022
Security
Tech and Connectivity
Telco Cloud
All
2022 Predictions
2023 Predictions
5G Edge
5G for Manufacturing
5G for Transportation
5G Monetization
5G Towers
Featured
Foundation
Guest
Leaders
Open RAN | 2021
Open RAN | 2022
Private Networks | 2021
Private Networks | 2022
Security
Tech and Connectivity
Telco Cloud
All
Aerospace and Defense
Agriculture
Commerce
Datacenter
Education
Energy & Utilities
Financials
HealthCare
Industrial Automation
Innovation Hub
Manufacturing
Media and Broadcast
Mining
Ports
Public sector
Retail
Smart Cities
Sports
Transportation
All
Aerospace and Defense
Agriculture
Commerce
Datacenter
Education
Energy & Utilities
Financials
HealthCare
Industrial Automation
Innovation Hub
Manufacturing
Media and Broadcast
Mining
Ports
Public sector
Retail
Smart Cities
Sports
Transportation