Challenges of Distributed Telecom Edge Computing
Mobile Edge Computing (MEC), is challenging to implement and requires support for network parameters of most of the use cases.  Telco Edge nodes are not only contained with network functions but also applications workloads are deployed to deliver services to edge serving devices.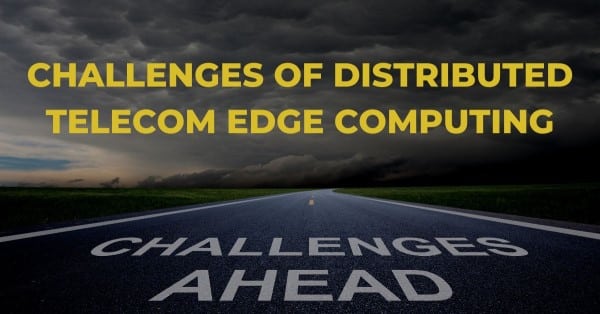 Edge computing is all about implementing compute, storage & networking to enable processing closer to data-generating connected devices. There are a few definitions that emerged with the adopters of edge in different architectures. Like edge is different for data center providers, telecom operators, communication service providers, corporate IT departments, manufacturing IoT, retail IoT business, sports, healthcare, and many different software architectures. Implementing edge architecture poses different challenges for different implementations due to the support of varied use cases in different implementations.
For example, ultra-low latency and high reliability are required by autonomous vehicles and remote surgery, higher throughput is required for video-on-demand services, IoT use cases will need a mix of parameters to host and run customized edge applications, intensive computing, and video streaming with high throughput required in cases of AI-based IoT and AR/VR use cases along with storage and power performance support.  
Out of the above different edge implementations, the edge for telecom operations, i.e., Mobile Edge Computing (MEC), is challenging to implement and requires support for network parameters of most of the use cases.  

Telco Edge nodes are not only contained with network functions but also applications workloads are deployed to deliver services to edge serving devices. 
Heterogeneous deployments
Telco edge nodes consist of several infrastructure layers starting from the central cloud, cell towers, C-RANs, and customer edge towards connected devices like sensors, actuators, home appliances, smartphones, and personal computers. A variety of such connected devices use different network access technologies like wi-fi, 2G, 4G, 5G, and in some cases private networks. Also, most of the edge nodes are equipped with multivendor equipment that further creates fragmentation in the virtualization/containerization of workloads, resulting in inconsistent methodologies for hosting network functions along with applications. 
Zero-touch network management
Telco edge nodes serve a diverse set of use cases on different types of edge locations. Such edge locations need to configure, deploy, turn up, monitored, and maintained. But this does not bring uniformity in terms of overall management, except for network slicing which enables logical channels for dedicated use cases. Most commonly, use cases require the utilization of edge nodes in different capacities. And in the case of network slicing, configurations for each slice have specific resources to serve the specified use cases.  
Due to the complexity of having different implementations in edge zones and multivendor solutions on top of it and the infrastructure involved, each network layer and service become hard to manage. It is not possible to configure each edge node and connected network routers and base stations. Centrally managed automation and AI/ML-based solution is required to control the services and network operations. Further intent-driven network provisioning and management can be also possible. With this, not all of most of the network operations get self-service based with respect to repetitive configurations and processing of requests coming from connected devices.  
Edge Services Orchestration
Telco MEC nodes are hundreds and thousands in the number connected to far-edge devices like a server at a gas station, a camera at a retail store, or may a video surveillance unit in a residential society. In the traditional telco model, the focus was on using purpose-built hardware systems or proximity access points like C-RAN or cell towers systems that need to configure manually and the configuration cycle time was on a higher side. In upcoming MEC architecture, this approach cannot be possible when trying to bring all the diverse pieces of network and services edge in a single carrier-grade, cloud-native, and automation mechanism. Telco MECs need to be deployed in close proximity, but it requires to have an easy-to-use, end-to-end solution for edge application management and orchestration. This is especially required as telcos are adopting the multi-cloud strategy and due to this, the edge is becoming complex. To address this, telco MEC requires to have an orchestration solution that will enable faster time to market, agile software development using CI/CD, and high-level automation.  
Challenges in terms of MEC Validation
Edge nodes not only host network functions but are deployed with application workloads as well. In a diversified edge environment, network functions come from different network solution vendors, and applications are varied in terms of resource requirements. These two are hosted with VNFs and CNFs orchestrated by Kubernetes or any managed cloud orchestration solutions. Such a complex environment requires  
The assurance of running workloads in different edge locations with different serving capacities

Validation of platforms hosting the NF and application workloads

 

Validation against each of the serving use cases
Lack of common standards for network integration
Implementing MEC is complex due to the amalgamation of multiple solutions and technologies into silo edge nodes. Telcos often source the open software and hardware units from different partners but this results in a complex standardization model including solutions with a variety of standards. This is challenging for a telecom operators to build a single and ready-to-replicate edge model based on multiple vendor solutions.  
All
2022 Predictions
2023 Predictions
5G Edge
5G for Manufacturing
5G for Transportation
5G Monetization
5G Towers
Featured
Foundation
Guest
Leaders
Open RAN | 2021
Open RAN | 2022
Private Networks | 2021
Private Networks | 2022
Security
Tech and Connectivity
Telco Cloud
All
2022 Predictions
2023 Predictions
5G Edge
5G for Manufacturing
5G for Transportation
5G Monetization
5G Towers
Featured
Foundation
Guest
Leaders
Open RAN | 2021
Open RAN | 2022
Private Networks | 2021
Private Networks | 2022
Security
Tech and Connectivity
Telco Cloud
All
Aerospace and Defense
Agriculture
Commerce
Datacenter
Education
Energy & Utilities
Financials
HealthCare
Industrial Automation
Innovation Hub
Manufacturing
Media and Broadcast
Mining
Ports
Public sector
Retail
Smart Cities
Sports
Transportation
All
Aerospace and Defense
Agriculture
Commerce
Datacenter
Education
Energy & Utilities
Financials
HealthCare
Industrial Automation
Innovation Hub
Manufacturing
Media and Broadcast
Mining
Ports
Public sector
Retail
Smart Cities
Sports
Transportation