Radio Access Network (RAN)
Open RAN Trials/Launches and Ecosystem Vendors
Asia-Pacific
Americas
Europe
Middle-East and Africa
What is Radio Access Network (RAN)?
The radio access network (RAN) is one of the domains in a mobile network that is part of the mobile ecosystem. RAN connects end-user devices to the mobile network over the radio waves. RAN consists of a number of functional parts that are implemented through hardware and software components. RAN makes up one of the more significant expenditures of the mobile network, while from an end-user perspective, RAN makes up between 3-4% of wireless revenues (sum of end-users spending on mobile services). 
Large network equipment vendors traditionally sell RAN as integrated solutions where the radio, hardware, and software components are tightly integrated, and the RAN internal interfaces are proprietary (not open).  3GPP today allows operators to mix and match different RAN suppliers across different geographical areas but does not allow an operator to use different suppliers of discrete RAN components on a single cell site installation. To swap out a RAN supplier of integrated solutions or of proprietary OpenRAN solution is resource-demanding for a mobile network operator. The economic trade-off: performance of integrated solutions versus flexibility of multi-vendor interoperable OpenRAN solutions is a choice that mobile network operators face.
Due to the integrated nature of the traditional RAN equipment and interfaces', or proprietary OpenRAN solutions, the network operators cannot mix and match RAN subcomponents from different vendors, this does not preclude an operator to mix and match different vendors across different geographical footprints as most operators today have several RAN vendors in addition to where OpenRAN is being introduced in regional test deployments. Multiple industry forums are working to overcome the limitation to enable interoperability between multi-vendor RAN components while at the same time match the performance of integrated RAN solutions.
3GPP was created in December 1998 by signing the "The 3rd Generation Partnership Project Agreement". The original 3GPP (1998) scope was to produce Technical Specifications and Technical Reports for a 3G Mobile System based on evolved GSM core networks and the radio access technologies they support. The latest 3GPP Scope and Objectives document has evolved from this original Agreement.
The 3rd Generation Partnership Project (3GPP) unites below telecommunications standard development organizations known as "Organizational Partners." 
It provides its members with a stable environment to produce the Reports and Specifications that define 3GPP technologies.
The project covers cellular telecommunications technologies, including radio access, core network, and service capabilities, which provide a complete system description for mobile telecommunications.  
The 3GPP specifications also provide hooks for non-radio access to the core network and interworking with non-3GPP networks.
3GPP specifications and studies are contribution-driven by member companies, working groups, and the Technical Specification Group level.
The three Technical Specification Groups (TSG) in 3GPP are:
3GPP Technical Specification Group RAN, like other TSGs, ensures that systems based on 3GPP specifications are capable of rapid development and deployment with the provision of global roaming of equipment. Each progressive 3GPP radio access technology aims to reduce complexity and avoid fragmentation of technologies on offer.
3GPP has aligned the industry on the New Radio (NR) and on LTE-Advanced Pro to provide 5G from 3GPP Release 15 onwards.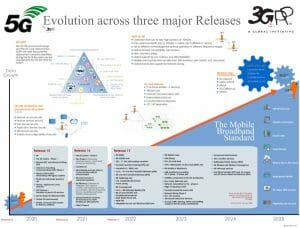 Image Source: 3GPP - The Mobile Broadband Standard (click image to enlarge)
In simple terms, Open RAN is an industrial concept that includes; virtualization, automation, and RAN internal open interfaces. Disaggregation and automation of RAN can be achieved in a number of different ways, including by solutions offered by traditional vendors. In this sense, Open RAN can be realized by 3GPP and O-RAN alliance specifications or proprietary non-standard-based solutions. 
O-RAN Alliance, in addition to what 3GPP enables, also specifies open RAN internal interfaces between the main building blocks of the radio access networks - Radio Unit (RU), Distributed Unit (DU), and Centralized Unit (CU). This would enable a mix and match between RAN components from different vendors. It is also essential to consider that since RAN is only one part of the mobile network, 3GPP is the only available specification that standardizes end-to-end a fully functional mobile network (2G/3G/4G/5G) that is interoperable and multi-vendor interoperable. O-RAN alliance specifications are only focused on RAN and currently only cover 5G.   
The three main building blocks of the RAN are:
Radio Unit (RU) - it transmits, receives, amplifies, and digitizes the radio frequencies. It is located near or integrated into the antenna. 

Distributed Unit (DU) - it is responsible for real-time L1 and L2 scheduling functions. In a centralized 5G cloud RAN deployment, the DU's physical and software layers are hosted in a central office or an edge cloud data center. 

Centralized Unit (CU) - it is responsible for non-real-time L2 and L3 functions. In a centralized 5G cloud RAN deployment, the CU physical and software layers can be co-located with the DU or hosted in the regional cloud data center.  
O-RAN alliance specifications that build on top of 3GPP RAN specification add additional functions and open RAN internal interfaces. If based on a specification like the O-RAN alliance, these functions and interfaces can potentially ensure multi-vendor interoperability and hence allow network operators to mix and match RAN internal components. 
To achieve multi-vendor interoperability, individual vendors that offer products compliant with O-RAN alliance specifications must perform interoperability tests between different vendors' solutions (and future software updates) that may or may not be built on proprietary vendor implementations. Mobile network operators can have integrated RAN products in one portion of the network and O-RAN compliant RAN products in another geographical part of the network.
Additionally, the disaggregated hardware and software RAN components enable the network operator to upgrade software functionality without ripping out & replacing the underlying physical infrastructure, i.e., future-proof their 5G hardware infrastructure investments. 
However, since RAN disaggregation is possible in several ways, this possibility can be realized based on 3GPP, O-RAN Alliance, or proprietary solutions. In other words, if this the objective OpenRAN as defined by O-RAN alliance specifications is not the only avenue to achieve this outcome and presence of RAN internal interfaces is not a necessary condition to achieve benefits associated with virtualization and automation of RAN.
What are the key expectations of Open RAN?
The key expectations of the Open RAN, presuming a multi-vendor interoperable implementation for the mobile operators, include:
Virtualization and automation launch new services faster as the dependency on the proprietary hardware is eliminated, which took a long development & deployment cycle, which can be achieved by different implementations, 3GPP, O-RAN, and proprietary without the introduction of RAN internal open interfaces.

Reduced dependency on a single vendor for RAN (i.e., decrease vendor lock-in) by leveraging radio access components from multiple vendors (RAN internal open interface)

Potentially reduce the RAN cost by increasing price pressure in the procurement of RAN components from an increased choice of vendors.
What are some of the challenges of Open RAN?
Some of the challenges that operators face in deploying Open RAN solutions include:
RAN performance gap such as functionality and energy between Integrated RAN solutions and OpenRAN disaggregated solutions potentially increasing the total cost of ownership. 

The cost associated with integrating and testing multi-vendor RAN hardware and software components

Accountability for issue resolution in cases where root-cause analysis results are inconclusive

Increased complexity in management & orchestration of multi-vendor RAN components. 
Radio access network functions designed and implemented as virtual network functions (VNFs) are termed as virtualized RAN (vRAN). 
 In the vRAN solution
The radio unit still runs on proprietary hardware.

The baseband unit can run on the commercial off-the-shelf (COTS) server instead of proprietary hardware. The software that runs on the baseband unit is virtualized to run on the COTS server.

The interfaces between the RAN subcomponents are proprietary.
To summarize, vRAN offers the benefits of Open RAN associated with virtualization and automation but is still implemented on proprietary hardware and proprietary interfaces and does not allow for mix and match of RAN hardware and software. 
Cloud RAN is a virtualized radio access network (vRAN) based on cloud-native architecture. Cloud RAN architecture supports cloud-native characteristics such as containerization, microservices, and CI/CD (continuous integration/continuous deployment). This means that on top of vRAN, Cloud RAN also allows for the implementation of vendor-specific software on general-purpose hardware. In this sense, it offers one avenue to mix and match suppliers in parts of the RAN hardware and software. Open RAN benefits associated with virtualization and automation can be realized without the introduction of an open RAN internal interfaces.
O-RAN refers to the O-RAN alliance and the specifications defined by the O-RAN alliance. O-RAN alliance is defining specifications to make radio access networks open, intelligent, virtualized, and fully interoperable. O-RAN alliance's unique contribution compared to the examples above is to add the mix and match possibility of vendors of discrete RAN components.
AT&T, China Mobile, Deutsche Telekom, NTT DOCOMO, and Orange founded the O-RAN alliance in 2018. It currently has participation from 20+ global mobile operators and 200+ companies (vendors and research and institutions) operating in the radio access network industry.
It is taking 3GPP specifications as a base and extending the specifications in the RAN domain. O-RAN Alliance focusses on the below three streams: 
Specifications effort, i.e., defining new standards for open and intelligent RAN.

O-RAN software community, i.e., driving open software development for the RAN, in cooperation with the Linux Foundation

Testing and integration effort, i.e., supporting O-RAN member companies in testing and integrating their O-RAN implementations.
OpenRAN refers to the initiatives driven by the Telecom Infra Project's (TIP's) OpenRAN project group. 
OpenRAN is accelerating innovation and commercialization in the RAN domain with multi-vendor interoperable products and solutions that are easy to integrate into the operator's network and are verified for different deployment scenarios. TIP's OpenRAN program drives the development of disaggregated and interoperable 2G, 3G, 4G, and 5G NR (RAN) solutions based on service provider requirements. It has brought together operators, traditional and emerging vendors leveraging open-source approaches and technologies.
What is Open RAN Policy Coalition?
The Open RAN Policy Coalition has been formed to promote policies that would advance further adoption of the open and interoperable solutions in the Radio Access Network (RAN), but this entity does not contribute to any standard or specification work.