Why is buying 5G private networks complex and what network architecture model can help circumvent this | BT
The potential for private networks is massive, but so are the challenges to realize its full potential. The 5G private networks landscape has a complex, multi-partner ecosystem. Investing in 5G private networks requires working with a provider with a rich partner ecosystem to support complex global deployments.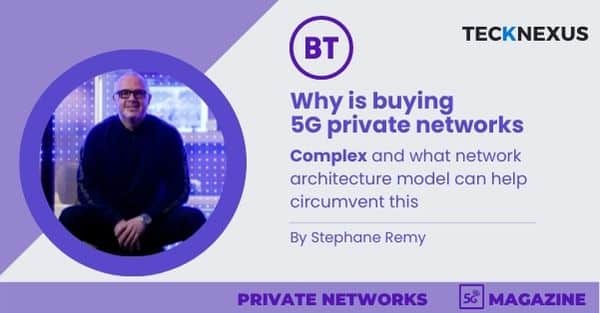 UK 5G private networks have started to move from trials to commercial deployments. Yet still at a slow pace due to poor device availability working in the private spectrum and the lack of expertise to move from technical/product conversations to solutions – and with the right audience, such as Chief Financial Officers or Chief Commercial Officers, in order to drive tangible benefits and value beyond connectivity.
Enterprise Options for Private Networks
Traditional mobile operators are in an enviable position because they have years of experience running mobile networks, which is not the case for players such as system integrators, network equipment vendors, or hyperscalers. That being, competitive pressure has increased, and selling private networks isn't the same as shifting boxes. At BT, we embrace both a local and global route to market.
However, it's not as straightforward for our customers, who have the choice between systems integrators, software-defined solutions, a growing number of newcomers able to scale through collaboration with hyperscalers and obviously network equipment vendors, some with direct channels, which have delivered most deployments worldwide. And consolidation has accelerated too, indicating a clear focus on private network for the various players: think Ericsson with Cradlepoint or Cellnex with EDZCOM. And one shall expect further changes, especially in the form of consortia between hyperscalers, system integrators, and mobile operators.
As a result, it creates a complex buying landscape, that very much depends on technicality awareness, cost constraint, risk aversion, and ease of installation and commissioning. This drives different architectures requirements, from pre-integrated with minimum managed service to components-only solution, which requires customized offerings and different value propositions to address different sectors, use cases, and even associated buying personas within. One private network solution cannot cater for the full market.
BT's
Engineering-Focused Approach
At BT, we have catered first for the engineering-focused demand due to the nascent nature of the market in the UK. This was the case with the world first 5G smart port in Belfast, where we delivered a private network in partnership with Ericsson to 1.75m people and 0.5m vehicles traversing the port each year, with a collaboration approach based on understanding Belfast Harbour's digital transformation needs and operational efficiencies across transport, logistics, warehousing…
Different Private Network Models
We also looked at different models to serve customers, geared towards the outsourced operations of the network and those sourcing individual components, which is traditionally more difficult to penetrate by traditional mobile operators. This translated in designing to requirements (complex) with integrated, customized end-to-end solutions and in designing to scale (lower effort and cost).
Distinct Value Propositions
In addition, we also looked at distinct value propositions with different sales and operating model approaches, either with a consultative sales approach focused on business development and run based on professional service with the goal to achieve client-centricity and agility or with a product-based with product development and managed service at the centre of it and efficiency as the leading principle for organization. 
This led to a requirement for new architectures models. To support this, BT is looking at how to augment a network architecture to be able to deploy and run multiple of customer-owned networks in a local context. To face the trade-off of scalability vs. flexibility, mobile network operators shall look at different technology architectures.
Dedicated Private Networks
A fully dedicated private network architecture is meaningful when use case requirements are specific, and data security and local site resilience requirements are high. This architecture is not a high integration effort per se – it's just that there is no integration out of the box. Current standards, vendor implementations and public network architecture do not support roaming – they are two separate entities and roaming would be achieved by end-point intelligence (for instance, dual SIM).
There is also no roaming between different sites so a customer in such instance would have IT/OT specific to each location (or having to swap SIMs). Plus managing multiple sites is inefficient from an MNO perspective and calling out a problem that they do not have right now. The architecture prevents economies of scale from a managed service perspective – so operating costs will not naturally get cheaper within this architecture.
Centralized Private Networks
Centralised private networks share a control plane in a centralized core instance are the best-suited for multi-site deployments. This architecture is well-suited for multi-site MPN deployments since it is based on provisioning an already integrated platform with a synergetic control and management plane. It has a multi-tenant deployment integration engine enabling a flexible addition of new sites.
Key limitation is that complexity also increases with the number of and the central private networks core reaches performance limits. Key benefit is the cost-efficiency of sharing a control plane across sites. Currently, this architecture can be enabled mainly by established network equipment providers, however, it can be challenging to deploy and run for mobile network operators due its technical setup and associated operational requirements: knowing where to host the 5G Core, customer-dedicated environment or multi-tenancy, connectivity options for premise connected back to the 5G core environment, performance, and responsibility of these connections.
Hybrid Private Network Solution
From BT's observation, I believe there actually is a compromise between dedicated and centralised private networks. Dual connectivity is a hybrid solution which re-utilized existing public radio access networks and mobile core capabilities of the public mobile network. Clear benefits of this architecture are "out-of-the-box" integration with public network and high level of scalability and cost efficiency due to synergies with public network.
A possible downside is that coverage or capacity challenges in any part of the public network may trigger the need for complex and costly infrastructure extensions of the public network. Furthermore, autonomy of the individual site is lower by design due to a lack of dedicated infrastructure on various levels. And we cannot ignore the difficulty of managed and prioritising B2C and B2B business operations (roadmap, investment, usage, and service integration) within a single limited resource platform from a mobile network operator perspective.
Dual Connectivity is underpinned by some of the roadmap elements of the 5G architecture – and many of the benefits are linked to 5G slicing becoming a technical/at-scale/proven capability. 
Choosing Winning Combination
To win in the market, operators need to find the best-suited combination of value proposition and technical deployment model. Choosing the winning combination is highly dependent on the enterprise's situation in terms of use cases, their benefits/ requirements, the physical site specifics, and lastly the provider's unique selling position. As for any innovative and complex product, such as a private network, a single winning go-to-market proposition does not exist.
To be positioned to win, providers must come up with a value proposition with scalable sales and delivery channels, as well as expand their technology ecosystem to enable flexible deployment architectures. Agility in this context is regularly reviewing the strategy to tweak but also continuing to be data-driven based on commercial viability.
Conclusion
To conclude, the potential for 5G is massive, but so are the challenges to realize its full potential. The 5G landscape has a complex, multi-partner ecosystem. Investing in 5G requires working with a provider with a rich partner ecosystem to support complex global deployments. In addition, as the number of connected devices increases, so does the number of security threats; it requires the development of a security protocol for a more holistic strategy across the entire network to protect operations, data, and devices from internal and external attacks.
The level of change and innovation required to deliver on the 5G promise will bring significant challenges, complexity, and need for investment as customers are increasingly wanting to ensure new investments are 5G-ready. Many organisations lack the expertise and appetite to grapple with this new technology and BT see one of the biggest challenges being the availability of the right experience and expertise to provide an effective journey and deliver the right business value. 
Working with an expert mobile network operator such as BT will help you overcome these challenges and start reaping the benefits of 5G.
Read the complete article in the 5G Magazine
Nov 2022
Public/Private Networks
Smart Healthcare, Public Safety, Smart Cities, Energy and Utilities, Mining, AgTech, Education, and Gaming 
Dec 2022
Reflections and Predictions
Reflections on 5G and technologies from 2022 and predictions for 2023
Predictions for 2023 & Beyond
5G Monetization & Business Models
RAN Evolution and Open RAN
Non-Terrestrial Networks (NTNs)
5G presents transformative solutions for municipal operations throughout our nation. The legislative and management leaders within a community rely on insights from data collected directly from operations and other sources to enable mission-critical decisions. This is all made possible by the confluence of 5G, big data analytics, and artificial intelligence.
The world's first demonstration of an automated driving application supported by 5G Standalone network slicing with controlled network features for QoS (Quality of Service) was announced by Deutsche Telekom, BMW Group, Valeo, Qualcomm, and Ericsson. The partners looked into how 5G SA network slicing with various QoS features can provide successful automotive use case scenarios.
Federated Wireless and Amazon Web Services (AWS) to deploy private wireless at California Polytechnic State University (Cal Poly) to support the university's 5G innovation network. The deployment will increase research capabilities, enhance bandwidth, and advance connectivity across the campus of San Luis Obispo, California.
Telecom Infra Project (TIP) introduces a blueprint for a cloud-native, scalable, and cost-effective private 5G network.
The 5G for smart cities report provides in-depth global and regional insights on the related use cases, technologies, drivers, expected benefits, challenges, ecosystem players, roles of the ecosystem players, industry leaders, startups disrupting this space, and more.
Download whitepapers and infographics