Monetizing 5G With A Telecom Marketplace | Gotransverse
This article discusses the transformative potential of 5G technology in telecommunications and the rise of a 5G marketplace model. It highlights how 5G's high-speed, low-latency, and reliable capabilities can enhance Internet of Things applications, virtual reality, and mission-critical business communications. The article also explores how communication service providers can leverage 5G to offer value-based pricing and new services through network slicing and multi-access edge computing. The proposed 5G marketplace model allows users to compare and choose from various service offerings, similar to established B2C and B2B marketplaces. However, it also mentions the need for robust infrastructure, complex billing mechanisms, and industry acceptance for the successful implementation of this model.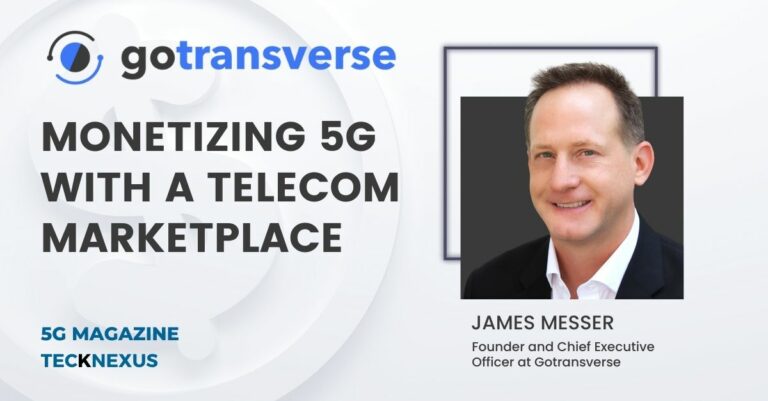 Fifth-generation (5G) mobile networking promises to revolutionize the telecommunications market. 5G was developed to enable multi-Gbps transmission speeds with ultra-low latency and greater reliability, enabling extended wireless data access.
Thanks to 5G, new machine-to-machine communications, such as the Internet of Things (IoT), are easier to deploy. Virtual reality (VR) and augmented reality (AR) can now deliver a more immersive experience over wireless links. Mission-critical business communications can take advantage of the higher data speeds and reliability of 5G networking.
With 5G, communication service providers (CSPs) can now offer edge-aware enterprise data services. They can work with developers, hardware vendors, edge computing services, and third parties to create new offerings built around 5G speed and versatility. For example, CSPs can take advantage of 5G slicing and multi-access edge computing (MEC) to guarantee service levels and enable new wireless offerings.
The challenge is monetization. Traditionally, CSPs have based fees on basic attributes like bandwidth consumption, typically measured in minutes or bytes used. With 5G, CSPs and their partners can now build more nuanced pricing around perceived value, opening up virtually unlimited pricing options. For example, using edge computing to move data processing workloads closer to where it is needed will dramatically improve customer experience. Similarly, being able to adjust 5G resources to guarantee service levels enables more sophisticated tiered pricing options.
Rethinking The Marketplace Model
The digital marketplace model certainly isn't new. B2C marketplaces like Amazon, Etsy, and Shopify have been thriving for years. For suppliers, the marketplace model offers many advantages, including extended market reach with no marketing costs, the ability to compete with larger vendors, and simplified ordering and fulfillment. Customers like marketplaces because it provides a single location for comparison shopping and offers transparency about availability and price.
Seeing the success of the consumer marketplace model, B2B marketplaces are looking for the same advantages. One recent example is the Bay Supply marketplace for industrial fasteners. Bay Supply has been reselling bolts, rivets, threaded inserts, and fastener tools for decades. With the launch of its online marketplace, they now offer a vertical niche mart where manufacturers can sell directly to customers. Customers get the added benefit of comparison shopping without having to visit dozens of manufacturers' websites. They also can manage RFPs and orders from one location.
Using the marketplace model to sell 5G services is something new. The same basic principles apply; 5G network providers are reselling services through local carriers and CSPs, and the marketplace provides a single location where customers can compare offerings. 5G providers are able to reach a broader market, and they have the means to develop new revenue and service models.
Monetizing The 5G Marketplace
A marketplace model allows CSPs to capitalize on the additional capabilities of 5G in different ways. Network slicing, for example, enables service tiers based on performance or speed tiering. According to McKinsey, 74% of customers are positive or neutral about tiered mobile data services. The same article notes that Elisa, the Finnish telco, reports that customer satisfaction is 50% higher for those with plans enabling 300 Mbps or higher. McKinsey estimates that 5G can increase ARPU (average revenue per user) by 3% to 6%. CSPs no longer have to offer one-size-fits-all plans. You may also see "slice-as-a-service" emerge, giving users the required bandwidth and service quality on demand.
Now consider what 5G can do for telecommunications service offerings. In addition to business-class services, customers could buy bandwidth on demand through flexible services that enable "impulse" purchases. For example, users can increase their mobile pipeline to access streaming content or download multimedia—no more paying for slow airport Wi-Fi services to download a movie before your flight. McKinsey estimates that consumers would use 5G boosters at $1.00 per boost seven times per month. Real-time tracking and AI-powered forecasting enable dynamic 5G pricing so CSPs can offer service discounts during low-load periods.
CSP partners could use the marketplace to offer enhanced mobile experiences. For example, vendors can offer high-speed mobile gaming or VR services. Smart stadiums could allow attendees to watch the action using multiple camera angles fed to their smartphones. Hybrid Wi-Fi plans could combine Wi-Fi services with 5G for fast, ultra-stable internet services. Companies can sell real-time translation services for international travelers, taking advantage of 5G and edge computing services.
Remaining Questions About The Telecom Marketplace Model
There is still some question as to what technologies will need to be in place to make a 5G marketplace viable. For example, implementing 5G over a core 4G infrastructure provides sufficient bandwidth and capacity to accommodate data traffic for IoT applications such as smart buildings. Unlocking the full potential of 5G requires a more robust infrastructure for functions like network slicing. Ultra-low latency will be required to support AR and VR, manufacturing automation, autonomous cars and other applications.
Monetizing new 5G services also will require complex billing and partner settlements that can translate services like network slicing into revenue. Rather than billing based on consumption (i.e., bytes or minutes uses), value-based services will need to be able to bill based on performance and user experience. That means new metrics are needed to support these complex billing models.
Strategic partners must work with CSPs to create new revenue-sharing models. Automated billing can use real-time data to enable revenue sharing and allocating fees for tariffs and taxes. Tiered pricing also can be created to enable 5G service wholesalers. However, the success of the 5G marketplace model requires industry acceptance as well as an improved infrastructure.
What is clear is that the market for 5G services is accelerating, and vendors need to be ready to explore new ideas and new revenue strategies. The 5G marketplace is on the horizon, and it will have a flexible, agile infrastructure with a robust monetization platform that will invite innovation.
Read the complete article in the 5G Magazine
All
2022 Predictions
2023 Predictions
5G Edge
5G for Manufacturing
5G for Transportation
5G Monetization
5G Towers
Featured
Foundation
Leaders
Open RAN | 2021
Open RAN | 2022
Perspective
Private Networks | 2021
Private Networks | 2022
Security
Tech and Connectivity
TechFusion
Telco Cloud
All
2022 Predictions
2023 Predictions
5G Edge
5G for Manufacturing
5G for Transportation
5G Monetization
5G Towers
Featured
Foundation
Leaders
Open RAN | 2021
Open RAN | 2022
Perspective
Private Networks | 2021
Private Networks | 2022
Security
Tech and Connectivity
TechFusion
Telco Cloud
All
Aerospace and Defense
Agriculture
Commerce
Datacenter
Education
Energy & Utilities
Financials
HealthCare
Industrial Automation
Innovation Hub
Manufacturing
Media and Broadcast
Mining
Ports
Public sector
Retail
Smart Cities
Sports
Transportation
All
Aerospace and Defense
Agriculture
Commerce
Datacenter
Education
Energy & Utilities
Financials
HealthCare
Industrial Automation
Innovation Hub
Manufacturing
Media and Broadcast
Mining
Ports
Public sector
Retail
Smart Cities
Sports
Transportation