Can Open RAN be a game changer? | Fraunhofer
Karin Loidl, Technology Advisor at Fraunhofer IIS explains how Open RAN can be a game challenger? Role of Open RAN in Campus Networks, with a view on Germany? What are the technical challenges for deploying an Open RAN solution? Shares Open RAN future perspective and important takeaways.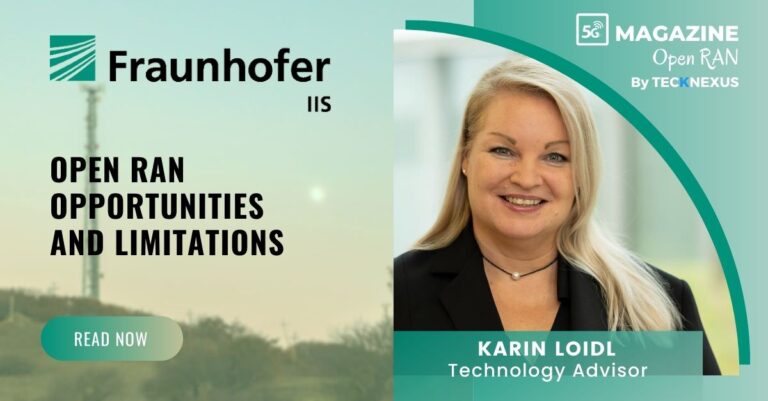 Introduction
Open RAN is currently discussed by both, operators of national public networks and suppliers of campus network solution. The most extensive installation to date is in the field of national public networks by Rakuten Mobile in Japan, build up in order to enable cost reduction in the area of radio access networks in addition to increase flexibility in system operation and independence from manufacturers.
In the area of campus networks, Open RAN facilitates the way for a highly innovative ecosystem with new business models, shorter innovation cycles and thus faster market launch of individual solutions tailored to specific applications.
Open RAN therefore has the potential to become a game changer in the mobile communications industry. However, until then, some obstacles still need to be overcome.
The history of Open RAN
Since 1998, the development & standardization of mobile radio systems has been promoted in the 3GPP committees. The previous architecture and interface definitions are largely based on traditional networks. However, modern approaches such as SDN (software-defined networks), virtualization, cloud-native or edge computing require additional and, in particular, open interfaces.
The O-RAN Alliance, initiated by major mobile network operators at the beginning of 2018, aims to define these open interfaces and architectural elements. This open approach (also commonly referred to as Open RAN – Open Radio Access Networks) drives the opening up of the previously largely proprietary base station architecture and reduces today's dependency on few manufacturers ("vendor lock-in") as with Open RAN, different providers can deliver components for the radio access networks.
Read the complete article in the 5G Magazine
All
2022 Predictions
2023 Predictions
5G Edge
5G for Manufacturing
5G for Transportation
5G Towers
Featured
Foundation
Guest
Leaders
Open RAN | 2021
Open RAN | 2022
Private Networks | 2021
Private Networks | 2022
Security
Telco Cloud
All
2022 Predictions
2023 Predictions
5G Edge
5G for Manufacturing
5G for Transportation
5G Towers
Featured
Foundation
Guest
Leaders
Open RAN | 2021
Open RAN | 2022
Private Networks | 2021
Private Networks | 2022
Security
Telco Cloud
All
Aerospace and Defense
Agriculture
Commerce
Datacenter
Energy & Utilities
Financials
HealthCare
Industrial Automation
Innovation Hub
Manufacturing
Media and Broadcast
Mining
Ports
Public sector
Retail
Smart Cities
Sports
Transportation
University Campus
All
Aerospace and Defense
Agriculture
Commerce
Datacenter
Energy & Utilities
Financials
HealthCare
Industrial Automation
Innovation Hub
Manufacturing
Media and Broadcast
Mining
Ports
Public sector
Retail
Smart Cities
Sports
Transportation
University Campus