AT&T 5G and Edge – Solving real customer problems where they work
This article covers AT&T edge offerings- ANE and MEC with detailed use case scenarios across industry verticals and key partnerships.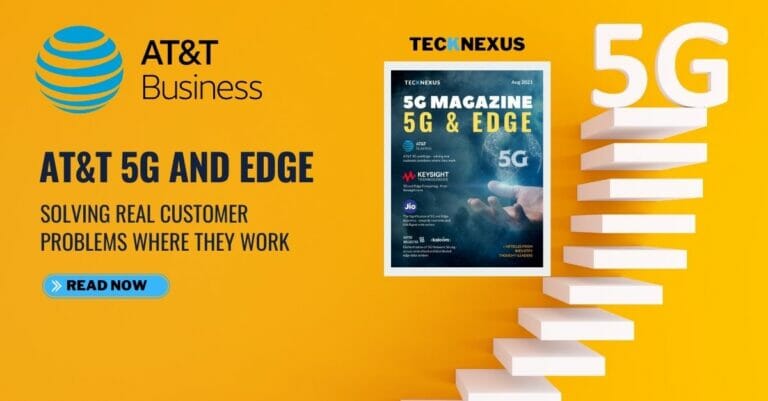 Introduction
Edge computing is an integral part of AT&T's overall 5G strategy with related offerings driven both by what customers need and where the solution is needed to transform business outcomes. AT&T has built horizontal solutions with flexible application execution applied to solve business problems for customers across verticals, including manufacturing, healthcare, stadiums, public sector, retail, and more.
AT&T 5G & Edge Offerings
Today, enterprises generally experience approximately 100ms of latency for their applications hosted within a regional cloud environment. For applications that deliver a good user experience within this latency window, the regional cloud is a viable solution. As enterprises continue to innovate as they transform their business operations, application processing will inevitably migrate closer to the customer's network edge and their end-users.
Enterprises and end customers will place more real-time demands on their applications and the underlying network which, ultimately, will require more lower-latency and ever more deterministic performance. AT&T's offerings are positioned to enable edge computing where it's needed most – closer to your end-users and where the data originates. For applications needing ultra-low latency, or for customers who want enhanced privacy and control over their data and applications, our Multi-Access Edge Computing (MEC) solution provides an on-premises edge solution.
When low-latency, optimized 5G and wireline routing at the network edge is needed, our AT&T Network Edge (ANE) will offer scalable, localized edge clouds in multiple edge-ready metros. In cases, where your business requires performance for on-site and remote workers, MEC and ANE are complementary. The solutions can work together to enable the performance your business needs with workloads placed optimally and where you do business.
AT&T Network Edge (ANE)
One way AT&T enables edge computing solutions for endpoints on the nationwide 5G network is through the AT&T Network Edge. AT&T is partnering with major cloud services providers to connect public and private edges so that customers may realize reductions in latency and accelerating next-gen applications and new experiences. See diagram in the 5G Magazine for more details.
Below are example ANE use cases that are AT&T is exploring with enterprise customers and technology providers:
Autonomous machines

Connected vehicles

Serverless branch

Real-time analytics

Mobile gaming

Augmented/Virtual reality

Intelligent video analytics

Interactive live video
AT&T Network Edge (ANE) delivers the public cloud closer for low-latency applications and brings transformation across most, if not all vertical industries. ANE delivers fast, low latency 5G and fiber transport connectivity integrated with high-performance edge computing. ANE can also reduce the complexity of edge computing by deploying applications in public clouds with leading cloud service providers.
AT&T Multi-Access Edge Computing (MEC)
The AT&T MEC platform puts the mobile network edge on the customer premises with the ability to control what cellular data is processed on-site or routed through the AT&T network core. For enterprise customers with a sufficient existing umbrella of local radio coverage (like a distributed antenna system), the addition of an AT&T MEC solution enables a powerful cellular network for massive IoT use-cases where the data is turned into insights on the customer's local area network without exiting their premises.
Target enterprises that can potentially take advantage of AT&T's 5G & MEC offering include:
Manufacturing & Warehouse

: Agile Operations, AGVs (Autonomous Guided Vehicles), Asset Tracking, Predictive Maintenance, and Video Surveillance

Oil & Gas / Mining

: Sensors, Drone Monitoring, Worker Safety, Remote Inspection, and Diagnostics

Transportation Hubs/Retail

: Freight / Fleet Tracking, Connected Workers, Incident Reporting, and Intrusion Detection

Healthcare

: Patient Monitoring, Environment Management, and Asset Utilization

Stadiums, Venues & Events

: Live High-Definition Video Streaming, Team Operations, AR for Immersive Fan Experiences
---
AT&T 5G and Edge Use Cases
Manufacturing 

& Warehouses
Manufacturers use high-resolution video cameras and sensors to track and automate the production lifecycle to reduce process defects and increase productivity. The cameras and sensors monitoring the processes share data for real-time analysis to detect and resolve the errors before compounding costs down the line.
To enable Industry 4.0 and agile factories, manufacturers need sufficient, secured network coverage across the plant floor with high reliability, bandwidth, and low latency for the wireless devices to send high-resolution video for real-time analysis. AT&T MEC service can route designated cellular traffic through the local area network, allowing businesses to control how they want to process traffic for low-latency and security-sensitive use case solutions.
Healthcare
Many healthcare facilities, such as hospitals, are harnessing the power of virtual reality (VR) to help ease patient discomfort and assist in pain management. VR headsets are providing welcome relief to patients undergoing otherwise stressful or even painful procedures and recoveries. But, as this technology becomes more popular and the library of streamed virtual experiences grows, standard network architecture and may not be able to support lifelike VR experiences.
AT&T MEC service can route cellular traffic through the local area network, helping to enable emerging use cases in healthcare such as imaging, patient monitoring, and high-speed, private transport of imaging data directly where it's needed, with privacy and low latency.
Stadiums, Venues & Events
Stadiums and arenas need to provide the operators and their fan base with higher capacity, faster download speed, and lower latency while using 5G-enabled devices. Additional features that fans expect include step-by-step navigation to seating or instant sports statistics that mobile users could view by holding up their smartphones to the field. The stadium operators benefit by enabling applications like thermal imaging for fan safety, video analytics to manage wait times, digital payments (cashless transactions) for ordering food in stadiums, better response to public safety responders, and more.
Asset Tracking and Management
Many retailers use remote automated devices like inventory robots for real-time inventory tracking for restocking purposes. Transferring related high-resolution inventory images in near real-time has a very high impact on the performance of their existing network. AT&T MEC service enables them to route cellular traffic through the local area network via the in-building RAN system. This provides retailers an option to improve the processing for low-latency and security-sensitive applications.
Autonomous Machines
The number of drones in the airspace is expected to increase significantly in the coming years. Vorpal, an Israeli startup company, offers drone detection and geolocation tracking solution all in near real-time. The drone detection and monitoring technology can be used across vertical industries such as law enforcement, airports, and energy facilities. In the future, it can also be part of the infrastructure for commercial drone operations for safely flying drones in urban environments.
AT&T's Network edge in partnership with Microsoft compute provides the low-latency and high-throughput infrastructure required for near real-time drone detection and monitoring.
Analytics
Retailers are deploying new technologies and applications to provide their customers with personalized experiences. These solutions enable retailers to gather & analyze the data each time the customers interact with their store. Combining this information with historical customer data such as purchase history, products viewed on the website – the retailers can predict what a customer is most likely to purchase and thereby personalize the shopping experience & increase sales.
To collect and process the information during the customer's shopping trip to the stores, retailers need an edge-to-edge approach to process the data onsite, in near real-time. 
The traditional off-site data processing will not be able to support the high bandwidth low-latency required for the personalized shopping experience. AT&T's Network Edge service enables the retailers to process and analyze data in-store, in near real-time for an enhanced personalized shopping experience. It places the processing and storage capabilities at the edge of the network, which results in significantly faster processing times and less consumption of bandwidth. It also enhances reliability because the infrastructure is not accessing an offsite data center for each transmission.
Interactive Live Video
AT&T with Azure Edge Zones enables edge computing so that JamKazam can provide a platform to help musicians play together live and in sync, using AT&T 5G from different locations with high-quality audio and video. See related Video in 5G Magazine.
Interactive Live Video | Holovision
AT&T created a first-of-its-kind 5G-enabled holo interview with ESPN and TNT for their broadcast coverage of the NBA 2020 Eastern and Western Conference Finals, demonstrating sport's broadcasting's future inside the NBA campus, using 5G & Edge solutions.
AT&T turned a ballroom into a holo interview studio. Using 5G technology, AT&T created the space for first-of-their-kind of interviews between Orlando and another city. A projector and scrim show the person in Orlando the interviewer, in real-time with lifelike clarity and little lag. They were interacting naturally as if they were together in the same location though they were hundreds of miles away from each other. See related Video in 5G Magazine.
---
AT&T Edge Partnerships
AT&T and IBM have a deep relationship and a years-long history of collaboration. Recently, AT&T and IBM have collaborated to bring the use of 5G wireless networking and edge computing to help enterprises across industries transform their operations to meet the needs of the 5G era.
IBM and AT&T have also collaborated to help enterprises consistently manage their applications hosted in hybrid cloud and edge environments using IBM Cloud Satellite and Red Hat OpenShift, over AT&T networks. IBM's open hybrid cloud technologies provide the security and flexibility to move and manage applications across any environment – from data centers, to multiple clouds to the edge. Additionally, IBM's AI technologies enable customers to deliver deeper insights in near real-time from data collected at the edge.
Through these collaborations, AT&T enables customers to gain capacity and speed as well as deploy dedicated 5G or private cellular connectivity at their site with privacy to support massive device connectivity. Also, AT&T's private network at customer premises creates proximity, which delivers the power of the edge. AT&T's core and radio access 5G network is designed from the start to be flexible and better suited for edge deployment.
Together, AT&T and IBM are bringing compute resources and services closer to where data is generated, improving the overall experience and end-to-end latency, which is critical for real-time applications and near real-time decision-making.
AT&T has collaborated with Microsoft to enable new 5G, cloud, and edge computing solutions. When combined with AT&T Multi-Access Edge Compute, Azure brings a full compute platform to the customer premises.
This harnesses the power of cellular and cloud to work together efficiently within their local network. With the AT&T Network Edge, Microsoft Azure cloud services are connected to AT&T's software-defined, virtualized 5G core (the Network Cloud). This helps enable developers to deploy low-latency applications on infrastructure at the network edge, improving customer experience. It would also enable 5G and edge applications for vertical industries such as manufacturing, retail, healthcare, finance, public safety, and entertainment.
The ANE technology is available now for a limited set of select customers to conduct testing with additional edge locations coming soon. Game Cloud Network, a leader in game and app development solutions, is one of the first companies to use AT&T-enabled ANE to give users optimized, low latency mobile connectivity. ANE allows Game Cloud Network to highlight its new multi-player and interactive "Tap&Field" mobile gaming experience, using Microsoft's Azure and PlayFab services deployed at the AT&T network edge to provide players with near-real-time interaction enabled by the speed of 5G-connected devices.
AT&T collaborated with Google Cloud to offer new solutions across AT&T's 5G and Google Cloud's edge computing portfolio, including AT&T's on-premises Multi-access Edge Compute (MEC) solution, as well as AT&T Network Edge capabilities through LTE, 5G, and wireline.
AT&T Multi-access Edge Compute (MEC) with Google Cloud combines AT&T's existing 5G and MEC offering with core Google Cloud capabilities, including Kubernetes, artificial intelligence (AI), machine learning (ML), data analytics, and a robust edge ISV ecosystem. With the solution, enterprises will be able to build and run modern applications close to their end-users, with the flexibility to manage data on-prem, in a customer's data center, or in any cloud, control over data, improve security, lower latency, and higher bandwidth.
AT&T Network Edge (ANE) with Google Cloud will enable enterprises to deploy applications at Google edge points of presence (POPs) AT&T's 5G and fiber networks. In addition, it will provide a low-latency compute and storage environment for businesses to deliver faster, more seamless enterprise and customer experiences. As a part of the multi-year strategy, AT&T and Google Cloud will bring the solution to 15+ zones across major cities, starting with Chicago in 2021.
Read the complete article in the 5G Magazine
All
2022 Predictions
2023 Predictions
5G Edge
5G for Manufacturing
5G for Transportation
5G Monetization
5G Towers
Featured
Foundation
Guest
Leaders
Open RAN | 2021
Open RAN | 2022
Private Networks | 2021
Private Networks | 2022
Security
Tech and Connectivity
Telco Cloud
All
2022 Predictions
2023 Predictions
5G Edge
5G for Manufacturing
5G for Transportation
5G Monetization
5G Towers
Featured
Foundation
Guest
Leaders
Open RAN | 2021
Open RAN | 2022
Private Networks | 2021
Private Networks | 2022
Security
Tech and Connectivity
Telco Cloud
All
Aerospace and Defense
Agriculture
Commerce
Datacenter
Education
Energy & Utilities
Financials
HealthCare
Industrial Automation
Innovation Hub
Manufacturing
Media and Broadcast
Mining
Ports
Public sector
Retail
Smart Cities
Sports
Transportation
All
Aerospace and Defense
Agriculture
Commerce
Datacenter
Education
Energy & Utilities
Financials
HealthCare
Industrial Automation
Innovation Hub
Manufacturing
Media and Broadcast
Mining
Ports
Public sector
Retail
Smart Cities
Sports
Transportation