Advancing Connected Mobility Solutions | 5GAA
How is 5GAA bridging the gap between automotive, technology, and telecom industries and promoting the C-V2X technology?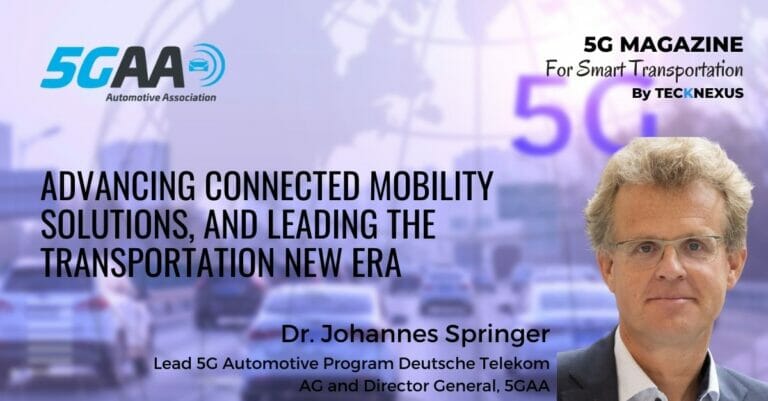 5GAA
The 5G Automotive Association (5GAA) is a global, cross-industry organization bridging the gap between automotive, technology, and telecom industries and promoting the C-V2X technology (Cellular vehicle-to-everything), a comprehensive platform for connected vehicles, safety, and transportation.
The association was created in September 2016 by its eight founding members: AUDI AG, BMW Group, Daimler AG, Ericsson, Huawei, Intel, Nokia, and Qualcomm Incorporate, and it now unites more than 120 companies diverse both in terms of geography and expertise. These include automotive manufacturers, tier-1 suppliers, chipset/communication system providers, mobile operators, and infrastructure vendors. You can find the full list of members here.
5GAA's members are committed to helping define and develop global solutions for the next generation of connected mobility and automated vehicle solutions to address the complex challenge of providing enhanced safety, sustainability, and convenience for all road users. For any other information about the association, you can refer to its website.
Leveraging Today's and Tomorrow's Mobility Solutions
Under its current Work Programme, 5GAA seeks to leverage innovative 5G-V2X solutions for a transportation system benefiting all road users. See more info in the 5G Magazine.
5GAA Role
5GAA addresses society's connected mobility needs, bringing inclusive access to smarter, safer, and environmentally sustainable services and solutions integrated into intelligent road transportation and traffic management.
5GAA unites and drives consensus between key stakeholders. The association offers a unique joint industry view on global and regional connected mobility matters. Connectivity improves the driving experience by revolutionizing the mobility ecosystem.
SMART – 5G-V2X allows vehicles to communicate real-time and highly reliable information with their surroundings.
SAFE – 5G-V2X allows vehicles to communicate real-time and highly reliable information with their surroundings.
SUSTAINABLE – 5G-V2X helps reduce emissions by optimizing traffic management and allowing more energy-efficient driving behaviors.
EFFICIENT – 5G-V2X optimizes traffic flows, reducing congestion.
INCLUSIVE – 5G-V2X aims to encompass the entire mobility ecosystem, including vulnerable road users and the infrastructure.
5GAA Pillars
5GAA is working on the basis of 5 association pillars: as the first and overarching pillar, 5GAA aims to bring value to its members. Four main pillars help to achieve this overarching pillar:
(1) Enable deployment by lifting barriers and accelerating time-to-market
(2) Contribute to standardization via pre-standardization efforts of automotive connectivity
(3) Advocate policymakers by addressing regional opportunities and threats
(4) Leverage innovative solutions within the larger connected automotive community
The association is contribution-driven and only exists through collaborations and communications between its members.
Advancing Connected Mobility Solutions and Leading the Transportation New Era
Cellular-V2X (C-V2X) – C-V2X is an integrated automotive technology standardized by 3GPP, enabling a comprehensive road safety and traffic efficiency solution that allows vehicles to communicate with surrounding vehicles, cyclists, pedestrians, road infrastructure, and the mobile network.
Towards 5G-V2X – C-V2X continually evolves over multiple releases in 3GPP. The first major milestone was achieved in 2017 by completing LTE-V2X in Release 14, including both direct and mobile network communications delivering basic safety use cases. In 2020, 5G-V2X was completed in Release 16, also combining direct and mobile network communications to enable advanced and automated driving use cases.
5GAA Achievements
5GAA has helped transform C-V2X technology from a standard into a market reality and has established 5G as the reference for future automotive connectivity. The association, which celebrates this year its 5th Anniversary, is now regarded as the global lead organization on automotive connectivity, successfully connecting the whole automotive and telecoms value chain.
Bridging these two industries have been synonymous with enhanced collaboration between companies to push the technology forward and offer a platform for members to discuss and develop partnerships to make C-V2X technology on roads a reality. This is regularly shown through the numerous plugfests and live demonstrations organized by the association several times a year.
Recent examples include: 5GAA partners with ETSI for the third ETSI C-V2X Plugtests™ event hosted by DEKRA at its Automobil Test Center in Klettwitz, Germany Live Trial of 5G Connected Car Concept Launches in Blacksburg, Virginia (VA) Live Trial of 5G Connected Car Concept To Launch in Turin, Italy The association has also managed to secure relevant partnerships Standards Development Organisations and public authorities and voiced its position on global deployment agendas.
5G Connected Car Concept Live Trials
5G Automotive Association (5GAA) and eight-member companies conducted a live trial of a new driver and pedestrian safety concept that allows near-real-time notification of roadway hazards through 5G and edge technologies in Blacksburg, Virginia (VA) and Turin, Italy. The connected car concept uses high-speed and edge computing technology to communicate with car sensors and pedestrian smartphones via a user-authorized mobile app—about traffic hazards, like accidents and road construction—for Pedestrian and in-vehicle driver safety and efficient navigation.
The live trial had three objectives:
Objective 1: Multi-MNO scenario: How can a vehicle, which has radio access to MNO A, use a MEC application, which is operated by MNO B -> Interworking between MNOs (by NOT losing the benefits of low latency)
Objective 2: Global Operational Availability: How can an OEM as the MEC application developer be sure, especially on a global basis, that a MEC application works in the same way if it's operated by MNO A, or if it's operated by MNO B
Objective 3: Multi-MNO with roaming scenario: Where the two operators can seamlessly transfer the V2X service from one operator to the other as the car OEM moves from one geo to the other in a roaming scenario. Typically, when an in-vehicle driver does cross-border travel, that involves two operators.
Benefits
One of the key benefits of the trials is the value demonstrated by bringing in a large ecosystem to help develop not only the technology but also build the business case and model that will help drive the potential market adoption for 5G and C-V2X to help into the digital transformation of smart cities of the future.
To succeed in this endeavor, it will need a village and investment from both public and private sectors to help adopt this new technology to provide a quality of life for all citizens.
Read the complete article in the 5G Magazine
All
2022 Predictions
2023 Predictions
5G Edge
5G for Manufacturing
5G for Transportation
5G Towers
Featured
Foundation
Guest
Leaders
Open RAN | 2021
Open RAN | 2022
Private Networks | 2021
Private Networks | 2022
Security
Telco Cloud
All
2022 Predictions
2023 Predictions
5G Edge
5G for Manufacturing
5G for Transportation
5G Towers
Featured
Foundation
Guest
Leaders
Open RAN | 2021
Open RAN | 2022
Private Networks | 2021
Private Networks | 2022
Security
Telco Cloud
All
Aerospace and Defense
Agriculture
Commerce
Datacenter
Energy & Utilities
Financials
HealthCare
Industrial Automation
Innovation Hub
Manufacturing
Media and Broadcast
Mining
Ports
Public sector
Retail
Smart Cities
Sports
Transportation
University Campus
All
Aerospace and Defense
Agriculture
Commerce
Datacenter
Energy & Utilities
Financials
HealthCare
Industrial Automation
Innovation Hub
Manufacturing
Media and Broadcast
Mining
Ports
Public sector
Retail
Smart Cities
Sports
Transportation
University Campus