Accelerating OpenRAN Productization | TIP and Meta
Renuka Bhalerao from TIP and Meta provides an update on the current state of TIP, including the release 2 roadmap & Meta's Evenstar program.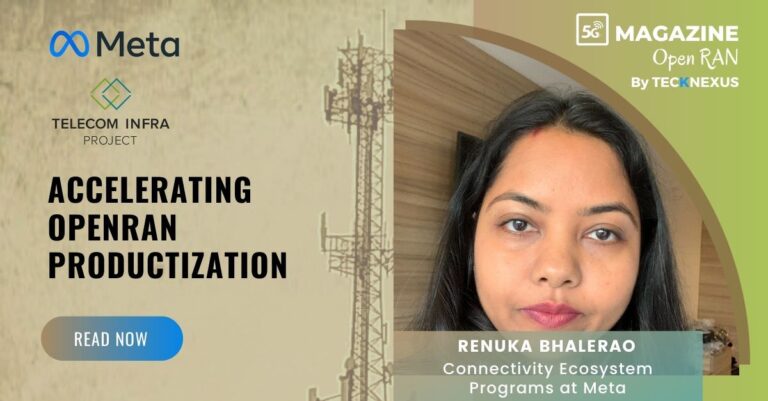 Telecom Infra Project (TIP)
TIP's OpenRAN Project Group's (OpenRAN PG) mission is to accelerate innovation and commercialization in RAN domain with multi-vendor interoperable products and solutions that are easy to integrate in the operator's network and are verified for different deployment scenarios.
TIP's OpenRAN program supports the development of disaggregated and interoperable 2G/3G/4G/5G NR Radio Access Network (RAN) solutions based on service provider requirements.
Read the complete article in the 5G Magazine
All
2022 Predictions
2023 Predictions
5G Edge
5G for Manufacturing
5G for Transportation
5G Towers
Featured
Foundation
Guest
Leaders
Open RAN | 2021
Open RAN | 2022
Private Networks | 2021
Private Networks | 2022
Security
Telco Cloud
All
2022 Predictions
2023 Predictions
5G Edge
5G for Manufacturing
5G for Transportation
5G Towers
Featured
Foundation
Guest
Leaders
Open RAN | 2021
Open RAN | 2022
Private Networks | 2021
Private Networks | 2022
Security
Telco Cloud
All
Aerospace and Defense
Agriculture
Commerce
Datacenter
Energy & Utilities
Financials
HealthCare
Industrial Automation
Innovation Hub
Manufacturing
Media and Broadcast
Mining
Ports
Public sector
Retail
Smart Cities
Sports
Transportation
University Campus
All
Aerospace and Defense
Agriculture
Commerce
Datacenter
Energy & Utilities
Financials
HealthCare
Industrial Automation
Innovation Hub
Manufacturing
Media and Broadcast
Mining
Ports
Public sector
Retail
Smart Cities
Sports
Transportation
University Campus