Revolutionizing 5G Monetization Strategies for CSPs with Gotransverse
Operators face billing challenges due to limitations with legacy systems that cannot support intent-based pricing.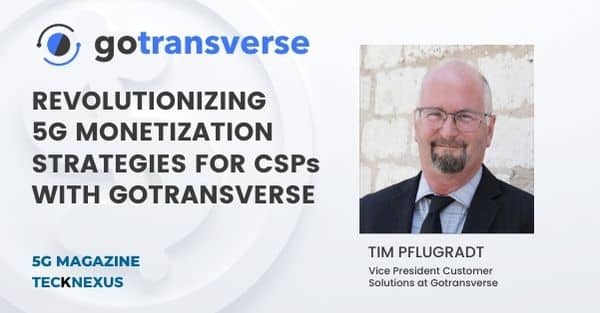 Introduction
Traditionally, communication service providers (CSPs) have charged for services based on network metrics like volume of data consumed or minutes of use. But in a marketplace environment, where CSPs are partnering with other vendors to provide more complex service offerings, the monetization strategies have to match.
In last year's TM Forum Catalyst project, Gotransverse collaborated with Verizon, Vodafone Group, Blue Planet (a division of Ciena), MATRIXX Software, and Salesforce to demonstrate how to supercharge 5G monetization through a marketplace that can support new business models selling value-based 5G services.
The TM Forum Catalyst project demonstrated a CSP marketplace that:
Enabled third-party partners to innovate their products and services and transform their commercial models through embedding 5G network slices and multi-access edge computer (MEC) capabilities.

Transformed customer experience through positioning offers in value-based terms rather than in underlying network metrics.

Facilitated sharing of revenue across all parties in the value chain. 
The critical capabilities that CSPs end-to-end marketplace business processes supported to provide real-time pricing quotes for on-the-fly-changes included:
Knowledge of resources available at a service location – in addition to dynamic pricing based on value delivered, network load, size and duration of slice increase requested, and actual usage.

Built-in, automated revenue sharing across multiple partners – CSPs, device vendors, edge network operators, application developers, and other service providers.

Real-time insight and forecasts for dynamic pricing. For example, CSPs can offer discounted services during low-load periods to improve customer engagement and increase revenue.

Predictive analytics with real-time network data empowerment means the customers can activate

more features with more bandwidth and MEC while saving money.
The marketplace monetization solution provided an end-to-end real-time performance awareness to adapt to customer-facing business processes. As a result, the 5G infrastructure could efficiently use resources while creating new monetization opportunities for CSPs and their partners.
Marketplace monetization opportunities and challenges 
CSP monetization opportunities
A CSP-operated B2B2X marketplace, where the CSP owns the customer, provides a digital self-service portal for buying and bundling services from a single CSP and its ecosystem partners. 
The B2B2X marketplace enables monetization opportunities for CSPs through
Establishing strategic partnerships with the marketplace partners;

Generating additional revenue from those partners;

Maximizing network resources and investments through effective utilization of infrastructure and fixed costs;

Nurturing customer relationships by providing value-driven products or services, which in turn leads to increased spending on their part.
Unlike previous network generations, 5G and MEC resources should offer guaranteed service levels rather than best-effort service levels – depending on the network workload, slice size requested, and upgrade duration – to drive innovations across industry verticals.
By simplifying the onboarding process for new partners, CSPs can create an environment where sellers connected to the marketplace have seamless experiences. Additionally, the E2E service lifecycle management should be automated to help monetize CSP resources and drive marketplace growth agilely– allowing businesses to learn quickly from successes and failures.
Marketplace implementation challenges
CSPs face substantial challenges when implementing a marketplace solution, such as outdated infrastructure that inhibits technological progress and inadequate data management systems. In addition, there are also organizational issues like resistance to change and the need for more expertise within the team. Therefore, a strategic approach for alignment between a Network Company (NetCo) and an Operating Company (OpCo) is also essential to successfully establish this marketplace solution.
5G-enabled edge-aware monetization demo scenarios for the construction industry
The TM Forum catalyst project demonstrated the partner, operator, and customer experiences in creating, launching, and using bundled services for an industry-specific solution. In this case, a simplified construction industry solution demonstrated increased safety and job efficiency through 5G-enabled devices and services.
Gotransverse and catalyst partners showcased what attracts partners to the CSP's ecosystem, how the CSP optimizes network usage and shares revenue, and how industry customers can benefit from advances made possible by 5G technology.
Demo requirements for marketplace partners
Partner requirements
To self-onboard and create products in the CSP's marketplace 

To associate industry-specific devices and applications, with multiple features and benefits, to the network and MEC resources required to make them function correctly

To review and select resources, based upon availability in a location, that specify basic (minimum) network and MEC resources needed for a device/feature to function correctly, as well as "boost" (increased) resource levels that will enable additional customer features and services

To review accounts, customers, products, and services usage through a CSP-provided dashboard
CSP requirements
To offer 5G network and MEC resource partner pricing that will enable advanced products and services to function 

To bundle elements from numerous partners, along with network and MEC resources, into offers and sell to customers through a commerce portal

To orchestrate, provision, adaptively charge, and bill for products when defined, purchased, used, or when network resources are boosted or scaled up based on load or user request

To bill customers for devices, applications, and services purchased and used

To charge and share revenue with partners according to the terms specified during the partner onboarding process
Customer requirements
To search for and purchase industry-specific offers available at its location through the CSP's commerce portal

To view purchased products and offers, charges and balances in real-time

To activate enhanced features that will, in turn, initiate a resource "boost" where orchestration, provisioning, and charging will happen in real-time
Architecture for marketplace monetization 
The marketplace monetization solution architecture supported below 5G-enabled edge-aware innovations.
Edge-aware shopping with 5G capacity and MEC resources inconsistently available during the build-out stage, it is critical to present available resources in real-time in the context of the offers and locations, particularly for latency or bandwidth-dependent edge-based applications. 
Network orchestration automatically adjusting resources to guarantee service levels, paired with real-time charging that reflects current network load levels, will significantly benefit operational efficiencies, time to revenue, and improved customer experience. 
Adaptive charging and monetization a long-established capability of prepaid consumer services. 5G CSP marketplace brings these capabilities into more sophisticated offers for partners, enterprises, and industry customers. 
Value-based pricing describes a product's function, not data consumed, or minutes used. 
Spot pricing real-time, dynamic interactions between the network, the monetization layer, and the customer engagement layer enabling notifications to customers of discounts in low-utilization periods. 
Gotransverse Revenue Management Capabilities for the Catalyst Project

Gotransverse was responsible for the complete revenue management of a 5G-enabled edge-aware construction-industry solution. Below are some of the tasks that Gotransverse carried out during the different stages of this catalyst project.
Account hierarchy provisioning (including partner settlement account and partner product (5G slice) creation), settlement configuration, and revenue recognition configuration for partner and product onboarding during the concept-to-launch phase for marketplace operator 

Customer billing account creation and product creation for customer order fulfillment during the browse-to-cash phase for marketplace operator 

Account creation, order and service instantiation, one-time-charge, invoice on demand, tax determination, payment processing, and revenue recognition for partner settlement and customer invoicing during the browse-to-cash phase for enterprise customer

Pushed data to the data lake, self-service API exposure, order change, and temporary price override for enterprise customers to generate network insights to enable dynamic monetization during the cash-to-care phase
The business impact of 5G-enabled edge-aware marketplace
Gotransverse and the catalyst partners showcased several business advantages with this 5G-enabled edge-ware marketplace catalyst. For example, rather than just focusing on the technical aspects of their network, CSPs can extend their promotional strategies by offering value-based services. 
Customers were incentivized to use the network and MEC resources during low utilization periods while being granted high-value offerings; as a result, there was an improvement in customer engagement and overall satisfaction levels. 
The catalyst also showcased how CSPs can become indispensable partners for the device, service, and value-added service providers. By collaborating with them, the CSP has the potential to revolutionize their products through innovation, create new customer connections, and ultimately evolve commercial models resulting in deeper commitment from their partners.
In summary, the B2B2X marketplace with the 5G-enabled and edge-aware industry-specific solution can enhance and stabilize a CSP's growth. By expanding and building similar use cases and partnerships in adjacent industries, such as manufacturing and beyond, CSP can drive robust growth while ensuring customer retention and satisfaction, ensuring revenue protection, and improving costs for customer acquisition.
Read the complete article in the 5G Magazine
All
2022 Predictions
2023 Predictions
5G Edge
5G for Manufacturing
5G for Transportation
5G Monetization
5G Towers
Featured
Foundation
Leaders
Open RAN | 2021
Open RAN | 2022
Perspective
Private Networks | 2021
Private Networks | 2022
Security
Tech and Connectivity
TechFusion
Telco Cloud
All
2022 Predictions
2023 Predictions
5G Edge
5G for Manufacturing
5G for Transportation
5G Monetization
5G Towers
Featured
Foundation
Leaders
Open RAN | 2021
Open RAN | 2022
Perspective
Private Networks | 2021
Private Networks | 2022
Security
Tech and Connectivity
TechFusion
Telco Cloud
All
Aerospace and Defense
Agriculture
Commerce
Datacenter
Education
Energy & Utilities
Financials
HealthCare
Industrial Automation
Innovation Hub
Manufacturing
Media and Broadcast
Mining
Ports
Public sector
Retail
Smart Cities
Sports
Transportation
All
Aerospace and Defense
Agriculture
Commerce
Datacenter
Education
Energy & Utilities
Financials
HealthCare
Industrial Automation
Innovation Hub
Manufacturing
Media and Broadcast
Mining
Ports
Public sector
Retail
Smart Cities
Sports
Transportation