Talking 6G – delivering 4G
By the end of 2023, we are likely to consider covid and the sudden spikes in inflation that set limits to consumption as being history. Many of us may have less spare money than before, but we get used to it over time. Also, the climate crisis won't go away, but it's time to be optimistic again.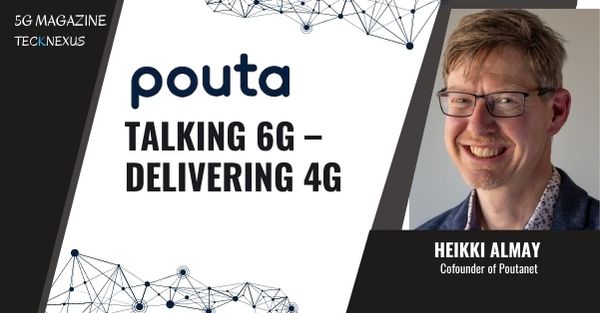 2022 – the first year of the new normal
2022 was another year of private network customers approaching with requests for 5G and, after some discussions engaging in 4G projects. For private mobile networks, the 5G NSA route taken by the public mobile network operators is a massive detour. Securing one frequency for a private network may be hard. Who would like to go for two? Techies can point out that 5G allows dynamic spectrum sharing – but even if products were readily available such complexity is of no use in private networks.
All-in-all, liberating 5G from the 4G legacy is taking much longer than expected. Summer 2022 was a comeback for large public events, and in many European countries, private mobile networks helped digitalize the festivals. No cash. Hundreds of payment terminals connected to private LTE allowed fast and reliable transactions even when public networks were more than busy uploading videos and photos. This is a great example of a use case where private mobile networks are superior to Wifi as there is so much less equipment to be set up and maintained – and after the weekend, you can just grab your base station and move to the next venue.
2022 – Still waiting for simple 5G
For private 5G, the year 2022 was a disappointment. Twelve months back, we believed reasonably priced 5G small cell base stations would become readily available. Not yet, unless you count in the O-RAN Lego blocks. Building a working gNB using these components is still more like stitching together a Frankenstein than playing with Lego. For small networks, the effort is too big and the management too complex.
In many cases, user equipment for 5G SA and out-of-the-box interoperability are still on the wish list. 5G innovation press releases in 2022 were mostly in areas of little interest for the community working on non-public networks. For example, new speed records using odd carrier aggregation combos are like pushing the front by hundred meters in a trench war. Very costly and only of local significance.
Optimizing existing 5G deployments to the patchwork of frequency licenses is nevertheless high on the 5G RAN vendor agenda. The needs of the big telcos come first – and it seems that the highest priority 5G application is still Speedtest. Marketing can make 5G look so easy. In this respect, the Web3-inspired decentralized wireless (DeWi) projects deserve a medal for taking the blurring of the radio generation to the next level. Talking 5G for motivating people into buying 4G CBRS gear in the hope of crypto incentives is a recipe for publicity and some early success. What remains to be seen is if any of these projects can attract paying customers or provide sufficient utility for the node owners to continue their engagement. Perhaps 2023 will show us.
2023 – End of Decentralized Wireless Wild West
The Decentralized Wireless (DeWi) space will face some regulation in 2023. A year from now, we are likely to know better where the boundary between private and public networks lies. A likely outcome is that anyone with a centralized subscriber database will be considered a telco.
In most jurisdictions, this means data retention, legal interception, and many other requirements that are likely to spoil the Web3 party – in case the crypto winter does not do the job. New projects working on real 5G will likely emerge. After all, there is still plenty of room to innovate using the combination of blockchain and telco.
2023 will give us a +1 for all the hype
While crypto projects are preaching decentralized 5G, the big players have already moved on. Since 2013 we have had the Brooklyn 5G Summit. In October 2022, there was the first Brooklyn 6G event. In 2023 6G will replace 5G in conference names and more forward-leaning marketing. You may also notice some of the more advanced 5G use cases, such as immersive video drifting into the 6G area. The same applies to URLLC, which will find a new home in Industry 5.0. High electricity prices and the climate crisis make energy efficiency the key driver for 6G.
During 2023 some of the massive MIMO enthusiasts are likely to conclude that near-future capacity demands can be met with more conservative antenna solutions and wait for a time when the promised watts/per bits energy savings also hold for an empty or lightly loaded network. As 6G is climbing up the hype curve, here is a good candidate for pre-standard claimed 6G solutions.
2023 5G SA baby steps towards becoming mainstream
5G SA is slowly emerging – but the road remains rocky even in 2023 as new mass market services are yet to be found. Slicing will be the top telco talking point with enterprise customers. In 2023 we will likely see clear product descriptions and tangible service offerings in addition to the proof-of-concept and fuzzy press releases.
A year from now, we may assess to what extent network slicing gives public mobile network operators a viable alternative to private 5G networks. Private mobile network deployments that have started with 4G will continue on the selected path. They grow their systems as proven solutions are copied to new sites, and new use cases emerge.
Going back to the festival summer: payment terminals with 5G connectivity are still rare and expensive. It is hard to see why a payment system provider would replace their existing base of terminals, as the kit used last summer still works fine. The same logic applies to many other IoT use cases.
For large sites and other outdoor deployments, the uplink video will remain the key driver for private 5G. That is where private LTE easily runs out of capacity. When it comes to 5G products, the 5G all-in-one small cell may finally allow the building of simple 5G SA networks. This increases the speed of innovation as it allows smaller companies to test their 5G use cases on their own R&D sites.
When it comes to 5G products, the 5G all-in-one small cell may finally allow the building of simple 5G SA networks
2023 The not so global market
High-interest rates, the war in Europe, and continued US efforts to isolate China from sophisticated silicone shape the telecom market in 2023. Flooding the market with an unexpected consumer innovation such as a VR gadget is far more difficult than before, as many supply chain options are unavailable, and the choice of technology partners may limit the accessible market.
Globalization is taking a crab walk. The result will likely be a significant delay in the next big as the industry is busy adapting to the new realities. Whatever gadget enters the market – be prepared to pay the full price for it. A business model where hardware is subsidized and profits are only expected from later subscription or software revenues become more difficult as the cost of borrowing money rises.
A year from now, we may better understand the implications of a prolonged trade war. For a telco, it means a return to regional vendors, as we already see for 5G, regional standards, and setbacks in global interoperability. This will undoubtedly also shake the IPR landscape, which has so far not been too much affected by deglobalization. Instead of consumer-driven innovations, we will see rapid progress in 5G drone control, surveillance systems, and similar safety and security-related use cases.
A year back, we would have expected the drones to be carrying people and other mostly harmless payloads. Now the importance of weapons and explosives is much higher. Luckily with a short delay, the progress is also visible in consumer applications.
2023 will have a happy end
By the end of 2023, we are likely to consider covid and the sudden spikes in inflation that set limits to consumption as being history. Many of us may have less spare money than before, but we get used to it over time. Also, the climate crisis won't go away, but it's time to be optimistic again. And sure – there will be a new set of iPhones and Pixels to choose from. That is quite easy to predict.
Read the complete article in the 5G Magazine
All
2022 Predictions
2023 Predictions
5G Edge
5G for Manufacturing
5G for Transportation
5G Monetization
5G Towers
Featured
Foundation
Leaders
Open RAN | 2021
Open RAN | 2022
Perspective
Private Networks | 2021
Private Networks | 2022
Security
Tech and Connectivity
TechFusion
Telco Cloud
All
2022 Predictions
2023 Predictions
5G Edge
5G for Manufacturing
5G for Transportation
5G Monetization
5G Towers
Featured
Foundation
Leaders
Open RAN | 2021
Open RAN | 2022
Perspective
Private Networks | 2021
Private Networks | 2022
Security
Tech and Connectivity
TechFusion
Telco Cloud
All
Aerospace and Defense
Agriculture
Commerce
Datacenter
Education
Energy & Utilities
Financials
HealthCare
Industrial Automation
Innovation Hub
Manufacturing
Media and Broadcast
Mining
Ports
Public sector
Retail
Smart Cities
Sports
Transportation
All
Aerospace and Defense
Agriculture
Commerce
Datacenter
Education
Energy & Utilities
Financials
HealthCare
Industrial Automation
Innovation Hub
Manufacturing
Media and Broadcast
Mining
Ports
Public sector
Retail
Smart Cities
Sports
Transportation