Open RAN is not the answer, but it is essential help…Industrialized automation at scale is the key | Introducing Rakuten Symphony's Symworld™
An in-depth interview with Geoff Hollingworth, Chief Marketing Officer at Rakuten Symphony covering Rakuten Mobile's Open RAN Journey, including the rationale behind opting for Open RAN solution, the current state of their Open RAN deployment, their success, the challenges they addressed, the solution approach, architecture blueprint and recommendations to operators on the Open RAN journey.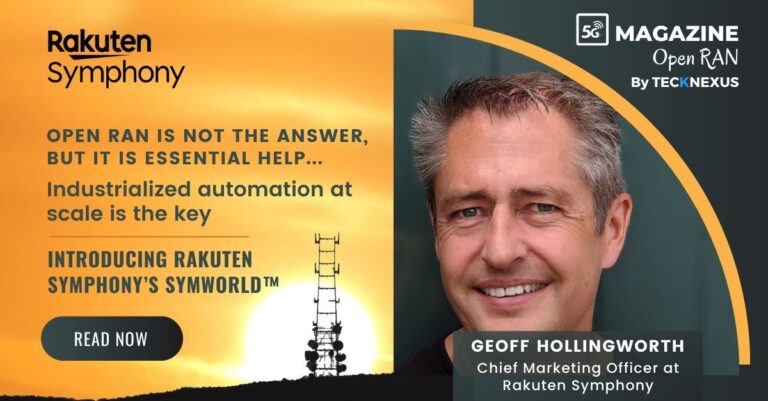 How did Rakuten Mobile know Open RAN was ready before going all-in for its ambitious network buildout in Japan?
Rakuten Mobile did not know that Open RAN was ready when it started its journey in 2018. The important message is that nothing is ever completely ready until it's done, and then it's in decline. That's the same with 2G because it needed 3G, 3G needed 4G, and 4G needed 5G.
There was a lot of skepticism when Tareq Amin, who was Rakuten Mobile CTO at the time, decided to go down the Open RAN direction and the fully cloud-native virtualized direction in 2018. We have realized that when you do something and try very hard, the rewards are very good.
275,000 cells deployed while maintaining operational headcount of 250 people

The message here is not of being ready but being willing to try and do something different, which is always hard. It will be hard for everybody for different reasons, but that's how you get different results.
When will we know whether Rakuten Mobile's Open RAN strategy has been a success and an indicator of Open RAN maturity?
Operationally, we have already seen success in the accelerated rollout of 275,000 cells with very few people operating the network. This is possible because they're not directly operating the network. They're using a software platform, Symworld, to create that hyper-scale.
We have proven that cloud-based, fully virtualized software-centric mobile networks are absolutely possible to implement in highly dense coverage areas as well. For example, Tokyo is one of the most highly densely populated markets in the world and we are serving this demanding region with an Open RAN solution.
Rakuten Mobile network performance recognized by independent review
Rakuten Mobile's network in Tokyo receives "very good" rating from independent analyst firm umlaut.
Source: umlaut – 2022/04 Audit Report – OpenRAN Network Rakuten Mobile Japan
Score Comparison – Overall | Selected International Cities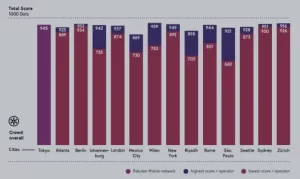 Read the complete article in the 5G Magazine
All
2022 Predictions
2023 Predictions
5G Edge
5G for Manufacturing
5G for Transportation
5G Towers
Featured
Foundation
Guest
Leaders
Open RAN | 2021
Open RAN | 2022
Private Networks | 2021
Private Networks | 2022
Security
Telco Cloud
All
2022 Predictions
2023 Predictions
5G Edge
5G for Manufacturing
5G for Transportation
5G Towers
Featured
Foundation
Guest
Leaders
Open RAN | 2021
Open RAN | 2022
Private Networks | 2021
Private Networks | 2022
Security
Telco Cloud
All
Aerospace and Defense
Agriculture
Commerce
Datacenter
Energy & Utilities
Financials
HealthCare
Industrial Automation
Innovation Hub
Manufacturing
Media and Broadcast
Mining
Ports
Public sector
Retail
Smart Cities
Sports
Transportation
University Campus
All
Aerospace and Defense
Agriculture
Commerce
Datacenter
Energy & Utilities
Financials
HealthCare
Industrial Automation
Innovation Hub
Manufacturing
Media and Broadcast
Mining
Ports
Public sector
Retail
Smart Cities
Sports
Transportation
University Campus