5G Orchestration, Automation, and Assurance with a Dickensian Twist | AvidThink
The Dickensian duality succinctly characterizes where we are with 5G — pushing towards monetization is challenging, commercially-available network slicing is fledgling at best, but 5G promises rewards for those enterprising and persistent.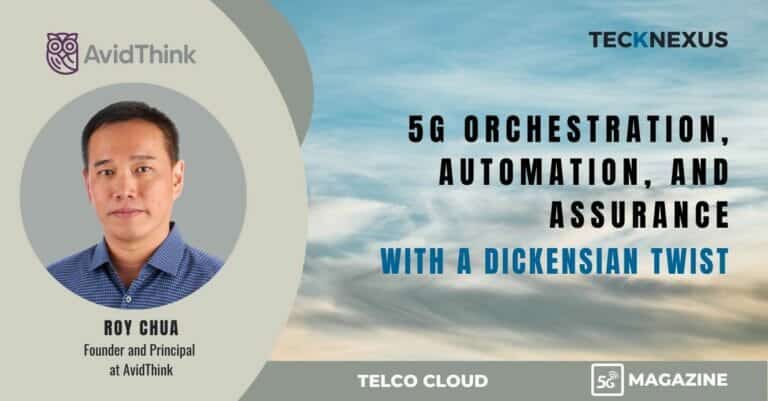 Background
The rapid global adoption of 5G in standalone (5G SA) and non-standalone (5G NSA) deployments and the hailing of the potential of 5G in public and private settings speak to the great expectations we have for the technology. 
The industry is collectively writing the bildungsroman for 5G — a technology looking for its place in the world, a child with huge potential evolving as 3GPP puts together specifications (release 16, 17, 18, and beyond), shaping its abilities even as we learn from early deployments.
As the saying goes, "it takes a village", and 3GPP is assisted in its mission by standards development organizations (SDO), industry consortiums, and open-source organizations, including NGMN, O-RAN Alliance, 5GAA, TIP, OCP, IETF, SCF, IEEE, ITU, LF, ONF, and numerous other entities.
United, we hope that 5G will help close the digital divide, connect the unconnected, reduce connectivity costs for the poor, and bring new capabilities and innovation to all industries. Yet, like other maturing technologies and ecosystems, we face headaches as we overcome early and ongoing challenges while simultaneously marveling at 5G's capabilities and dreaming of monetization opportunities.
The Duality of 5G
"It was the best of times, it was the worst of times, it was the age of wisdom, it was the age of foolishness, it was the epoch of belief, it was the epoch of incredulity, it was the season of light, it was the season of darkness, it was the spring of hope, it was the winter of despair." – (Dickens, A Tale of Two Cities)
This Dickensian duality succinctly characterizes where we are with 5G — pushing towards monetization is challenging, commercially-available network slicing is fledgling at best, but 5G promises rewards for those enterprising and persistent.
To achieve profitable 5G deployment (post-tens of billions of investment dollars in capital equipment and spectrum), Communication Service Providers (CSPs) face hard times ahead. CSPs need to increase scalability, improve manageability, and maintain reliability and quality-of-service (QoS) while exerting Scrooge-like controls over CapEx and OpEx.
With the expected multiple orders of magnitude increase in users, devices, and growth in complexity, CSPs must transform today's siloed, legacy networks into modern, autonomous systems covering the access, transport, core, and data center domains.
Management Lessons from Leading CSPs
In our research with tier-1 CSPs, global system integrators (GSIs), network equipment providers (NEPs), and independent software vendors (ISVs), we see three management practices that are key to unlocking 5G's promises:
Adopting comprehensive AI-assisted automation and cloud-native practices,

Leveraging new sources of telemetry and analytics for assurance and closed-loop management

Embracing end-to-end orchestration while moving towards intent-based frameworks
Automation and Going Cloud-Native 
CSPs understand the importance of automation and are pushing automation across every network domain and at each layer of the infrastructure. Further, with the adoption of service-based architecture (SBA) in the 5G core and ongoing virtualization, disaggregation, and cloudification of the 5G RAN, much of the automation will mirror the continuous integration and deployment (CI/CD) pipelines of cloud-native application frameworks.
The world's first greenfield cloud-native 5G deployments at Rakuten Mobile in Japan and DISH Wireless in the US both leverage extreme automation and use of cloud-native CI/CD pipelines to enable rapid software updates. Both achieved scale-out deployments with a fraction of the operational headcount typical of legacy CSPs.
Assurance and Closed-Loop Management
Pre-5G networks were powered by vendor-proprietary analytics, but 5G working groups are pushing standard approaches. The 5G core includes the network data analytics function (NWDAF) and the management data analytics functions (MDAF). For CSPs deploying O-RAN, the service management and orchestration (SMO) platform includes a RAN intelligent controller (RIC) — a software-defined element that controls and optimizes RAN functions.
There are two components to the RIC: the near-real-time radio intelligent controller (near-RT RIC) and non-real-time RIC (non-RT RIC). These interfaces can provide visibility into radio network telemetry while allowing for programmatic control of radio parameters and configuration.
Meanwhile, the NWDAF has been touted by many networking vendors as the new aggregation point for standardizing key metrics across 5G components. Analytics from the RICs can also be consumed by NWDAF and incorporated into higher-order analytics.
These new sources of analytics are critical as part of any 5G management strategy. Along with other existing sources of telemetry, the MDAF, NWDAF, and RIC can collectively provide vendor-agnostic standards-based telemetry feeding big data analytics or AI/ML systems that enable closed-loop automation. Such systems can take remediation actions to provide automated assurance, uphold service level objectives (SLOs), and achieve service level agreements (SLAs).
End-to-end Orchestration and Intent
It's increasingly clear that new services built on 5G will be end-to-end (E2E) and cross-domain. Businesses are trained to demand outcome-based results and will seek complete solutions. An E2E orchestration system that facilitates per-domain control while providing cross-domain orchestration that meets SLOs and SLAs will be necessary to achieve monetization success.
Meanwhile, we're seeing that the 4G to 5G transition drives network element count from thousands to hundreds of thousands, and eventually millions of disaggregated components at the hardware, virtualization, and network function layers. The simultaneous move to a software-defined framework, while allowing for increased agility and innovation, multiplies the number of configurable parameters for these networks.
A human-driven approach to network management cannot scale. Even humans augmented with network automation cannot react in time. An intent-driven system is better at managing, optimizing, and maintaining large-scale and complex networks. By laying a foundation of automation, leveraging analytics, and using a software-defined and programmable platform, CSPs can implement intent-based systems that power autonomous networks. But there's no normalized, standardized intent framework across vendors or networking domains today.
The Happily Ever After
There's no mystery here to achieving a happy outcome. If CSPs want 5G to represent the best of times, the age of wisdom, the reason of light, the spring of hope, and usher in the epoch of belief, then CSPs will have to make the investments into cloud-native automation, comprehensive assurance, and end-to-end orchestration while adopting an intent-based approach.
Read the complete article in the 5G Magazine
All
2022 Predictions
2023 Predictions
5G Edge
5G for Manufacturing
5G for Transportation
5G Monetization
5G Towers
Featured
Foundation
Guest
Leaders
Open RAN | 2021
Open RAN | 2022
Private Networks | 2021
Private Networks | 2022
Security
Telco Cloud
All
2022 Predictions
2023 Predictions
5G Edge
5G for Manufacturing
5G for Transportation
5G Monetization
5G Towers
Featured
Foundation
Guest
Leaders
Open RAN | 2021
Open RAN | 2022
Private Networks | 2021
Private Networks | 2022
Security
Telco Cloud
All
Aerospace and Defense
Agriculture
Commerce
Datacenter
Education
Energy & Utilities
Financials
HealthCare
Industrial Automation
Innovation Hub
Manufacturing
Media and Broadcast
Mining
Ports
Public sector
Retail
Smart Cities
Sports
Transportation
All
Aerospace and Defense
Agriculture
Commerce
Datacenter
Education
Energy & Utilities
Financials
HealthCare
Industrial Automation
Innovation Hub
Manufacturing
Media and Broadcast
Mining
Ports
Public sector
Retail
Smart Cities
Sports
Transportation