2021 Reflections and 2022 predictions' from Operators & Infra Companies
What were the top 5 trends and technologies impacting 5G operators and infrastructure (Tower Companies) in 2021? What trends and technologies we should watch out for in 2022. Read this article by Daniel Champion, CEO of Sitenna.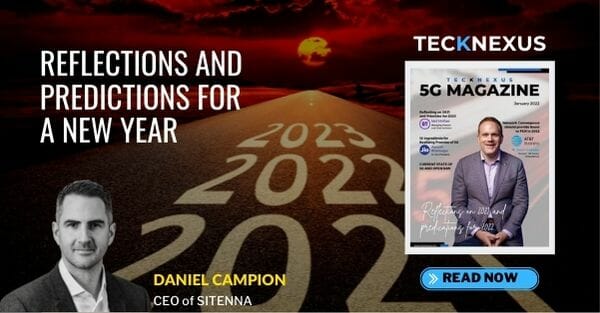 Is it possible to reflect on 2021, and make predictions for 2022 without mentioning the COVID-19 pandemic? Probably not. But as we say "goodbye" to 2021 and "hello" to 2022, let's try and think about the past, present, and future while making minimal reference to a certain global pandemic.
Reflections on 2021
Costly year for operators seeking to gain '5G' spectrum
2021 turned out to be a costly year for operators seeking to gain '5G' spectrum around 3.5 GHz. In February, the US held the world's most expensive auction ever, raising $81 billion for the US Treasury. Use of the spectrum, unfortunately, is suspended pending resolution of concerns raised by the US Federal Aviation Administration regarding the potential for interference to avionics equipment.
Mobile operators generally spend a lot on capital expenditure, including spectrum. Over the years, they have been able to distract investors from this problem by boasting impressive cash flow. But as growth in consumers' willingness to spend money on their mobile products slows and/or declines, operators have needed to protect their financial ratios.
Cell towers look like great candidates for off-loading
One way to do this is to offload their assets. Cell towers look like great candidates for off-loading. They seem to have plenty of potential buyers looking for stable returns so can command a good sales price. Their sale does not reduce capacity in a network as they can still be used through leases – which would be an operational expense, not a capital expense.
Vodafone, one of Europe's most stressed telcos, took advantage of this accounting magic by offloading its cell sites into Vantage Towers. The company keeps its own books but is majority held by Vodafone itself. It held an Initial Public Offering in March 2021, raising EUR 2.3 billion. Orange, Telefonica, Telstra, and other operators have followed the same path in the past 12 months.
Vendor swapping to address security concerns
Operators in the past have sought to reduce costs by using cheaper vendors from China. Huawei, in particular, has become notorious for offering very attractive financing arrangements for its discounted kit.
But in the last years, the industry has raised more security concerns about the use of Chinese companies in Western countries' critical infrastructure. Governments are now pressuring or requiring operators to remove all Chinese equipment from their networks.
In the UK, for example, the need for operators to remove Huawei from their networks has greatly reduced the spending on new network deployments, with the majority of operator budgets being spent on vendor swaps. Excluding Chinese vendors leaves only a couple of equipment vendors with which to do business.
Read the complete article in the 5G Magazine
All
2022 Predictions
2023 Predictions
5G Edge
5G for Manufacturing
5G for Transportation
5G Monetization
5G Towers
Featured
Foundation
Guest
Leaders
Open RAN | 2021
Open RAN | 2022
Private Networks | 2021
Private Networks | 2022
Security
Tech and Connectivity
Telco Cloud
All
2022 Predictions
2023 Predictions
5G Edge
5G for Manufacturing
5G for Transportation
5G Monetization
5G Towers
Featured
Foundation
Guest
Leaders
Open RAN | 2021
Open RAN | 2022
Private Networks | 2021
Private Networks | 2022
Security
Tech and Connectivity
Telco Cloud
All
Aerospace and Defense
Agriculture
Commerce
Datacenter
Education
Energy & Utilities
Financials
HealthCare
Industrial Automation
Innovation Hub
Manufacturing
Media and Broadcast
Mining
Ports
Public sector
Retail
Smart Cities
Sports
Transportation
All
Aerospace and Defense
Agriculture
Commerce
Datacenter
Education
Energy & Utilities
Financials
HealthCare
Industrial Automation
Innovation Hub
Manufacturing
Media and Broadcast
Mining
Ports
Public sector
Retail
Smart Cities
Sports
Transportation