Empowering Global Connectivity – The Open RAN Revolution
We are witnessing a paradigm shift in telecommunications. Open RAN is at the forefront, emphasizing a disaggregated and open approach to network architecture. This change has the potential to redefine global communication networks by enabling interoperability, fostering innovation, and democratizing access to advanced 5G technology. However, international cooperation on the Open RAN policy is vital to harness its potential fully. Governments worldwide must embrace pro-Open RAN policies, unlock funding, and encourage cross-border investments. Join Open RAN Policy Coalition in this revolution to enhance connectivity, narrow the digital divide, and promote socio-economic development worldwide.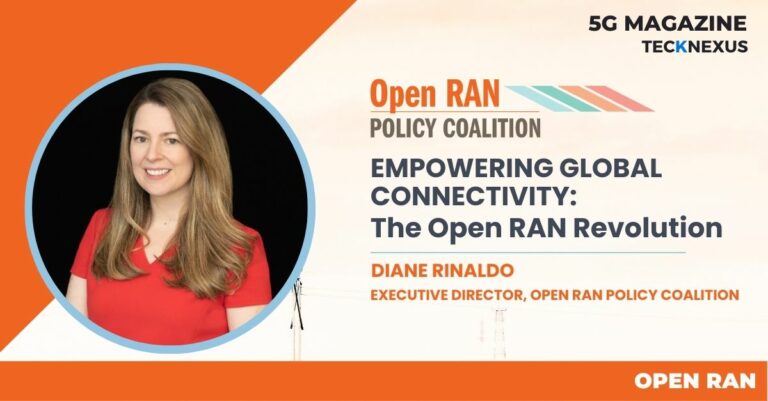 In an era defined by digital transformation and seamless connectivity, we find ourselves at the forefront of a paradigm shift in telecommunications, and the importance of international cooperation on Open RAN cannot be overstated. Open RAN, which emphasizes a disaggregated and open approach to network architecture, has the potential to revolutionize global communication networks by enabling interoperability, fostering innovation, and democratizing access to advanced wireless technology. However, to harness its true potential, governments worldwide must embrace pro-Open RAN policies, unlock funding to encourage new deployments, and encourage cross-border investments.
Global Momentum Towards Open RAN
The shift to openness and interoperability in networks has gained tremendous momentum in recent years. This is in part due to government support worldwide, which has played a critical role in driving the transition to an open approach to 5G. Collaboration among governments, policymakers, industry stakeholders, and standards bodies is helping to facilitate the deployment of Open RAN and ensure seamless interoperability across networks. By continuing to foster global standardization, governments can use Open RAN to their advantage in enhancing connectivity in remote and underserved regions, narrowing the digital divide, and promoting socio-economic development worldwide.
Facilitating Open RAN Cooperation
The Open RAN Policy Coalition has been privileged to facilitate a Quadrilateral Security Dialogue track 1.5 discussion series on Open RAN, with participation from governments and association partners in Australia, India, Japan, and the U.S. Bringing together government and industry leaders to discuss advancements in Open RAN deployments and fostering innovation, we have underscored the importance of secure and trusted infrastructure for 5G and advanced wireless networks. Initiatives like this are crucial as Open RAN plays a significant role in delivering on key priorities like security and vendor diversity across the telecoms ecosystem.
Policy Roadmap for Open RAN
Policymakers across the globe have a crucial role to play in shaping the future of telecommunications, and as such, a well-structured policy roadmap is vital for supporting Open RAN deployments. By providing clear guidance and incentives, governments can facilitate more private sector investment in infrastructure and more commercial deployments. This includes measures to encourage research and development, testing, and establishing favorable regulatory frameworks that promote competition and innovation. A comprehensive policy roadmap can act as a guiding light for nations looking to embrace the Open RAN revolution.
Fostering a Robust Ecosystem for Open RAN
Fostering a robust ecosystem of Open RAN vendors and solution providers will maximize the impact of pro-Open RAN policies. Promoting research and development in this sector can lead to breakthrough innovations, further driving down costs and improving the performance of Open RAN networks. Governments can also support initiatives that promote Open RAN awareness, education, and workforce development, ensuring that a skilled workforce is available to deploy and maintain these advanced networks.
Public-Private Funding for Open RAN Initiatives
While the benefits of Open RAN are evident, significant investments are required to deploy next-generation networks on a global scale. In order to do that, governments must actively explore avenues to unlock funding for Open RAN initiatives. Public-private partnerships can be instrumental in mobilizing financial resources, with governments providing initial funding or incentives and the private sector contributing technical expertise and capital. Another strategy that has been successful in promoting commercial deployments is the earmarking of a portion of existing telecommunications budgets specifically for Open RAN projects, which also signals government commitment to the technology and attracting additional investment from private stakeholders.
Policy Strategies for Interoperable Networks
Other policy strategies that encourage network operators to make the transition to open and interoperable networks can include tax incentives, grants, and simplified regulatory procedures for infrastructure deployment. By creating a level playing field for Open RAN solutions, governments can spur competition among vendors and drive down equipment costs, benefiting consumers and businesses alike.
International Open RAN Cooperation
In the United States, foreign assistance can play a crucial role in supplementing non-U.S. programs aimed at advancing Open RAN. By granting exemptions from stringent lending requirements by the U.S. International Development Finance Corporation (DFC) and Export-Import (EXIM) Bank for advanced wireless telecommunications infrastructure projects, the U.S. can demonstrate its commitment to global connectivity. Such support can foster international cooperation, encourage cross-border investments, and solidify the U.S. as a leader in the Open RAN revolution. Modernizing the EXIM Bank is an example of how the federal government can use existing institutions to create new mechanisms and opportunities for foreign investment. The EXIM Bank can and should serve as an attractive partner for American businesses working abroad; small and smart incentives or creative partnerships through the EXIM Bank can help offset enough risk to make opportunities for overseas investments more attractive.
Conclusion: Advancing Open RAN
Open RAN holds the key to enabling secure and diverse telecoms infrastructure, supporting the advancement of 5G and advanced wireless networks, and fostering innovation and competition in the telecommunications industry. By continuing to work globally with policymakers, standards bodies, and industry stakeholders, we can incentivize deployments, unlock funding for Open RAN, and foster policies that will usher in a new era of global connectivity to bridge the digital divide, stimulate economic growth, and propel humanity towards a more connected and prosperous future.
Read the complete article in the 5G Magazine
All
2022 Predictions
2023 Predictions
5G Edge
5G for Manufacturing
5G for Transportation
5G Monetization
5G Towers
Featured
Foundation
Leaders
Open RAN | 2021
Open RAN | 2022
Perspective
Private Networks | 2021
Private Networks | 2022
Security
Tech and Connectivity
TechFusion
Telco Cloud
All
2022 Predictions
2023 Predictions
5G Edge
5G for Manufacturing
5G for Transportation
5G Monetization
5G Towers
Featured
Foundation
Leaders
Open RAN | 2021
Open RAN | 2022
Perspective
Private Networks | 2021
Private Networks | 2022
Security
Tech and Connectivity
TechFusion
Telco Cloud
All
Aerospace and Defense
Agriculture
Commerce
Datacenter
Education
Energy & Utilities
Financials
HealthCare
Industrial Automation
Innovation Hub
Manufacturing
Media and Broadcast
Mining
Ports
Public sector
Retail
Smart Cities
Sports
Transportation
All
Aerospace and Defense
Agriculture
Commerce
Datacenter
Education
Energy & Utilities
Financials
HealthCare
Industrial Automation
Innovation Hub
Manufacturing
Media and Broadcast
Mining
Ports
Public sector
Retail
Smart Cities
Sports
Transportation