Home » 5G Magazine » 5G Monetization – Laying a Foundation for New Business Growth in the Metaverse
5G Monetization – Laying a Foundation for New Business Growth in the Metaverse
To truly monetize 5G, we need to provide consumers with 1) services they want to use that 2) demonstrate the value of 5G. This is how consumers rationalize the price they pay for accessing our network.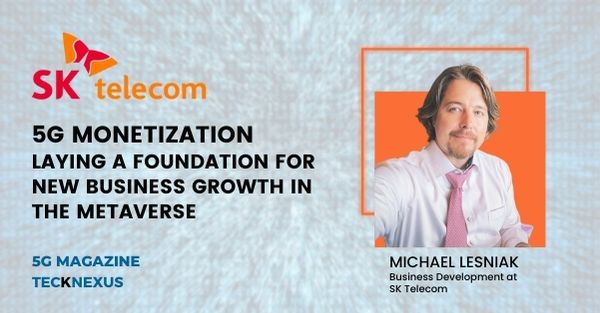 This article appears in the 5G Magazine published in

February 2023
5G Monetization – Laying a Foundation for New Business Growth in the Metaverse
Defining 5G Monetization
People in our industry talk about 5G monetization in many ways. Hosting on edge, network slicing, and enterprise 5G are common, to name a few. Those are all interesting use cases with the potential for scalable business models.
But at the end of the day, it's about consumers. I want to talk about them. 
The lion's share of a telecom's revenue comes from data and voice services. Therefore, to truly monetize 5G, we need to provide consumers with 1) services they want to use that  2) demonstrate the value of 5G. This is how consumers rationalize the price they pay for accessing our network.   
With each generation, we have seen a media type demonstrate the value of our network. In 2G, it was MMS, 3G Music, 4G was Movies and better Music on mobile, and for 5G, it's Metaverse. 
We've seen that better isn't really enough. Something new, transformational, is required to define the next generation. That's why Metaverse services are so important and why it presents new opportunities for carriers to redefine their relationship with customers. 
Framing the Metaverse
People debate the meaning of Metaverse, and the hype cycle has provided enormous numbers for market size and growth. Framing what we mean by "metaverse" can help provide focus.   
I describe the Metaverse as a "Connected, Immersive, and Interactive 3D Environment." 
The general consensus appears to be that these types of services are either a form of mixed reality or Web3 applications that exist on a spectrum of web, mobile, and new form factors,  especially Head Mounted Displays (HMDs). 
That said, I believe the defining quality of Metaverse services is the concept of Presence — a sense of "being there" that involves transferring consciousness to a simulated environment (VR) or transferring a simulated environment to a consciousness (AR). In a recent interview, I referred to Metaverse services like Roblox or SK Telecom's Ifland as "2D Metaverses," but I think this was inaccurate. I was trying to capture that these services are important iterations for the Metaverse, but they cannot yet provide a transformative experience of Presence. 
What they do provide is 1) value to consumers through a new media type unique from music or movies; and 2) scale and opportunities for operators to iterate in the metaverse. In other words, while these services lack a transformative sense of Presence, they provide a critical path for creating metaverse services at a mobile scale and address compelling consumer behaviors. Presence can and will be iterated into many of these services, in the meantime, they provide meaningful insights and opportunities for mobile operators. 
Why Ifland matters to Mobile Network Operators 
First and foremost, it's an operator-driven platform which means it's an opportunity for MNOs to collaborate to build a global-scale consumer-facing platform that takes advantage of our strengths and ensures the highest quality of services and safety to our customers. It allows MNOs to experiment with features and emerging technologies, and use cases as they see fit without depending on the direction of a third party.
Today, Ifland exists primarily on mobile, but it will iterate to include the web and can extend to offer both AR and VR experiences as those devices gain greater traction in the coming years. 
Like Roblox, Ifland provides customers with a unique sense of ownership that sort of provides Presence in that there is a significant investment in their digital identities there. Highly customizable avatars, virtual goods and spaces, and more can be consumed, created, bought, and sold. 
SK Telecom continues to add ways to empower a variety of creators to express themselves and reach their audience… removing distribution barriers for digital content. It also provides new opportunities for brand partners to engage with customers and learn new information about consumer preferences. 
Considering benchmarks like Roblox, the market opportunity for SK Telecom and its partners is substantial, but it's even more exciting for customers. It is also exciting to consider how these services can take advantage of the network today and in the future.
Today, when you download Ifland, it's like any other mobile application. However, to participate, you need to download large packs along your journey. This use case is only possible on an LTE-A or 5G network because the packs are large. Customers will bounce quickly if they are forced to wait more than a few seconds to feel a sense of reward once they have engaged in an activity.
Tomorrow, while nothing is defined, it's easy to imagine consumers opting to jump into their digital identities in a Virtual World to feel "like they are there" with their friends; or taking their digital goods with them IRL through AR extensions that enable a Cambrian explosion of self-expression. 
Assuming services like Ifland are providing a compelling use case for customers, they are also demonstrating the value of the network. Importantly, they can also teach us a lot about how the next generation of customers wants to collect, create and engage. But we cannot stop there. 
Importance of Building for Presence
Consider this: in 7 years, will a college freshman prefer to take a combination of mobile device and HMD or mobile device and PC? 
You need to answer this for yourself, but I believe that mobile makes PCs redundant, except for the monitor and (maybe…) the tactile keyboard. Having a large monitor to work on is a compelling use case for work, even if that monitor is a Notebook PC, it's still often better than a mobile phone.
What happens when I can access all my work in the cloud from a device that comfortably enables me to be productive with any monitor size I want? What about when instead of a video call, I can collaborate virtually and feel present with my colleagues? Or play immersive games, and watch movies together with friends on cinematic screens with spatial audio? Not to mention software that enables experiential learning, providing students with significantly higher retention. 
The answer is clear to me. If you agree, it's clear why we need to learn how to build for these use cases now. Presence is going to define the next generation of human-computer interaction.
Laying the Foundation
Starting with services like Ifland, the metaverse can demonstrate significant value to customers while also driving innovations in networking technology. They are a good place to start because they're mobile, operate with familiar metrics and technologies, and leverage the network as it exists in many markets today. They also provide a platform for learning how to implement new use cases and features like Digital Events in Virtual Worlds, Avatars, Virtual Goods, Creator Tools, and NFTs. But to capture a strong market position in the future, investing now across the Metaverse Value Chain is important. 
Not everything is going to be the CEO's top priority today, but the convergence of Network, Cloud, Blockchain, Generative AI, and other technologies will lead to breakthroughs that will transform the human experience. 
Some things to consider doing now: 
Partnerships with leaders in Mixed Reality to spur market development
Working with companies like Meta to distribute Mixed Reality HMDs and promote those services is an opportunity to learn about sticky use cases and business models.

Invest in startups or funds focused on the metaverse
Understanding who the players are, building relationships, and defining a vision for your role in presence-driven experiences is an important hedge against future competition.

Build something in Mixed Reality today 
Mixed Reality, especially VR, offers the most successful presence-driven experiences today; if you don't take time to learn how to build them, services outside of your control could once again dominate traffic on top of your network.
Read the complete article in the 5G Magazine
All
2022 Predictions
2023 Predictions
5G Edge
5G for Manufacturing
5G for Transportation
5G Monetization
5G Towers
Featured
Foundation
Guest
Leaders
Open RAN | 2021
Open RAN | 2022
Private Networks | 2021
Private Networks | 2022
Security
Telco Cloud
All
All
2022 Predictions
2023 Predictions
5G Edge
5G for Manufacturing
5G for Transportation
5G Monetization
5G Towers
Featured
Foundation
Guest
Leaders
Open RAN | 2021
Open RAN | 2022
Private Networks | 2021
Private Networks | 2022
Security
Telco Cloud
All
Aerospace and Defense
Agriculture
Commerce
Datacenter
Education
Energy & Utilities
Financials
HealthCare
Industrial Automation
Innovation Hub
Manufacturing
Media and Broadcast
Mining
Ports
Public sector
Retail
Smart Cities
Sports
Transportation
All
All
Aerospace and Defense
Agriculture
Commerce
Datacenter
Education
Energy & Utilities
Financials
HealthCare
Industrial Automation
Innovation Hub
Manufacturing
Media and Broadcast
Mining
Ports
Public sector
Retail
Smart Cities
Sports
Transportation