5G+ Build and monetize what's coming next | Rakuten Symphony
Geoff delves into why 5G revenues have failed to meet expectations, what customers and businesses anticipate from network operators and the potential for operators to capitalize on new monetization opportunities.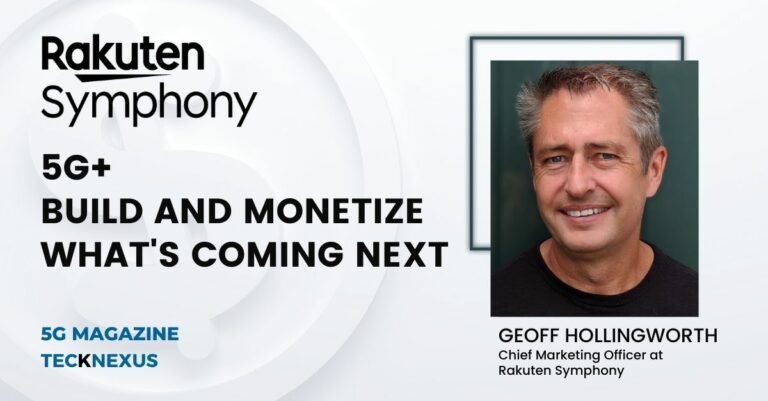 5G revenues are falling short of expectations, so what was not anticipated?
The industry approach to 5G has been in the wrong direction. It is very technology-centric. The industry, in general, not only for 5G but for the whole business going forward, should anchor itself on what customers are doing, what they need, and how they are connected. The reality is that customers are sometimes connected to 5G networks, but quite often, they are connected to other networks, and sometimes they are connected to networks that are 5G but operated by other network service providers. Hence, as network service providers, we need to anchor ourselves in the reality of what we can actually control with those customers and when. Operators are also in a great position as an industry because the demand for what they deliver increases continuously. Each network operator has a large customer base, counting to the millions, so anchoring in improving the customer experience where they are actually connected to their own network is where operators need to stop.
What reality do operators need to accept about consumers' and enterprises' mindsets about 5G?
For consumers, the operators need to accept the reality as an industry that consumers today receive a great experience from what the 4G network delivers. Consumers want a better experience, but they do not want to pay more. A better experience is either a more responsive experience or a richer experience. With 5G, operators can start delivering more augmented experiences with a higher response rate, but with an understanding that consumers will not pay more for this enhanced experience. Operators can improve efficiency, improve the experience, and also lower churn. However, this will not generate revenue for the operators.
For enterprises, operators must embrace the fact that enterprises want business outcomes. Enterprises do not want to buy one 5G network, they want to integrate many networks. Operators must embrace the fact that they are an ingredient at the network level with an enterprise and a part of the overall solution. Operators can choose to move higher in the value chain, but then they have to start delivering things beyond the network.
Operators must turn their gaze to new opportunities. Where should they be looking?
At the moment, we have been living at the most exciting time in our industry for the last 15 years. The last time we were in this inflection point was around 2005 to 2007, that was when we first defined something called Web 2.0. Web 2.0 made the difference when the software community started putting together easy-to-use tooling to create interactive two-way applications. We saw the growth and explosion of Web 2.0, and it works fine. However, we need to improve the efficiency and interactiveness of those experiences. People, in general, understand what they pay, and they won't pay more.
What is now happening is the revolution of Artificial Intelligence (AI) and the democratization of those engines to complement our lives as consumers and enterprises. In the background, the software community is progressing with open-source solutions and tools to create the next flow of experiences that will go into every aspect of our lives. All the experiences are as good as the data received, the data's timeliness, and the data's quality. The network operators are responsible for providing the data to the AI engines to ensure that the responses and actions can be prompt and useful. Operators must focus on AI and real-time action-oriented experiences that today's infrastructure does not support. We, as operators, should fill the gap and participate in the growing developer and application community.
What roles exist for operators that recognize new opportunities in the high-performance computing and AI-driven world?
Connectivity Business
Operators have an existing business, which is a connectivity business. As operators, we have built a 5G network that is very high-capacity and very far-reaching. Operators can go to market with products of that network that are connectivity centric, where people accept that it only works on that one network. Examples that are already tractioning with success are Fixed Wireless Access (FWA) and private 5G. That is the core network operator business, i.e., the connectivity business.
Cloud-native and Edge Cloud Providers
The next level of business requires operators to transform into being true cloud-native and edge cloud providers. This is where the operator offers a high-performance computing platform for its own workloads at the edge and for third-party workloads. Operators will have the proximity to cope with the large amounts of data transfer and the low latencies required for supporting experiences such as extended reality for consumers and the ultra-low latency responses required for autonomous vehicles. The core workload that pays for all that infrastructure in a cloud-native truly 5G network is the actual radio workload, which also requires high-performance computing and low latency.
AI models in operation and full solution stack
The next opportunity for operators is to provide AI models in operation and the full solution stack. The explosion that's happening at the moment is the ability to empower the universal sensor, which is the video camera, and the ability to identify objects, enable privacy and transform those objects, those video streams into the intelligence of seeing, which is transforming every single industry. As an operator industry and the telecom industry, we have the chance to enable that over wide area use cases, and there is no reason we cannot do that. However, we cannot do that just by being a connectivity business.
How do you recommend operators need to approach monetization strategies going forward?
Network operators need to clearly define and embrace the realities of the customers they're delivering to. They must move away from this concept of 5G being the universal answer for everything, including world peace. Operators must embrace that 5G is highly valuable as a connectivity business. They must also embrace the value of high volume and low latency data and power the AI models. Moving into those two bigger and exploding value chains will enable operators to monetize connectivity in a new way.
Read the complete article in the 5G Magazine
All
2022 Predictions
2023 Predictions
5G Edge
5G for Manufacturing
5G for Transportation
5G Monetization
5G Towers
Featured
Foundation
Leaders
Open RAN | 2021
Open RAN | 2022
Perspective
Private Networks | 2021
Private Networks | 2022
Security
Tech and Connectivity
TechFusion
Telco Cloud
All
2022 Predictions
2023 Predictions
5G Edge
5G for Manufacturing
5G for Transportation
5G Monetization
5G Towers
Featured
Foundation
Leaders
Open RAN | 2021
Open RAN | 2022
Perspective
Private Networks | 2021
Private Networks | 2022
Security
Tech and Connectivity
TechFusion
Telco Cloud
All
Aerospace and Defense
Agriculture
Commerce
Datacenter
Education
Energy & Utilities
Financials
HealthCare
Industrial Automation
Innovation Hub
Manufacturing
Media and Broadcast
Mining
Ports
Public sector
Retail
Smart Cities
Sports
Transportation
All
Aerospace and Defense
Agriculture
Commerce
Datacenter
Education
Energy & Utilities
Financials
HealthCare
Industrial Automation
Innovation Hub
Manufacturing
Media and Broadcast
Mining
Ports
Public sector
Retail
Smart Cities
Sports
Transportation