CAMARA Alliance – Access to 4G/5G network capabilities through APIs
How to access 4G/5G network capabilities, implement vertical industry use cases across countries and networks, & provide a good experience?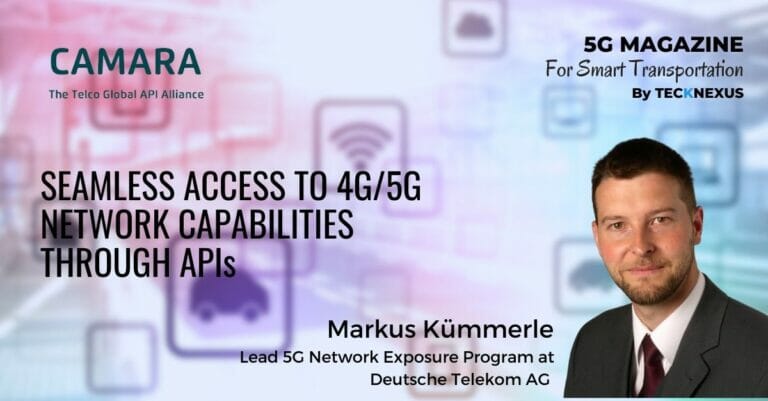 What Were the Challenges?
Once the use cases are successfully validated, some of the challenges that the industry needs to address include:
Implementation of the use case across telco networks and countries, including application portability
Accelerate technology development and commercial adoption of the use cases in partnership with the automotive industry
Provide seamless and tailored customer experience
Fulfill data privacy and regulatory requirements
How Are you mitigating the challenges with CAMARA, the telco global API alliance?
CAMARA project was launched early this year to mitigate the above challenges. The goal of the project is to enable seamless access to 4G/5G network capabilities through APIs. 4G/5G functions let you extract information from the network and set it up. These capabilities' on-demand, secure, and controlled exposure will enable operators to build service enablement platforms that allow for the integration of applications with networks and the provision of better customer experiences in the 5G era.
Abstraction from Network APIs to Service APIs is necessary: To hide telco complexity making APIs easy to consume for customers with no telco expertise (user-friendly APIs) To fulfill data privacy and regulatory requirements To facilitate application to network integration.
Availability across telco networks and countries is necessary: To ensure a seamless customer experience To accelerate technology development and commercial adoption (minimize implementation effort) To accelerate education and promotion To support application portability.
CAMARA is an open-source project within Linux Foundation to define, develop and test APIs. CAMARA collaborates with the GSMA Operator Platform Group to align API requirements and publish API definitions and APIs. CAMARA is closely aligned with standardization organizations like TMForum or ETSI MEC.
Harmonization of APIs is achieved through fast and agile created working code with developer-friendly documentation. API definitions and reference implementations are free to use (Apache2.0 license). For more information or to get involved, go to gsma.com/camara and camaraproject.org.
CAMARA Scope | Telco APIs
From a functional perspective, the scope is limited to telco APIs, which means APIs in the domain of telco mobile networks, telco fixed-line networks, or supporting these.
Thereby the focus is on the northbound interface (between telco operator and aggregator or capability consumer). To enable API roaming also the east-/westbound interface (telco operator to telco operator) is considered.
Eight universal network APIs are available at launch, including SIM Swap, Quality on Demand (QoD), Device Status (Connected or Roaming Status), Number Verify, Edge Site Selection and Routing, Number Verification (SMS 2FA), Carrier Billing – Check Out and Device Location (Verify Location).
Further APIs are expected to be launched throughout 2023. The APIs are defined, developed, and published in CAMARA, the open-source project for developers that is driven by the Linux Foundation in collaboration with the GSMA.
To illustrate a potential application of the QoD API, Henry Calvert, Head of Networks at GSMA, provided the example of a virtual music concert where musicians are based in different locations. In addition, the 5G Future Forum (5GFF) will enable musicians from all over the world to jam over the 5G networks of Rogers, Verizon and Vodafone, while KDDI, Telefónica, Mawari and Sturfee will showcase online shopping with the XR Digital Twin Store. Elsewhere, Deutsche Telekom is demonstrating applications of APIs, including QoD, alongside Matsuko and Orange.
Read the complete article in the 5G Magazine
All
2022 Predictions
2023 Predictions
5G Edge
5G for Manufacturing
5G for Transportation
5G Monetization
5G Towers
Featured
Foundation
Leaders
Open RAN | 2021
Open RAN | 2022
Perspective
Private Networks | 2021
Private Networks | 2022
Security
Tech and Connectivity
TechFusion
Telco Cloud
All
2022 Predictions
2023 Predictions
5G Edge
5G for Manufacturing
5G for Transportation
5G Monetization
5G Towers
Featured
Foundation
Leaders
Open RAN | 2021
Open RAN | 2022
Perspective
Private Networks | 2021
Private Networks | 2022
Security
Tech and Connectivity
TechFusion
Telco Cloud
All
Aerospace and Defense
Agriculture
Commerce
Datacenter
Education
Energy & Utilities
Financials
HealthCare
Industrial Automation
Innovation Hub
Manufacturing
Media and Broadcast
Mining
Ports
Public sector
Retail
Smart Cities
Sports
Transportation
All
Aerospace and Defense
Agriculture
Commerce
Datacenter
Education
Energy & Utilities
Financials
HealthCare
Industrial Automation
Innovation Hub
Manufacturing
Media and Broadcast
Mining
Ports
Public sector
Retail
Smart Cities
Sports
Transportation