Advanced Driver Assistance Systems (ADAS) for Safer Mobility | Valeo
Advanced driver assistance systems (ADAS) from Valeo who have partnered with DT and BMW to launch Automated Valet Parking with 5G.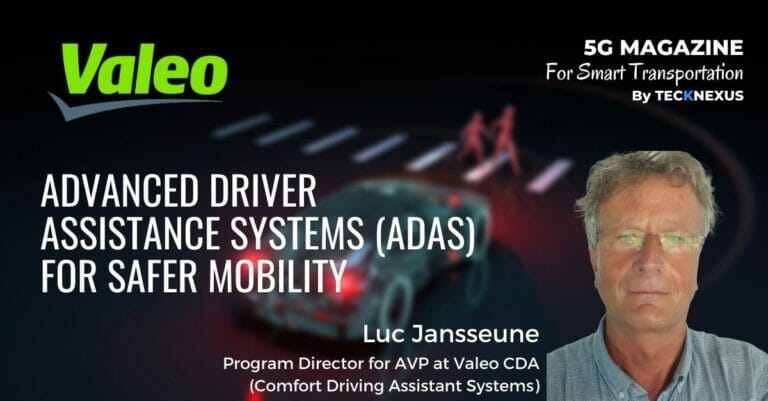 Advanced driver assistance systems (ADAS) for Safer Mobility
Valeo has made advanced driver assistance systems (ADAS) a key focus of its innovations for safer mobility. Valeo demonstrated an Automated Valet Parking system in partnership with Deutsche Telekom and BMW at the IAA Mobility, 2021.
Smart Lighting Systems Connected with 5G – Valeo's smart lighting systems include headlamps that trace the shape of the road and indicate upcoming turns in the driver's field of vision. The rear lamps, which are connected to the vehicle's cameras and surroundings via the 5G network, will signal hazards by displaying safety messages visible to all road users.
Valeo LiDAR Scanner – Valeo's third-generation LiDAR scanner will be making its public debut before being available in 2024. This LiDAR scanner can detect objects invisible to the human eye, cameras, and radars, located at distances of more than 200 meters. In addition, its perception and analytical capabilities enable the driver to delegate driving to the vehicle in highway situations.
Valeo's NFL (Near Field LiDAR), when used on driverless, autonomous vehicles, this innovation creates a safety "bubble" around them. As soon as the vehicle starts, it can display a 360° vision of its surroundings. On a highly automated car, it provides peripheral vision, eliminating blind spots.
Valeo VoyageXR Panorama – Valeo VoyageXR Panorama offers a broader, even more impressive vision. This technology provides a drone's perspective – without the drone. In practice, it displays on a screen a 3D, 360° view of the car driving down the road, as if it were filmed by a drone. This innovation offers enhanced safety in remote-controlled autonomous vehicles and creates new travel experiences blurring the boundaries between real and virtual.
Valeo Intelligent Interior – Valeo has now extended its role in assistance and protection to inside the vehicle by creating an intelligent interior. Valeo Safe Insight combines several technologies to Identify the driver and alert him or her in the event of distraction or drowsiness, Recognize when passengers are on board and remind them to buckle their seatbelts, Detect when there is someone in a stationary car and raise the alarm if a child has been left behind.
Valeo Air filter for Covid-19 Detection – Valeo has developed a terminal designed to detect health risks. The device can detect Covid-19 in under two minutes without any patient contact, with the same level of accuracy as a PCR test.
Read the complete article in the 5G Magazine
All
2022 Predictions
2023 Predictions
5G Edge
5G for Manufacturing
5G for Transportation
5G Monetization
5G Towers
Featured
Foundation
Leaders
Open RAN | 2021
Open RAN | 2022
Perspective
Private Networks | 2021
Private Networks | 2022
Security
Tech and Connectivity
TechFusion
Telco Cloud
All
2022 Predictions
2023 Predictions
5G Edge
5G for Manufacturing
5G for Transportation
5G Monetization
5G Towers
Featured
Foundation
Leaders
Open RAN | 2021
Open RAN | 2022
Perspective
Private Networks | 2021
Private Networks | 2022
Security
Tech and Connectivity
TechFusion
Telco Cloud
All
Aerospace and Defense
Agriculture
Commerce
Datacenter
Education
Energy & Utilities
Financials
HealthCare
Industrial Automation
Innovation Hub
Manufacturing
Media and Broadcast
Mining
Ports
Public sector
Retail
Smart Cities
Sports
Transportation
All
Aerospace and Defense
Agriculture
Commerce
Datacenter
Education
Energy & Utilities
Financials
HealthCare
Industrial Automation
Innovation Hub
Manufacturing
Media and Broadcast
Mining
Ports
Public sector
Retail
Smart Cities
Sports
Transportation