What is 5G Tower? Who are top 12 global 5G tower companies?
Who are the top global 5G Tower vendors? What are their current offerings? What is their support for small cells, DAS solutions? What are their strategies for accelerating 5G infrastructure?

See the Tower comparison table in the 5G Magazine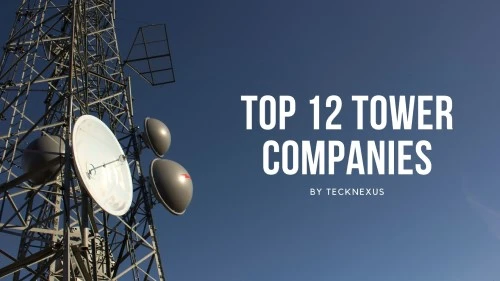 Skyscrapers' have been dominating the skyline of most of the major cities in the last couple of decades but what has been striking is the appearance of Telco Towers. Red blinking dots over the horizon under a clear sky is quite an indicator. The densification of telco towers will fuel 5G, meaning cell tower companies need to find logistics and infrastructure to deploy the 5G technology.  Two major factors will primarily dominate the expansion of 5G and its success. 5G Telecom gears and 5G passive infrastructure. For 5G gears, we hear a lot of buzz from Global OEMs like Ericsson, Nokia, and Huawei and disrupting players like Mavenir, Parallel Wireless, and Altiostar. However, cell tower companies are the key proponents of 5G infrastructure. In this article, we will be covering the top 12 global 5G tower companies.
Let's first understand what a cell site is and what is a cell tower.
The Cell-Site is used to identify the entire infrastructure (active and passive), be it antennas, buildings, telecom gears (comprising of the base station, Remote Radio Head), and power resources. Cell towers are the poles or mast on which antenna systems, RRH (Remote Radio Head), are installed. Multiple wireless carriers can share a cell tower, or a single wireless carrier can use it. Generally, the cell towers are taken on rent or leased by the wireless carrier to install the gears. Read 5G Cell Towers: Introduction to get in-depth details on the 5G cell towers.
What are the different types of cell towers?
Broadly the cell towers can be classified into four categories, specified below:
Monopole Towers
Built from a single tubular mast and requires only one foundation

Small footprint on the ground

Height can range from 40 feet tall to 200 feet tall across tenants

Antennas are attached to the exterior on the top of the cell tower

Some cities have banned the construction of new monopoles because they are eyesores.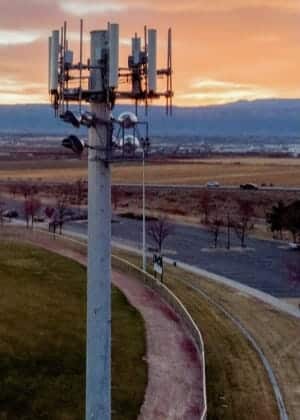 Guyed Towers
They have three guyed lines anchored to the ground and guy wires to anchor and support them.

Requires a larger amount of land, usually around 100 meters or more

Height can range from 200 to 300 feet tall and can support multiple wireless tenants

Antennas are attached to the exterior on the top of the cell tower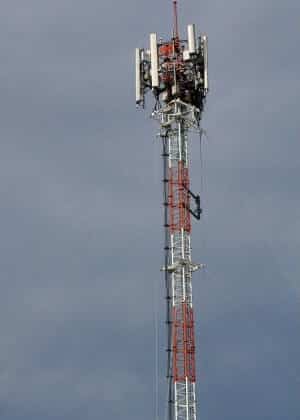 Lattice Cell Towers
Self-supporting towers made of steel latticework in square or triangular shape

They are very stable and easy to construct

Height can range from 200 to 400 ft

Antennas are attached to the exterior on the top of the cell tower.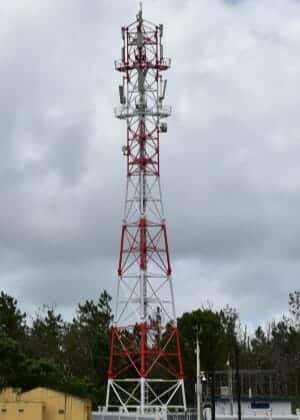 Stealth Cell Towers
In some cities, zoning codes require that towers should blend into the surroundings.

Typically a monopole tree is disguised as a tall tree e.g., palm tree or pine tree.

They are costlier to build

They cannot provide the same amount of coverage to the tenants as other types of towers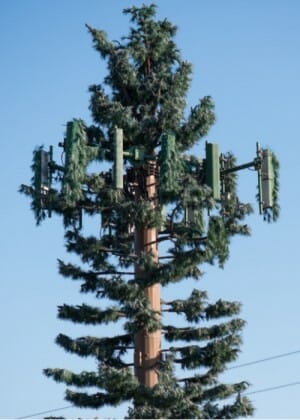 Read 5G Cell Towers: Introduction to get details on the above cell tower types.
---
Related Articles:
---
Below are the top 12 global tower companies
China Tower Co., Ltd. ("China Tower") is a large-scale state-owned communications infrastructure service company. The company mainly constructs, maintains, and operates base station supporting facilities such as communication towers, high-speed rail and subway public network coverage, and large-scale indoor distribution systems. It is the primary infrastructure supplier to three major China National Carriers, China Mobile, China Telecom, and China Unicom, and is spread across 31 provinces in China. Founded: 2014 Headquartered: HQ in Beijing, China and has established cell tower locations in 31 provincial-level branches and local and municipal-level branches across the country Infrastructure: 2.1 million communication towers China Tower solutions include: China Tower has implemented the "One Core and Two Wings11" strategy to increase optimization, coordination of resources, and sharing, leveraging them to compete and gain cash flow. One core refers to the traditional cell tower business of providing Macro, Small Cell Towers, and DAS infrastructure. Two wings refer to the TSSAI (Trans-Sector Site Application) business, which provides tower-specific data information to industries, and the Energy business of providing power to different industries.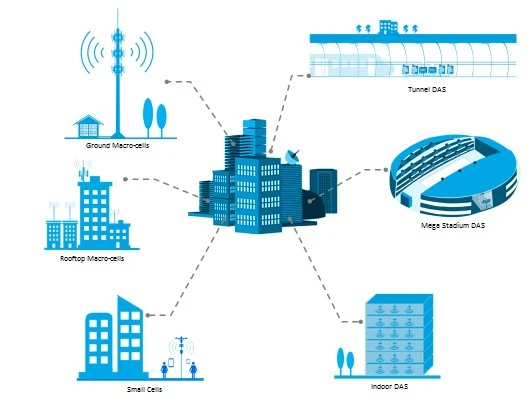 Macro station business

consisting of the ordinary ground communication tower, landscape tower, simple tower, ordinary floor tower, floor holding pole

Microsite business

consisting of micro cell tower station, holding micro pole station, and social sharing microsite

Room division business

includes constructing commercial buildings, large venues, subway tunnels, and communication equipment and connectivity.

Site-based information service

integrates site resources, dedicated transmission lines, data platforms, and various third-party equipment to provide customers with information services such as data collection, return, aggregation, analysis, and application.

Energy business,

i.e., power generation business,e.g., portable lithium battery packs
China Tower's 5G Strategy: Rapid scale implementation of 5G technology in China has helped China Tower to improve its financial numbers. During H1, 2021, there was a 16% YoY on their revenues, and as per the company, 5G technology is becoming the key growth driver of their Telecom Service Providers (TSP) business. China Tower has also implemented multiple measures to facilitate large-scale 5G cell towers construction, such as:
Exerted advantage in resource coordination via actively harnessing the implementation of 5G supporting policies and coordinating site entry in key scenarios

Improved resource utilization efficiency via fully utilizing resources, including existing towers and ancillary facilities for shelters and making full use of social resources

Reinforced leadership in technological innovation via enhancing the application of innovative products, including

low-cost high-frequency based 5G

and ancillary facilities for power supply, and promoting the sharing solutions of 5G passive DAS at low costs with access to all frequency bands
---
Spread across six continents, and 24 Countries, and having more than 6000 employees, ATC is one of the leading providers of the wireless infrastructure of cellular communications in North America. Founded: 1995 HQ Location: Boston, MA, with operations across the United States and in Argentina, Australia, Brazil, Burkina Faso, Canada, Chile, Colombia, Costa Rica, France, Germany, Ghana, India, Kenya, Mexico, Niger, Nigeria, Paraguay, Peru, Philippines, Poland, South Africa, Spain, and Uganda Infrastructure: 214,000 communications sites including 43,000 properties in the United States and Canada and more than 171,000 properties internationally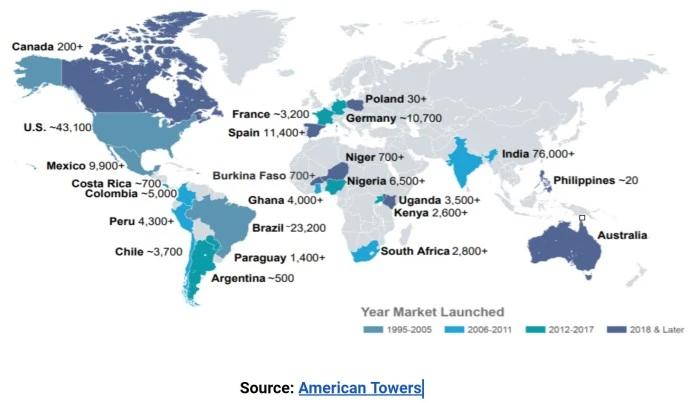 Tower Solutions of ATC include:
Build-to-Suite

ATC provides Site Candidate Information Packages (SCIP) consisting of detailed data analysis for new or collocated sites to MNOs. 

ATC provides Site Data Package (SDP), which contains legal, logistical, and site infrastructure reports

Cell Tower Acquisition

For ATC, Tower operations are their core business and are backed by financial strength and technical expertise. They support MNOs with fast and efficient deployments.

Compliance related to the environment, safety, and regulators are ensured.

Concealed Structures

With network expansion, the city skylines are getting dominated by cellular towers. 

There can be requirements from civic authorities to conceal those. ATC provides expert solutions by which they beautify and conceal cellular towers.

Broadcast Towers

Provides taller towers at great locations for optimal coverage to national broadcasters and local stations, along with the expertise needed to reach target audiences
Strategy and Positioning for ATC 5G Towers: With 43K towers, technical expertise, and provisioning for incremental capacity, ATC is equipped strategically to support wireless carriers in their 5G journey. Also, deploying 5G technology in various bands will increase the new 5G cell tower deployment. In summary, the major drivers for ATC are continued investment in 4G/LTE and increased momentum in 5G. Awards:
American Tower was named one of the

World's Most Admired Companies

in 2021 by FORTUNE magazine.

American Tower Named to Forbes America's Best Mid-Size Employers List in 2021

American Tower Named as One of Newsweek's America's Most Responsible Companies 2021
---
The merger of Bharti Infratel Limited and Indus Towers formed Indus Towers Limited. The combined strength makes Indus one of the largest telecom cell tower companies in the world. Indus' leading customers are Bharti Airtel, Vodafone Idea Limited, and Reliance Jio Infocomm Limited, India's leading wireless telecommunications service providers by revenue. Founded: 2006 HQ Location: Gurgaon, Haryana, India Infrastructure: 183,462 towers and 332,551 colocations (as of 30th September 2021), and a nationwide presence covering all 22 telecom circles. Communication Tower Solutions of Indus Towers include:
Towers

– Deploys

ground-based towers, rooftop towers or poles, lightweight hybrid poles, monopoles, or camouflaged towers that merge with the backdrop, in addition to mounting the operator antennae at the appropriate height.

Tower Operations Center (TOC) – provides an end-to-end tower management solution, incorporating the aspects of top-line maintenance, reliable tracking measures, and sustainable energy practices. 
Power

–

provides uninterrupted Energy Supply to Telecom Equipment.

Space acquisition

–

acquire space from residential and commercial property owners For Housing Telecom and Power Equipment.

Smart Cities

– has rolled out its Smart Digital Infrastructure of Smart poles, LED lights, CCTV cameras, Variable Digital Messaging Board, Environment Sensors, and City Public Wi-Fi, including the fiber backbone, in partnerships with

New Delhi Municipal Council (NDMC), 

Vadodara Municipal Corporation (VMC), 

Dehradun Smart Cities (DSCL), 

Bhopal Smart City (BSCDCL)

Green Sites

– Towers are powered through either grid-sourced electricity or diesel generators and devised innovative ways of deploying batteries using the combo solution, the NCU, turbo solutions, variable speed diesel generator sets, and micro cooling solutions that target sites with temperature-sensitive equipment and cool them separately.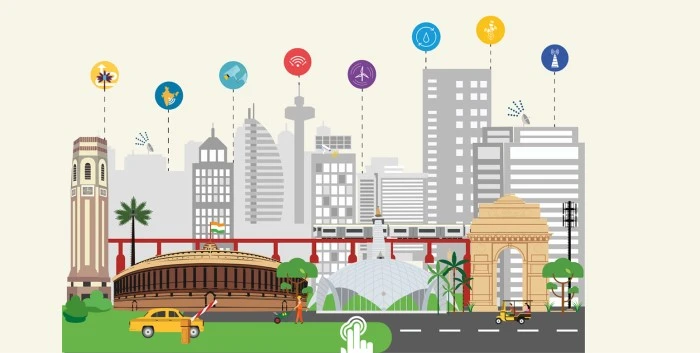 Strategy and Positioning for Indus 5G Towers: India has begun its 5G journey, and several operators like Airtel, Vodafone India, and Reliance Jio are doing trials. Indus towers expect the 5G rollout to happen soon and increase demand for Site Infrastructure. 
---
Cellnex is Europe's leading independent wireless telecommunications operator and 5G infrastructure company. Founded: 2000 HQ Location: Headquartered in Barcelona, Barcelona, they provide service in Austria, Denmark, Spain, France, Ireland, Italy, the Netherlands, Poland, Portugal, the United Kingdom, Sweden, and Switzerland. Infrastructure: They have 128,000 sites, 75,000 of them already in the portfolio, and the rest are in the process of being closed or deployed until 2028. Communication Tower Solutions of Cellnex include:
Telecom Infrastructure Services – 

Offers its communications and broadcast sites to wireless operators and customers who distribute their services using wireless technologies.

DAS and Small Cells – 

Offers multi-operator telephone network solutions for indoor and outdoor facilities with high user densification through technologies such as DAS (Distributed Antenna Systems) and Small Cells

Audiovisual Broadcast networks –

are Spain's main broadcasting infrastructure operator, offering comprehensive turnkey or modular service to its main private and public audiovisual groups.

Smart Cities, IoT and Security – 

Provides communications networks and IoT solutions to manage urban resources and services to enable smart cities efficiently.
Cellnex 5G Tower Strategy: Cellnex is one of the key proponents driving and accelerating 5G in Europe. They are building 5G infrastructure that they envision as a "neutral host" and have "sharing schemes "between operators. At MWC21 in Barcelona, through Edzcom, a subsidiary of the Group, Cellnex showcased the latest technology in private communications networks to allow companies and industries to perform their processes through their infrastructure. Cellnex also demonstrated at MWC21 below 5G use cases it is working on: 
5G Catalunya Pilot

, jointly with MásMóvil, aims to turn the city of Barcelona into an open innovation stage 

5GMED

– focussed on Future RailwayMobile Communications System (FRMCS) and advanced services for cooperative connected and automated mobility (CCAM) 

5G Lean project

, a collaboration with Nokia and Quobis to bring connectivity to rural areas
Cellnex partnered with BASF (chemical company) to deploy the first private 5G network in a Spain chemical plant. In this deployment, Cellnex will be in charge of installing and deploying a private 5G network at BASF's production center in La Canonja, Tarragona, for various industrial use cases.
---
Vantage towers aim to develop and deploy mobile infrastructure at scale for accelerating Europe's transition to 5G. It is the second-largest tower company in Europe. Founded: 2000 HQ Location: Headquartered in Düsseldorf, Germany, they have towers across Germany, Spain, Portugal,  Czech Republic, Ireland, Romania, Hungary, and Greece. Infrastructure: They have 82,000 communication sites, including macro sites, small cells, and DAS. 100% of the electricity that Vantage Towers uses to operate its infrastructure is obtained from renewable energy resources such as wind, solar, and hydropower.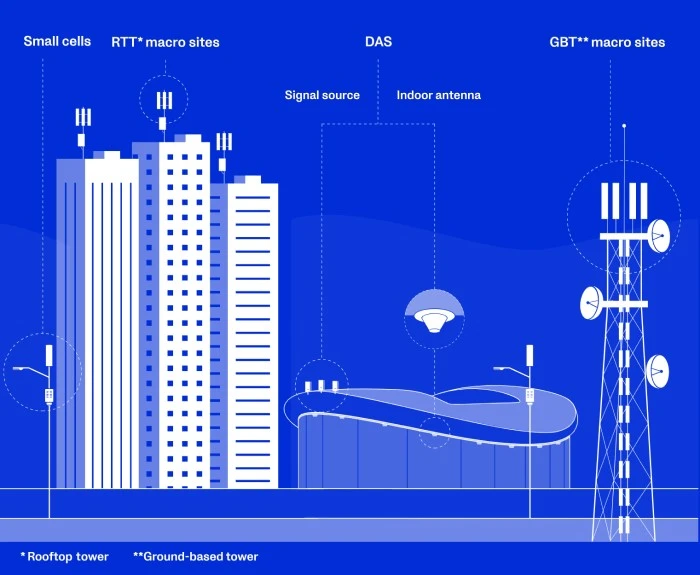 Vantage Tower Solutions include:
Infrastructure assets

Ground-based and rooftop assets for 4G/LTE and 5G rollout

DAS and small cells for indoor and outdoor requirements

Services

Colocation to rent space, equipment, and network access on ground-based and rooftop tower sites

Build-to-suit – ground-based and rooftop macro sites, small cell, and distributed antenna system (DAS) solutions

Enhance network performance services
Vantage 5G Tower Strategy: Vantage towers look to position itself as a "5G Superhost" to cater to enterprise users as well as wireless carriers.  
---
Crown castle brings in 25 years of expertise, with 40K+ towers deployed and 80K+ miles of fiber. It is changing how MNOs are deploying their technologies. It provides two models for cell sites, shared infrastructure and single-tenant, like ATC. Founded: 1994 HQ Location: Houston, TX Infrastructure: 40K+ towers, ~80K small cells on air or under contract, and ~80K route miles of fiber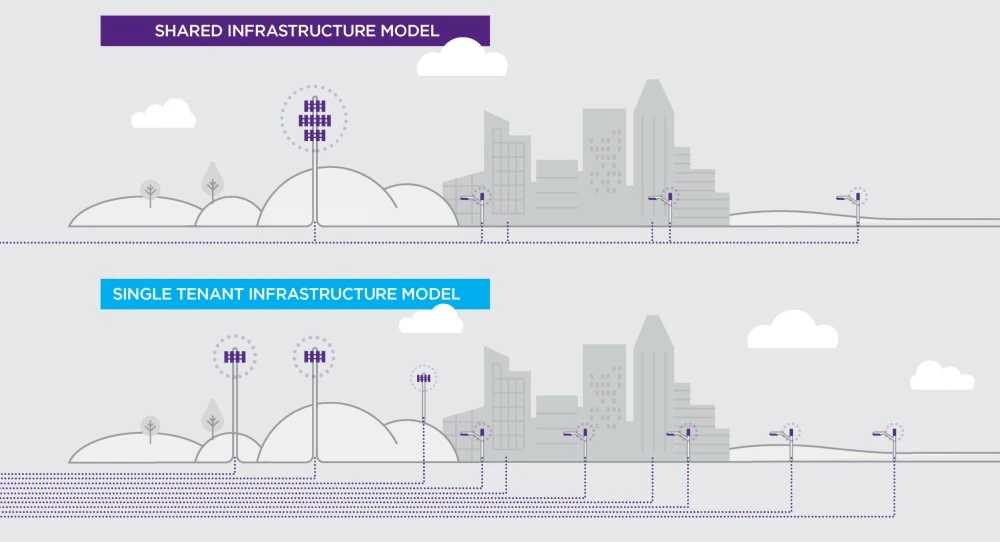 Tower Solutions of Crown Castle include:
Towers & Roof-top

Installs monopole, lattice, and guyed towers, which are fed by backhaul coaxial copper or fiber

Provides equipment shelters and ground space to allow connectivity for fiber and edge data centers

In dense areas where towers are not feasible to install, provides rooftop sites

Small Cells – 

Installs small cells for indoor, outdoor, and mixed-use areas working with commercial real estate companies, carriers, and partners.

Fiber – 

Includes managed SD-WAN solutions, optical encryption, video transport, dark fiber, wavelength, cloud connect, ethernet, and private networks.
Crown Castle 5G Tower Strategy: Crown Castle has restricted its operations mainly to the US and has concentrated more on Small Cells and Fiber deployment. Its recent ten-year collaborations with Verizon and Dish Network for 15 years for providing site infrastructure point to its increased focus on 5G deployment. 
---
SBA communication is the third-largest tower company in the Americas. A $51.8 B enterprise operates in 15 markets. It has around 33K+ towers in the United States, Brazil, Canada, Argentina, Chile, Colombia, Costa Rica, Ecuador, El Salvador, Guatemala, Nicaragua, Panama, Peru, and South Africa. They were founded: 1989 HQ Location: Boca Raton, Florida Infrastructure: 33K+ communication sites, including towers, buildings, rooftops, distributed antenna systems, and small cells.

Tower Solutions of SBA communication include:
Towers –

Owns and operates towers, including building towers requested by wireless carriers leveraging in-house site acquisition, zoning, and construction expertise.

Leasing – 

Leases antenna space on multi-tenant towers and other communications facilities to wireless service providers under long-term lease contracts.

Site Management

– provides site marketing and management services to property owners. Currently, SBA manages ~ 9,700 communication site locations on behalf of third-party property owners.

Site Development

– Provides network design, site identification and acquisition, zoning approvals and permitting, and cell site audits to augment existing wireless facilities to wireless service providers and operators to develop their own network.

Construction

– Provides construction services on a single cell tower basis or by delivering a complete turnkey network deployment solution customized to meet the needs of wireless service providers.

Technical services

– Installation and commissioning; quality and support services; architectural and engineering services; and program management and deployment
SBA 5G Towers Strategy: The two primary businesses of SBA include site leasing and site development. With the continued growth of 5G service in the Americas, a substantial 5G network will continue, driving strong revenue results.
---
IHS towers call themselves towers of strength. They provide telecommunications infrastructure to emerging markets. Founded: 2001 HQ Location: Principal executive office is located in the UK Infrastructure: 30,207 towers in nine countries – Colombia, Peru, Brazil, Nigeria, Kuwait, Cote d'Ivoire, Cameroon, Rwanda, Zambia

Tower Solutions of IHS include:
Colocation and lease amendments –

Adding new customers to existing towers and Adding new equipment and services at existing towers for existing customers

Build-to-suit solutions –

Building a new tower site based on customer-specific needs

DAS Inbuilding solutions, Small cell, Fiber connectivity
Mobile connectivity to remote rural locations
IHS 5G Towers Strategy: The African market is untapped, and there is a huge opportunity to grow. The strategy for MEA cell tower companies are 
More Cell Tower+ Increased Penetration= Increase in SIM sales+ Cash Flow for new Technology 
5G strategy for IHS towers in Africa will be to push MNOs to quickly migrate from 3G to 4G/LTE and subsequently to 5G.
---
GTL Infra is India's independent Shared Telecom Infrastructure Service Provider with a presence across all the 22 telecom circles in India. GTL is the pioneer in introducing the infrastructure-sharing concept in India. Founded: 2004 HQ Location: Navi Mumbai, Maharashtra, India Infrastructure: 28,000+ telecom towers across 22 telecom circles in India.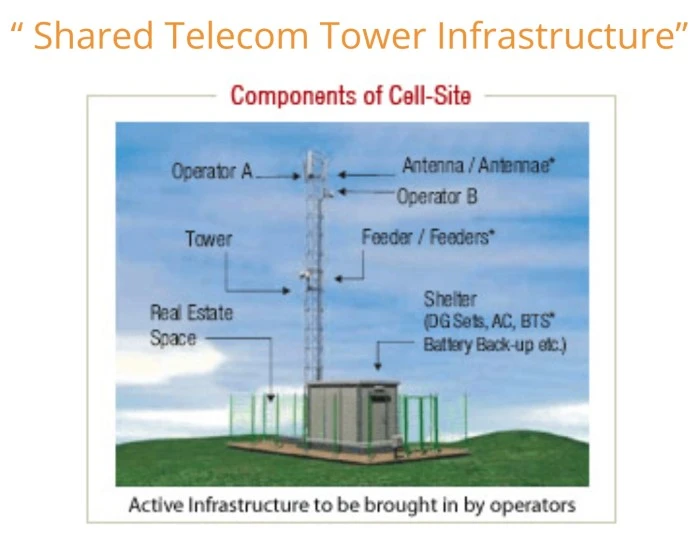 Tower Solutions of GTL Infra include:
Tower & Infrastructure sharing

Provides 2G, 3G, 4G, 5G cell towers that can be shared across telecom operators in India

Provides space in shelters and optimum heights for mounting antennae on towers for the operators to host their active equipment

Energy Management –

provides uninterrupted power supply in its Cell Sites at a pre-determined cost from the customer. 
GTL 5G Towers Strategy: For India, the spectrum auction is still to happen for 5G, and the telecom outlook is still not out of the woods. Although GTL must be ready for 5G, but during the last few years, it has lost cash, and liabilities are higher than assets, so its stance on 5G is still not very decisive.
---
Phoenix Tower International owns and operates wireless infrastructure sites and is currently focused on infrastructure expansion throughout Latin America, the Caribbean, the United States, and Europe. Founded: 2013 HQ Location: Boca Raton, FL Infrastructure: 13,500 towers, 986 km of fiber, and over 80,000 other wireless infrastructure and related sites in 18 countries throughout Europe, the United States, Latin America, and the Caribbean.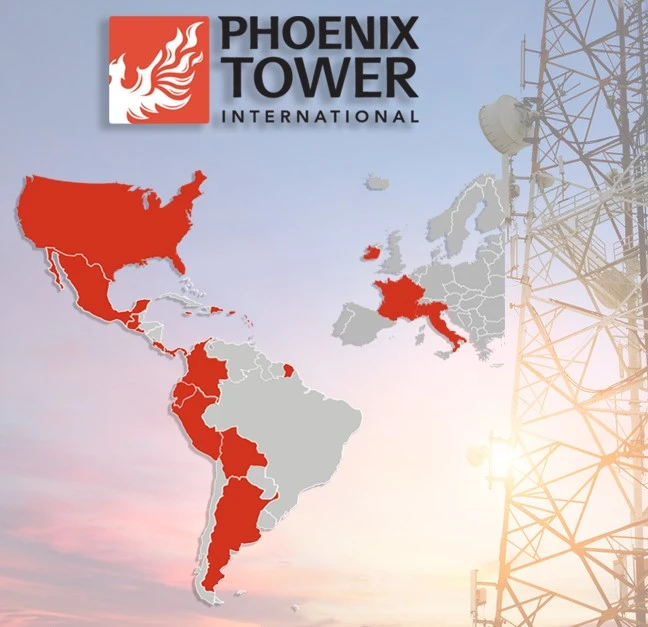 Tower Solutions of PTI include:
Colocation services and Build-to-Suite (for wireless carriers) –

Provides reliable collocation services with established processes and local and regional personnel expertise and c

onstructs a high-quality site to suit the specific needs of wireless companies, if it does not have an existing site available to meet customer needs

Land and rooftop acquisition with Asset management

(for landlords) – 

Works with landlords and real estate owners on land and lease acquisition solutions under existing wireless infrastructure, whether wireless towers or equipment on rooftops. 

Real estate management and marketing – 

Site marketing, lease management, record keeping, billing, collections, installation oversight, and access management

Tower acquisition – 

Provides services from the start of the process for tower acquisition to its final closing, including transaction structures that can act as alternative financing. 
---
Tower Vision is an independent tower management company specializing in providing shared passive infrastructure and related services to the telecommunication industry in India. Key India-based customers include Bharti Airtel, Jio, Vodafone Idea, BSNL, MTNL, and Tata Communications. Founded: 2006 HQ Location: Gurgaon, Haryana, India Infrastructure: 9,000 towers and 15,000 + multi tenancies sites across all telecom circles in India and broad portfolio of passive infra including Ground Based Tower (GBM), Ground-Based Mast (GBM), Roof-Top-Pole (RTP), Outdoor Small Sell Sites (ODSC), Cell On Wheels (COW), in-building solutions, smart poles, and fiber-based solutions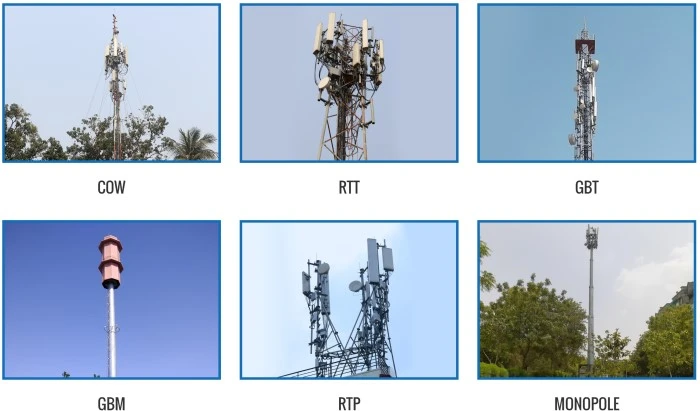 Tower Solutions of Tower Vision include:
Towers and infrastructure sharing

Ownership, management, and operation of wireless communication towers of all types across the country

Acquisition, deployment, maintenance, and asset management of telecommunication towers based on the Build, Own, and Operate model 
---
Helios Towers (HT) owns and operates telecommunications towers and passive infrastructure in six high-growth African markets. Their primary business is building, acquiring, and operating telecommunications towers capable of accommodating and powering the needs of multiple tenants. Founded: 2009 HQ Location: London, UK and operates across South Africa, DRC, Congo B, Ghana, Tanzania, Senegal, Madagascar, Malawi, Chad, Gabon, Oman Infrastructure: 8,765 sites with 17,773 tenants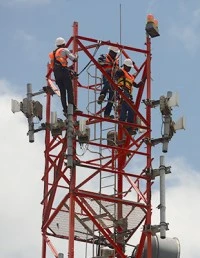 Tower Solutions of Helios Towers include:
Colocation –

Leasing space on their existing towers

 
Build-to-Suit –

Builds cell phone tower to suit customer needs, if the current portfolio does not meet the business needs

Sale & leaseback –

MNO's existing portfolio of towers is acquired and leased back to their former owners and colocating other tenants to increase the use of infrastructure. 

In-building solutions

– provide infrastructure in large-scale buildings such as shopping malls, high-rise buildings, and stadiums.

Managed services

– run day-to-day operations of the site in case customers do not want sale and leaseback transactions. 
Helios Tower 5G Towers Strategy: Helios Towers plans to build 1000 Telecom towers in SA to fuel the growth of 5G. It has entered into agreements with local players and wants to buy existing cell towers from wireless carriers like Vodacom and MTN. 
---
Conclusion and Way Forward for Tower Companies
Cell towers across different geographies have their own drivers and challenges.
In many markets, like in India, we see consolidation and mergers happening, the recent being the merger of Bharti Infratel and Indus towers and the acquisition of VIOM Networks. In other Asia markets like China, their market outlook looks robust with 5G rollout happenings.

 

In regions like Oceania, wireless carriers like Optus and Telstra are selling their stakes in their business.

In Europe and the Americas, we have also seen Operators selling their existing cell phone tower stakes to different companies. This is generally happening to fuel the expenses that wireless carriers need to make for 5G deployments. 

 
One of the major expenditures for Tower Companies is power provisioning at the cell towers. In urban areas, it is mostly based on electricity, but in rural areas, they are highly dependent on diesel. With rising awareness of clean environments, there has been a continuous focus from Tower companies to implement greener power like solar panels. 
Read the complete article in the 5G Magazine
All
2022 Predictions
2023 Predictions
5G Edge
5G for Manufacturing
5G for Transportation
5G Towers
Featured
Foundation
Guest
Leaders
Open RAN | 2021
Open RAN | 2022
Private Networks | 2021
Private Networks | 2022
Security
Telco Cloud
All
2022 Predictions
2023 Predictions
5G Edge
5G for Manufacturing
5G for Transportation
5G Towers
Featured
Foundation
Guest
Leaders
Open RAN | 2021
Open RAN | 2022
Private Networks | 2021
Private Networks | 2022
Security
Telco Cloud
All
Aerospace and Defense
Agriculture
Commerce
Datacenter
Energy & Utilities
Financials
HealthCare
Industrial Automation
Innovation Hub
Manufacturing
Media and Broadcast
Mining
Ports
Public sector
Retail
Smart Cities
Sports
Transportation
University Campus
All
Aerospace and Defense
Agriculture
Commerce
Datacenter
Energy & Utilities
Financials
HealthCare
Industrial Automation
Innovation Hub
Manufacturing
Media and Broadcast
Mining
Ports
Public sector
Retail
Smart Cities
Sports
Transportation
University Campus