5G network as foundation for autonomous driving | Deutsche Telekom
How does 5G network with intelligent transport infra, network slicing, network exposure function, & edge computing enable autonomous driving?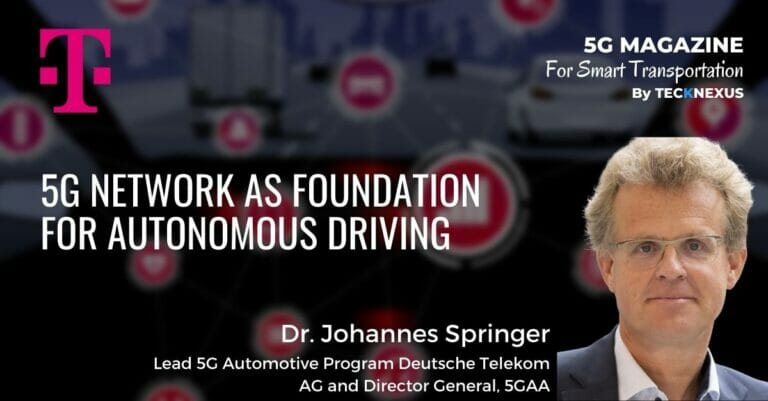 Intelligent transport infrastructure through interconnectedness
The foundations for autonomous driving are fast and reliable communication networks, such as LTE and 5G. Therefore, Deutsche Telekom plans to install the 5G network on all key transport routes – such as freeways, main roads, and rail tracks – by 2025.
Experts from various sectors are working at the 5G Automotive Association (5GAA), defining the basics for common standards in order to ensure that the new mobile communication standard meets the specific requirements for interconnecting the various transport users and for automated driving.
Connected cars with their digital and location-related services can greatly improve our driving comfort. The car relies on regular data updates for navigation, e.g., detailed road maps, plus updates in unexpected traffic situations, such as congestion, rain, or black ice. In combination with apps for the driver and cloud systems, information for maintenance or other status reports can be retrieved and sent.
These functions are already realized today with edge computing, based on LTE at a transmission rate of up to 300 megabits per second and latencies of less than 100 milliseconds, even in emergencies or remote-controlled driving at low speeds. 5G will offer even higher quality for many digital in-car services in the future.
5G network expands automated systems
Safety aspects are a focus of attention in driving a car. Automated systems reach their limits when unexpected or unknown situations occur. In such a case, an "autopilot" will decide to deactivate the system for safety reasons if in doubt.
An automated car would then return the task and responsibility of driving to the human driver. However, if the vehicle is not taken over by the driver or is not as quickly as required, the car will be moved to the roadside in a secure driving mode. With 5G, the car could, for instance, be controlled remotely by an external operator acting as a traffic controller.
However, remote control through an operator is impossible without a 5G network, which offers key features such as very short response times and guaranteed network resources.
Benefits of 5G for autonomous driving
Network Slicing and Network Exposure Function (NEF)
One huge benefit of 5G is what is known as network slicing. The wireless network is subdivided into virtual network levels. One network level is then used only for automated driving, for instance. In addition, the Network Exposure Function (NEF) in 5G provides access to basic network capabilities and network APIs to build and expose special service APIs tailored for specific use cases and associated applications. The service API can make specific network capabilities available at the application level.
This ensures, for example, that safety-relevant notifications to self-driving cars will not end up in a congested network cell and will be given priority over other infotainment services used in parallel.
5G with Edge Data Centers
Another benefit is the data processing and storage in data centers close to the transport routes. Such "edge" data centers ensure that data can be processed even faster in the network. In the initial 5G tests on the A9 freeway between Nuremberg and Munich, latencies of less than 20 milliseconds were achieved. An autonomous car driving at a speed of 100 km/h would have traveled a mere 60 centimeters in that time. The virtual network levels and short transmission paths guarantee important quality features of the 5G mobile technology, such as low latencies and high bandwidths.
5G equipped Transport Infrastructure
Sensors are used to implement car-to-car communication for automated driving. This includes, for example, intelligent camera systems, which enable the direct exchange of data between the cars. These systems have crucial physical disadvantages, however. They can neither look around corners, nor over hills, nor through obstacles. This is why they restrict the functioning of self-driving cars.
This simple form of automation is also unsuitable at higher speeds. This is where the 5G network offers another huge advantage. 5G mobile technology expands the scope of autonomous mobility through direct and, above all, fast and broadband data communication with cars and an appropriately equipped transport infrastructure, such as traffic lights. This can ensure improved traffic flows by enabling cars to travel at higher speeds or reducing their speed in good time when necessary.
What are Deutsche Telekom's plans for launching new 5G use cases?
To enable new use cases and to improve the customer experience, Deutsche Telekom launched the "5G Early access program". Deutsche Telekom built a unique indoor and outdoor testbed at hubraum in Berlin, where developers, startups, corporates, and hyperscalers can test Deutsche Telekom's 5G APIs directly on a fully functional 5G standalone core network.
Deutsche Telekom's easy-to-use 5G APIs interact directly with its 5G radio access network (RAN). They allow participants to obtain information from the network, such as location, congestion, and more, or configure network settings.
These APIs, such as 5G Latency API, 5G QoS API, or 5G Throughput API, can, for example, set the quality of service for a device or IP flow. DT supports participants during the complete lifecycle of the program and provides working space, active mentoring, and passive communication channels for their questions. It also continues to add new 5G APIs throughout the year, including standardized APIs through the CAMARA alliance's Early Access Program.
Read the complete article in the 5G Magazine
All
2022 Predictions
2023 Predictions
5G Edge
5G for Manufacturing
5G for Transportation
5G Monetization
5G Towers
Featured
Foundation
Leaders
Open RAN | 2021
Open RAN | 2022
Perspective
Private Networks | 2021
Private Networks | 2022
Security
Tech and Connectivity
TechFusion
Telco Cloud
All
2022 Predictions
2023 Predictions
5G Edge
5G for Manufacturing
5G for Transportation
5G Monetization
5G Towers
Featured
Foundation
Leaders
Open RAN | 2021
Open RAN | 2022
Perspective
Private Networks | 2021
Private Networks | 2022
Security
Tech and Connectivity
TechFusion
Telco Cloud
All
Aerospace and Defense
Agriculture
Commerce
Datacenter
Education
Energy & Utilities
Financials
HealthCare
Industrial Automation
Innovation Hub
Manufacturing
Media and Broadcast
Mining
Ports
Public sector
Retail
Smart Cities
Sports
Transportation
All
Aerospace and Defense
Agriculture
Commerce
Datacenter
Education
Energy & Utilities
Financials
HealthCare
Industrial Automation
Innovation Hub
Manufacturing
Media and Broadcast
Mining
Ports
Public sector
Retail
Smart Cities
Sports
Transportation