| Vendor | Description | Categories |
| --- | --- | --- |
| Axellio Inc | Axellio Inc. is a leading innovator in all NVMe Flash Hyper-Converged Infrastructure (HCI) and Edge Computing systems uniquely designed to run tier 1 storage-intensive workloads. Axellio carries with it a legacy of twenty years of innovation in enterprise IT infrastructure systems and solutions providing the highest reliability, quality, service standards, and system performance enterprise infrastructure.   Axellio delivers computing platforms built with its advanced FabricXpress™ (FX) … | Edge | Edge Data Centers | Edge Exchange | Edge Network Infra | MEC (Multi-access Edge Computing) | Network & Infra (Virtualized and Physical) |
| Compass Datacenters | Rapid advances in technology are creating new opportunities for business. The ability for companies to maximize these new capabilities has created a need for a new type of data center company. A company that is nimble enough to adapt to new customer requirements to deliver customizable solutions that operate from … | Edge | Edge Data Centers | Network & Infra (Virtualized and Physical) |
| DartPoints | Since 2012, DartPoints has been singularly focused on perfecting the deployment and operations of the Micro Edge Data Center, whether it is in an office building, warehouse, cell tower, or rural towers. Micro Edge Data Center deployment requires both engineering precision and operational flexibility to create critical data center infrastructure … | Edge | Edge Data Centers |
| EdgeConneX | As the pioneer in defining and building the Edge, EdgeConneX has built and delivered a full spectrum of data center solutions, from Hyperscale facilities to Edge Data Centers®, Edge Small Cells and Edge PoPs® at the most critical locations—as close as possible to the end user's point of access, from local … | Edge | Edge Data Centers |
| EdgeMicro | EdgeMicro's carrier-neutral modular data centers and patent-pending Edge Traffic Exchange (ETX) technology put compute, storage, and network resources as close as possible to end users. EdgeMicro offers MNOs, ISPs, and Content Providers a single source for edge colocation services, anywhere in the world, to: Speed digital content delivery to the … | Edge | Edge Data Centers |
| EdgePresence | EdgePresence is an owner and operator of edge points of presence (PoP) providing space, power, bandwidth, or interconnection on a leased basis either in multi-tenant or in single tenant build-to-suit. | Edge | Edge Data Centers |
| Equinix | The Global Platform for Your Digital Business At Equinix, we believe in the power of interconnection. The rise of digital business is inspiring innovative commerce and collaboration models and whole new ways of competing. Interconnection makes it all happen. Get digital ready with Equinix and place everything within reach. To … | Edge | Edge Data Centers | Edge Exchange | Edge Network Infra | Network & Infra (Virtualized and Physical) | WAN Optimization |
| Sterlite Technologies Limited | STL is an industry-leading integrator of digital networks. We design and integrate these digital networks for our customers. With core capabilities in Optical Interconnect, Virtualised Access Solutions, Network Software and System Integration, we are the industry's leading end-to-end solutions provider for global digital networks. We partner with global telecom companies, … | 5G | 5G Infrastructure | Charging & Billing | Connectivity | Edge | Edge Applications | Edge Compute Platform | Edge Data Centers | NFV Orchestrator | Policy Management & Charging Control | RAN Automation | SDN Controllers | SDN-NFV | SDN-NFV Orchestrator & Controllers | VNF | VNF Manager | vRAN |
| Vapor IO | Vapor IO's Kinetic Edge™ platform delivers edge colocation, edge exchange, and edge networking services in top metropolitan markets, delivering the internet infrastructure required by next-generation applications and 5G. | Edge | Edge Data Centers | Edge Exchange | Edge Network Infra |
How to join 5G Ecosystem?
We will review the company and product descriptions for consideration into the next monthly update of 5G Ecosystem.
Need help? [email protected]
Join 5G Fireside Chat Series
Network Slicing & Splicing for Industry 4.0 Use Cases
Vassillis Seferidis, CEO of Zeetta Networks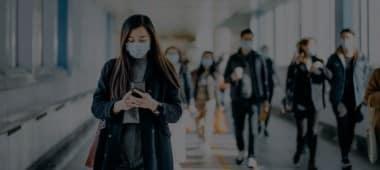 SK Telecom and Omron Electronics Korea have jointly developed a  5G-powered autonomous robot to enable a systematic and efficient response against the coronavirus.
Signup For Our Newsletter