| Vendor | Description | Categories |
| --- | --- | --- |
| Audio Codes | AudioCodes is a global company with an enduring commitment to the foundation of all human communications – voice. We design, manufacture and sell advanced Voice over IP and converged VoIP and data networking products, applications and professional services to global enterprises, medium and small business, as well as to service providers globally.  Our extensive product range … | SDN-NFV | VNF | vSBC (Session Border Controller) |
| Ingate Systems | Ingate Systems is a Stockholm, Sweden, based high-tech company that designs and develops Firewall and Session Border Controller technology to bring global person-to-person multimedia real-time communication to everyone. SIP and WebRTC enables not only IP telephony but Unified Communications (UC) such as presence, Instant Messaging, video conferencing with telepresence quality … | SDN-NFV | VNF | vFirewall | vSBC (Session Border Controller) |
| Metaswitch (Mircrosoft) | Metaswitch is a recognized leader in the development of ultra high performance, cloud native communications software.  Our software solutions equip, accelerate and transform communications service and platform providers, worldwide. At Metaswitch, we develop software products and solutions that underpin the service platforms of today and tomorrow.  Our cloud-native virtual network … | SDN-NFV | VNF | vIMS (IP Multi-Media) | vSBC (Session Border Controller) |
| Oracle | Oracle's mission is to help people see data in new ways, discover insights, unlock endless possibilities. | NFV Orchestrator | SD-WAN & CPE | SASE | SDN-NFV | vSBC (Session Border Controller) |
| Ribbon Communications | Ribbon solutions help fixed and mobile operators, cable providers or MSOs, ISPs, and interconnect and wholesale carriers quickly capitalize on growing market segments and introduce differentiating products, applications and services for their business and consumer customers. Our market-leading network transformation, network functions virtualization, network interconnect, unified communications, consumer and business services, SIP trunking, security and cloud … | SDN-NFV | Security | VNF | vSBC (Session Border Controller) |
| Telcobridges | TelcoBridges designs and manufactures carrier grade session border controllers and VoIP media gateways. | Network Assurance | SDN-NFV | VNF | vSBC (Session Border Controller) |
How to join 5G Ecosystem?
We will review the company and product descriptions for consideration into the next monthly update of 5G Ecosystem.
Need help? [email protected]
Join 5G Fireside Chat Series
Network Slicing & Splicing for Industry 4.0 Use Cases
Vassillis Seferidis, CEO of Zeetta Networks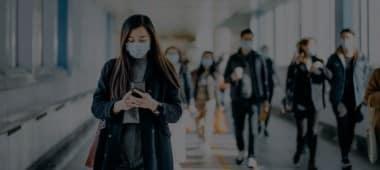 SK Telecom and Omron Electronics Korea have jointly developed a  5G-powered autonomous robot to enable a systematic and efficient response against the coronavirus.
Signup For Our Newsletter