| Vendor | Description | Categories |
| --- | --- | --- |
| Atonomi | Atonomi is the creator of the universal trust environment for IoT. Atonomi is designed to validate immutable device identity, as well as enable device interoperability and reputation for a connected world. Through the application of blockchain technology, Atonomi aims to make it possible for IoT solutions to build upon it … | Blockchain | IoT | IoT Security | Security |
| Palo Alto Networks | Prevent attacks with the industry-defining network security platform. Tightly integrated innovations, easy to operate, for consistent protection across network, cloud and mobile users. | 5G Security | Advanced Threat Protection | End-point security | IoT Security | SD-WAN & CPE | SASE | SDN-NFV | Secure Access Service Edge (SASE) | Security | VNF | vFirewall |
| Polyverse | About Polyverse Polyverse develops leading-edge cyber-technology to build diversity across multiple system dimensions, increasing the complexity and cost for attackers and stopping cybersecurity attacks before they start. This technology is used by Government and security-conscious organizations to mitigate against zero-day memory exploits. It is also embedded into devices, hardware, and … | 5G Security | Advanced Threat Protection | Cloud App Security | Cyber Security | End-point security | IoT Security | Network Security | Security |
| Subex | Subex is a pioneer in enabling Digital Trust for businesses across the globe. Founded in 1992, Subex has spent over 25 years in helping global Communications Service Providers maximize their revenues and profitability. With a legacy of having served the market through its world-class solutions for business optimization and analytics, … | 5G Security | Artificial Intelligence | Assurance and Optimization | Blockchain | Cyber Security | Fraud Management | IoT Security | Network Security | Settlement & Reconciliation |
| TrendMicro | TrendMirco provides Cybersecurity solutions that empower your business in new, strategic ways. Hybrid Cloud Security – Secure your physical, virtual, cloud, and container environments with a single solution that gives you meaningful visibility and control. Network Defense – Apply the right technology at the right time to protect against known, … | Cloud App Security | DDoS Protection | IoT Security | Network Security | Security |
How to join 5G Ecosystem?
We will review the company and product descriptions for consideration into the next monthly update of 5G Ecosystem.
Need help? [email protected]
Join 5G Fireside Chat Series
Network Slicing & Splicing for Industry 4.0 Use Cases
Vassillis Seferidis, CEO of Zeetta Networks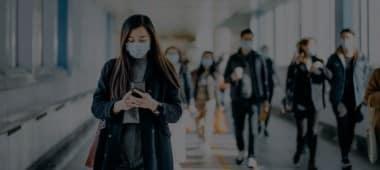 SK Telecom and Omron Electronics Korea have jointly developed a  5G-powered autonomous robot to enable a systematic and efficient response against the coronavirus.
Signup For Our Newsletter