| Vendor | Description | Categories |
| --- | --- | --- |
| CloudSense | CloudSense is the proven Commerce and Subscriber Management platform, built for high-volume or complex ongoing services. We're trusted by Communications, Media and Utilities businesses worldwide to launch, sell and fulfill the entire customer journey on Salesforce. We make commercial success easier. Our customers go to market in a third of … | CRM |
| Etiya | Etiya is leading software company providing customer experience focused AI driven Digital Transformation solutions with its own award-winning product portfolio. Founded in 2004, Etiya is a fast-growing software company with more than 850 employees worldwide. Our global headquarters is in Amsterdam and we have offices in Silicon Valley, Istanbul, Singapore, … | 5G | Campaign Management | Charging & Billing | Configure, Price & Quote (CPQ) | Conversational AI | Network Slicing | OSS-BSS | Order Management & Fulfillment | Product Catalog |
| NTS Retail | NTS Retail supports telco brands worldwide in optimizing their daily retail management, store operations and fulfillment processes. Having conducted numerous successful retail projects for telecoms since 1997, NTS Retail today counts more than 30,000 deployed store installations at CSPs in over 25 countries, serving more than 200 million subscribers. We have designed our software … | CRM |
| Pegasystems | Pega is the leader in cloud software for customer engagement and operational excellence. The world's most recognized and successful brands rely on Pega's AI-powered software to optimize every customer interaction on any channel while ensuring their brand promises are kept. Pega's low-code application development platform allows enterprises to quickly build … | CRM | Cognitive Automation | Robotic Process Automation |
| Salesforce | | CRM |
| SAP | SAP stands for Systems, Applications, and Products in Data Processing (Anwendungen und Produkte in der Datenverarbeitung in German). SAP was founded in 1972 in Walldorf, Germany and now has offices around the world. Originally known for leadership in enterprise resource planning (ERP) software, SAP has evolved to become a market … | CRM | Digital | UX Experience |
| SI-TECH Information Technology | | CRM | OSS-BSS |
| Tango Telecom Ltd | Tango Telecom is a leading global provider of monetisation solutions for evolving mobile networks. The Tango Telecom Data Retail Engine, the Tango DRE™, is an end-to-end real-time monetisation platform enabling operators to exploit new business models and new markets over 4G and 5G networks. Tango Telecom's cloud-native and microservices-based solutions … | 5G | Business Communications | CRM | Campaign Management | Charging & Billing | Configure, Price & Quote (CPQ) | Digital | UX Experience | Interconnect & Roaming Settlement | Inventory Management | Mediation | Network Planning, Discovery & Management | OSS-BSS | Order Management & Fulfillment | Policy Management & Charging Control | Product Catalog | Signaling & Protocols |
| Vlocity | Vlocity, a three-time Forbes Cloud 100 winner and strategic Salesforce ISV, delivers industry-specific cloud and mobile software that embed digital, omnichannel processes for customer-centric industries. Built in partnership with Salesforce, the global leader in CRM, Vlocity is one of Salesforce's fastest growing partners. Industry-Specific Cloud Software Vlocity is a leading … | CRM | Configure, Price & Quote (CPQ) |
How to join 5G Ecosystem?
We will review the company and product descriptions for consideration into the next monthly update of 5G Ecosystem.
Need help? [email protected]
Join 5G Fireside Chat Series
Network Slicing & Splicing for Industry 4.0 Use Cases
Vassillis Seferidis, CEO of Zeetta Networks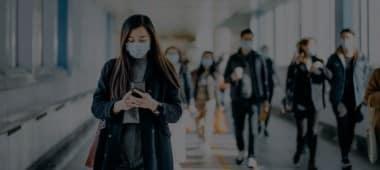 SK Telecom and Omron Electronics Korea have jointly developed a  5G-powered autonomous robot to enable a systematic and efficient response against the coronavirus.
Signup For Our Newsletter