| Vendor | Description | Categories |
| --- | --- | --- |
| Automation Anywhere | THE WORLD'S MOST WIDELY DEPLOYED RPA PLATFORM To enable companies to operate with unprecedented productivity and efficiency by automating any part of the enterprise that can be automated with the most intelligent and intuitive robotic process automation platform we call "The Intelligent Digital Workforce". | Automation | Cognitive Automation | Robotic Process Automation |
| AutomationEdge | AutomationEdge is the preferred IT Automation and Robotic Process Automation (RPA) solution provider. AutomationEdge help organizations automate their mundane, repetitive, rule-based tasks across verticals. In its short stint, AutomationEdge has already delivered its innovative solution to large multinationals globally like American Express, Capita, Coty, ICICI Lombard, HDFC Life, Smart Dubai … | Cognitive Automation | Robotic Process Automation |
| Blue Prism | Blue Prism is the trusted, secure choice for Intelligent Automation available on-premises, in the cloud, or as an integrated solution in a hybrid cloud environment. Blue Prism brings you the connected-RPA Platform, an advanced technology ecosystem that puts the power of accessible, advanced cognitive technologies in the hands of your operational leaders. | Cognitive Automation | Robotic Process Automation |
| Cellwize | Cellwize is all about enabling the networks of the future today. With CHIME, our cloudified and AI-driven RAN automation and orchestration platform, we enable mobile network operators (MNOs) to accelerate 5G network deployment and go-to-market, as well as the ROI on their network investments. Even in the most complex and … | 5G | Artificial Intelligence | Assurance and Optimization | Automation | Closed Loop Automation | Cognitive Automation | Network Automation | Network Operations Automation | Network Optimization | OSS-BSS | Policy Management & Charging Control | RAN Automation |
| EdgeVerve (Subsidiary of Infosys) | EdgeVerve Systems, a wholly-owned subsidiary of Infosys, develops innovative software products and offers them on premise or as cloud-hosted business platforms. Our products help businesses develop deeper connections with stakeholders, power continuous innovation and accelerate growth in the digital world. We power our clients' growth in rapidly evolving areas like … | Cognitive Automation | Robotic Process Automation |
| Kore.ai | Creating Intelligent Enterprises through Conversational AI At Kore.ai, we believe the digital future can blend convenience and speed, with a personal and human touch. People should be able to communicate with companies, systems and even smart machines, in the same way they'd talk to friends and colleagues. From that idea, … | Cognitive Automation | Conversational AI | Robotic Process Automation |
| NICE | At NICE, we protect people's money, ensure their safety and improve their experiences. Many of the world's leading companies and organizations are expected to manage these three critical elements of modern living. To do so, they are tapping into the power of data, which has become ubiquitous in both business … | Cognitive Automation | Robotic Process Automation |
| Pegasystems | Pega is the leader in cloud software for customer engagement and operational excellence. The world's most recognized and successful brands rely on Pega's AI-powered software to optimize every customer interaction on any channel while ensuring their brand promises are kept. Pega's low-code application development platform allows enterprises to quickly build … | CRM | Cognitive Automation | Robotic Process Automation |
| UiPath | UiPath is a global software company that develops a platform for robotic process automation. Following its acquisition of both ProcessGold and StepShot in 2019, UiPath has become the first vendor of scale to bring together both process mining and Robotic Process Automation. | Cognitive Automation | Robotic Process Automation |
| Verbio | For 20 years, Verbio Technologies has been on the cutting-edge of voice technologies to simplify human-machine communication. Born as a spin-off of Polytechnic University of Catalonia (UPC), we are now a global Conversational AI provider, trusted by the most valuable companies worldwide thanks to our technical excellence and expertise, empowered … | Cognitive Automation | Conversational AI |
How to join 5G Ecosystem?
We will review the company and product descriptions for consideration into the next monthly update of 5G Ecosystem.
Need help? [email protected]
Join 5G Fireside Chat Series
Network Slicing & Splicing for Industry 4.0 Use Cases
Vassillis Seferidis, CEO of Zeetta Networks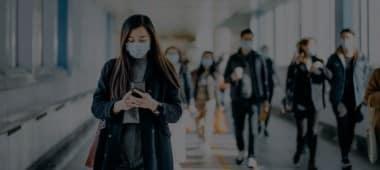 SK Telecom and Omron Electronics Korea have jointly developed a  5G-powered autonomous robot to enable a systematic and efficient response against the coronavirus.
Signup For Our Newsletter