| Vendor | Description | Categories |
| --- | --- | --- |
| Artificial Solutions | Designed for the global enterprise, the company's advanced conversational AI platform, Teneo, allows business users and developers to collaborate on creating sophisticated, highly intelligent applications that run across over 35 languages, multiple platforms and channels in record time. Artificial Solutions is the leading specialist in enterprise-strength Conversational AI, a form … | Conversational AI |
| Boost | Boost.ai boosts customer experience with an artificially intelligent virtual agent that makes everything fast and easy. | Conversational AI |
| Creative Virtual | Creative Virtual is a global leader in conversational self-service solutions that bring together humans and artificial intelligence to enable anywhere, anytime customer and employee engagement. Leading global organizations rely on our award-winning V-Person™ technology to improve their support experience, reduce costs, increase sales and build brand loyalty. Backed by an … | Conversational AI |
| CX Company | Revolutionising automated intelligent conversations CX Company has been leading the change to make customers and contact centre agents happier and businesses more effective and profitable since it was founded in 2005. That's when we developed DigitalCX– an enterprise conversation platform supporting chatbots, artificial intelligence and self-service solutions on websites, in apps and social media channels such as Facebook Messenger and WhatsApp.   We pioneered the industry with … | Conversational AI |
| Etiya | Etiya is leading software company providing customer experience focused AI driven Digital Transformation solutions with its own award-winning product portfolio. Founded in 2004, Etiya is a fast-growing software company with more than 850 employees worldwide. Our global headquarters is in Amsterdam and we have offices in Silicon Valley, Istanbul, Singapore, … | 5G | Campaign Management | Charging & Billing | Configure, Price & Quote (CPQ) | Conversational AI | Network Slicing | OSS-BSS | Order Management & Fulfillment | Product Catalog |
| Kore.ai | Creating Intelligent Enterprises through Conversational AI At Kore.ai, we believe the digital future can blend convenience and speed, with a personal and human touch. People should be able to communicate with companies, systems and even smart machines, in the same way they'd talk to friends and colleagues. From that idea, … | Cognitive Automation | Conversational AI | Robotic Process Automation |
| reinfer | reinfer was founded by machine learning researchers, engineers and entrepreneurs motivated by solving the very hard problem of getting machines to understand human communication. reinfer makes human conversations understandable at scale and actionable to machines. We make it easy for our users to create, manage and deploy state of the art … | Artificial Intelligence | Conversational AI |
| Verbio | For 20 years, Verbio Technologies has been on the cutting-edge of voice technologies to simplify human-machine communication. Born as a spin-off of Polytechnic University of Catalonia (UPC), we are now a global Conversational AI provider, trusted by the most valuable companies worldwide thanks to our technical excellence and expertise, empowered … | Cognitive Automation | Conversational AI |
| [24]7.ai | [24]7.ai is redefining the way companies interact with consumers. We help businesses attract and retain customers, and make it possible to create a personalized, predictive and effortless customer experience. Unique Blend of Artificial Intelligence and Human Intelligence [24]7.ai blends artificial intelligence with human intelligence to dramatically improve customer experience. Humans … | Conversational AI |
How to join 5G Ecosystem?
We will review the company and product descriptions for consideration into the next monthly update of 5G Ecosystem.
Need help? [email protected]
Join 5G Fireside Chat Series
Network Slicing & Splicing for Industry 4.0 Use Cases
Vassillis Seferidis, CEO of Zeetta Networks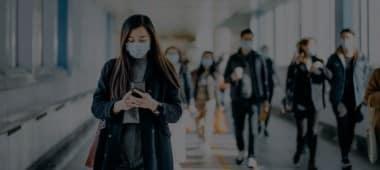 SK Telecom and Omron Electronics Korea have jointly developed a  5G-powered autonomous robot to enable a systematic and efficient response against the coronavirus.
Signup For Our Newsletter