What's Inside – AT&T's Private Network Use Cases
New "private" cellular networks help users and machines to securely access information from more places as industries continue to evolve to improve operations and embrace industry 4.0.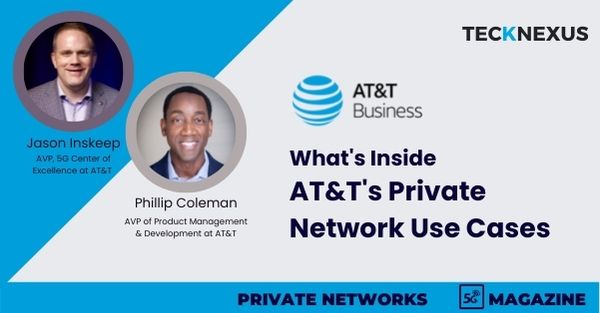 Introduction
New "private" cellular networks help users and machines to securely access information from more places as industries continue to evolve to improve operations and embrace industry 4.0. Many customers have studied the market and already invested in 5G and edge networking at their first site. This pattern has been repeated by companies in many industries and led to important testing across cellular networks as customers explore what they can do.
There are many examples listed below where customer sees the need for the private, low-latency network enabled by MEC as an enabler to transform their business. This article is intended to provide a fresh view of how enterprises are using AT&T's solution and provide speaking points with a level of detail that will help the audience resonate with technology.
AT&T 5G private cellular strategy
AT&T offers expertise in building, operating, and supporting enterprise-grade 5G networks for businesses of all sizes. The AT&T 5G private cellular solutions creates a mobile edge/core on the customer premises. This enables customized coverage to meet your needs with increased privacy and control of your network environment.
It also provides the benefit of a more predictable experience to better support not just connected workers but emerging solutions. This addresses the need for increased performance and more predictable latency for time-sensitive critical work functions and newly emerging solutions. These requirements are critical to manufacturing, healthcare, and transportation that are looking to improve productivity and transform their businesses.
Healthcare Clinics and Hospitals
A highly secure, private 5G cellular network provides medical professionals continuous connectivity to the patient, medical, and other data vital to patients receiving timely, high-quality critical care in a busy medical center.
Healthcare Clinics and Hospitals Use Case
Mobile medical carts with persistent, private connectivity so nurses can immediately access patient, RX & procedure information as they attend to their patients.
Largest non-profit Health Systems Use Cases
Use Case 1: Private 5G network to enable new and improved customer experiences and support planned analytics solutions by transmitting data via private, low-latency connectivity. Prior to engagement, the largest non-profit health systems deployed AT&T's temporary 5G private network to demonstrate the improved performance that a persistent 5G network could offer over Wi-Fi for use cases like robotic surgery.
Use Case 2: Private 5G network demonstrated that applications used during robotic surgery no longer suffered connectivity loss and latency as they did using Wi-Fi. The Board of Directors decided to purchase MEC after viewing the demonstration comparing performance between private 5G and Wi-Fi networks.
VITAS Healthcare Virtual Reality Study on the AT&T 5G Network Reveals Promising Results
Early results from virtual reality (VR) therapy study led by VITAS Healthcare, powered by the AT&T 5G network, show that hospice patients experienced relief from pain, anxiety, and even disease-specific symptoms. In its latest video, VITAS highlights the utility of cutting-edge technology when paired with the deeply personal, compassionate work that VITAS care teams perform every day.
MyndVR and Stanford University Collaborates with AT&T to Study Impact of Virtual Reality on Seniors
The Virtual Human Interaction Lab (VHIL) at Stanford University, the pioneering lab focused on the psychological and behavioral effects of virtual reality, announced today a new study in collaboration with MyndVR, the leading provider of VR solutions for older adults. The Study will examine how older adults' use of VR affects their psychological well-being and their attitudes toward new technologies.
AT&T 5G Connects Researchers & Patients at Ellison Institute
A new private 5G network from AT&T* is helping to revolutionize the way patients and researchers connect at the Lawrence J. Ellison Institute for Transformative Medicine of USC. The on-site 5G network is providing ultra-fast connectivity for patient-centered cancer research, treatment, and wellness education. The Ellison Institute is among the first medical facilities in the country using 5G to help advance cancer research.
Department of Defense (DoD)
DoD – 5G network Testbed capabilities for a smart warehouse
Test Demonstrates Data Throughput Speeds Greater Than 4 Gigabits Per Second and Less Than 10 Milliseconds of Latency

AT&T successfully completed its first milestone towards proving the capabilities of its 5G network solution to enable smart warehouse applications for the DoD
DoD – Naval Postgraduate School and Nellis AFB
This private network solution at Nellis AFB is expected to support a broad array of technology tools and innovations that can help the base modernize its approach to its mission. Potential Nellis use cases powered by AT&T 5G could include:
Support for world-class flight line operations, where mission data is transferred at high speeds with lower latency from the data platforms, sensors, and onboard systems of arriving/departing aircraft to on-ground personnel.

Enhanced continuous video surveillance and analytics for increased base security.

Improved virtual, geographically distributed training for the Virtual Test and Training Center using AR/VR capabilities.

Near real-time management of inventory and aircraft schematics; improved use of parts; diagnostics analysis.
Energy
AT&T is working with a major oil and gas company. They are in the middle of installing over a dozen MEC sites. The customer is immersed in an extreme climate, with extreme working conditions. Think about when the temperatures drop, and what happens to a smartphone, getting too hot or too cold shuts it down. For enterprises having to send a worker out to take a reading on a drill head or other piece of equipment, the worker risks their life, and by the time they are back in the office, the reading has changes.
Oil and Gas
A secure, private 5G network allows enterprises to reduce human footprint on hazardous terrain and sets up a roadmap with automated data collection, worksite surveillance, and notifications.
Use Case:
Field staff physically take status information they record at hazardous work sites into the local office to input the data into enterprises' applications

Currently, they do not allow data to be transmitted via commercial network
Business Problem:
Enterprise has many work sites in harsh environments where outdoor climate and terrain make outdoor working conditions hazardous.

Employees cannot transmit enterprise data over the commercial cellular network. Potential security risk, etc.

Workers go out to the work sites and manually record their findings.

Workers go back to the sheltered office and input the information into the enterprise's online applications using enterprise workstations.

Workers repeat this process daily. Human errors and accidents occur as the workers traverse the worksite with large, dangerous equipment where snow and ice cover the ground much of the year.
Benefits of 5G and MEC:
Enterprise customers recognize MEC's value in keeping their data inside the local network. This became a means to an end to achieve the goal enterprise's executive sponsor stated in our first meeting:
"We need to get as many people as possible off the [North Slope] because it's a dangerous place to work."
Enterprise is using MEC to meet that goal through a two-phase approach.
Phase 1: Replace clipboards & pencils with MEC-entitled smartphones/tablets for workers doing onsite inspections. Workers input findings into applications accessed via mobile devices. Data is transmitted in near-real time via the private cellular network.
Human safety benefit: Less time at the work site

Operational benefit: more efficient data collection & reporting
Phase 2: Automate data collection and implement continuous site/equipment inspection via IoT solutions.
Sensors collect data without the need for human intervention, and solutions provide real-time alerts about issues such as equipment malfunction, intrusion, potentially dangerous conditions, etc.
Human safety benefit: Minimize or eliminate human workers collecting data in dangerous work areas.
Operational benefit: Inspect and collect information about equipment that a human worker could not assess 24×7 data reporting and notifications ranging from preventative maintenance to impending dangers.
Research Labs and R&D Centers
MxD (Manufacturing x Digital)
At MxD in Chicago, AT&T is demonstrating how video intelligence using 5G and the Internet of Things (IoT) can provide near-real-time insights into operations on the factory floor. At MxD, AT&T is demonstrating:
Production accuracy

– Manufacturers can identify product abnormalities based on defined specifications and receive near real-time notifications.

Inventory tracking

– Manufacturers can detect the number of boxes on a shelf and receive real-time notification when a box is removed.

Safety monitoring

– Manufacturers can create a "safety zone" in a designated area and receive near-real-time notifications to manage operations more efficiently.
Texas A&M Rellis Campus
A series of demonstrations by experts from Texas A&M and AT&T showed how 5G could help power a wide range of innovations:
Food prices could drop as crop yields grow and costs are trimmed through the use of data-gathering drones, deep-learning algorithms, and robotic farming practices.

Emergency health care could improve as paramedics at a scene continuously stream and share videos and vitals to consult with ER doctors.

Veterinarians could use similar techniques to inform the triage and treatment of livestock and pets after natural disasters.

Businesses could address staffing challenges using immersive, remote forms of augmented-reality training, collaboration, and management.

Soldiers and field commanders could gain an advantage over adversaries by using lighter, faster, smarter, nimbler, and more resilient communication systems.
Universities
Purdue University accelerates research and innovation with ATT 5G at Indiana 5G Zone
Indianapolis is one of only two U.S.-based metro areas selected to launch both AT&T and Verizon 5G broadband networks. Businesses, researchers, and universities are invited to develop next-generation technological advancements.
The Indiana 5G Zone is sponsored as part of a strategic initiative established in partnership with the Indiana Economic Development Corporation (IEDC) to leverage Indiana's developing digital infrastructure in order to catalyze innovation and support rapidly-developing companies.
Connected Campus
AT&T and Google Cloud announced new solutions across AT&T's 5G and Google Cloud's edge computing portfolio to deliver transformative capabilities that help businesses drive real value and build industry-changing experiences in retail, healthcare, manufacturing, entertainment and more — with the ability to use Google Maps, Android, Pixel, augmented reality (AR) and virtual reality (VR), and other solutions across Google for more immersive customer experiences.
Use Case:
Video analytics services to help businesses with theft prevention, crowd control, queue prediction, and management

Streamlining and automating inventory management, connecting brick-and-mortar, and eCommerce and backend systems for near real-time visibility into operations

Scaling access to services like telehealth-based therapy, using AR and VR for remote care either from patients' homes or at an onsite facility

Accelerating operations with remote support and quality control checks at plant locations and optimizing bandwidth usage by streaming video on edge rather than on-device

Enhancing in-venue experiences for concerts and sporting events, with solutions ranging from immersive AR and VR experiences, smart parking, and ticketless entry, to contactless food and souvenir payment.
Sports and Entertainment
The sheer range of cellular offers an opportunity to enhance connectivity at sporting events without being invasive to our sport – the Edge and private cellular enables convergence where cellular traffic can be aligned to what we have over fiber, making it an opportunity to augment our broadcast strategy.
NCAA Final Four
5G and Edge Broadcast: Lets fans experience the NCAA final four games via unique angles of the player's actions as captured by the AT&T 5G hardwired to nighthawk over the Hoop and Sideline reporter with s20.
Closer to the Action: 5G smartphones broadcasting live gives fans up-close visibility of the player's action.
NFL Football Team
A private, low-latency 5G network enables athletes and coaches to transform the way the team practices and trains with cutting-edge video analytics.
Use Case:
Video on-field practice and identify player motions and behaviors impeding performance and/or creating a risk of injury with video analytics

Distribute videos and analytical feedback via private cellular connection among coaches, trainers, and owners
Smart Cities
AT&T to build US's first 5G Smart City in Virginia with JBG National Landing
AT&T and JBG SMITH, a leading owner, and developer of high-quality, mixed-use properties in the Washington, DC market, have entered into a letter of intent to deliver the first 5G Smart City at scale in National Landing.
The first network infrastructure deployments are planned for the first half of 2022 and will expand with the development of the community. 5G, with the local area and compute edges, could make National Landing a prototype for smart cities of the future and create a unified consumer experience across asset types. The area could also enhance offerings in mobility and self-driving vehicles, immersive retail and entertainment, and building automation and environmental sustainability.
A combination of mmWave and sub6 5G spectrum will be enabled by an interconnected series of building side mounts, street furniture, and underground network infrastructure.
Read the complete article in the 5G Magazine
All
2022 Predictions
2023 Predictions
5G Edge
5G for Manufacturing
5G for Transportation
5G Monetization
5G Towers
Featured
Foundation
Leaders
Open RAN | 2021
Open RAN | 2022
Perspective
Private Networks | 2021
Private Networks | 2022
Security
Tech and Connectivity
TechFusion
Telco Cloud
All
2022 Predictions
2023 Predictions
5G Edge
5G for Manufacturing
5G for Transportation
5G Monetization
5G Towers
Featured
Foundation
Leaders
Open RAN | 2021
Open RAN | 2022
Perspective
Private Networks | 2021
Private Networks | 2022
Security
Tech and Connectivity
TechFusion
Telco Cloud
All
Aerospace and Defense
Agriculture
Commerce
Datacenter
Education
Energy & Utilities
Financials
HealthCare
Industrial Automation
Innovation Hub
Manufacturing
Media and Broadcast
Mining
Ports
Public sector
Retail
Smart Cities
Sports
Transportation
All
Aerospace and Defense
Agriculture
Commerce
Datacenter
Education
Energy & Utilities
Financials
HealthCare
Industrial Automation
Innovation Hub
Manufacturing
Media and Broadcast
Mining
Ports
Public sector
Retail
Smart Cities
Sports
Transportation