Verizon – Accelerating the arrival of autonomous vehicles with 5G and MEC
Jyoti Sharma provides update on Verizon's use cases for autonomous vehicles with 5G and MEC, related challenges and the need for 5G networks.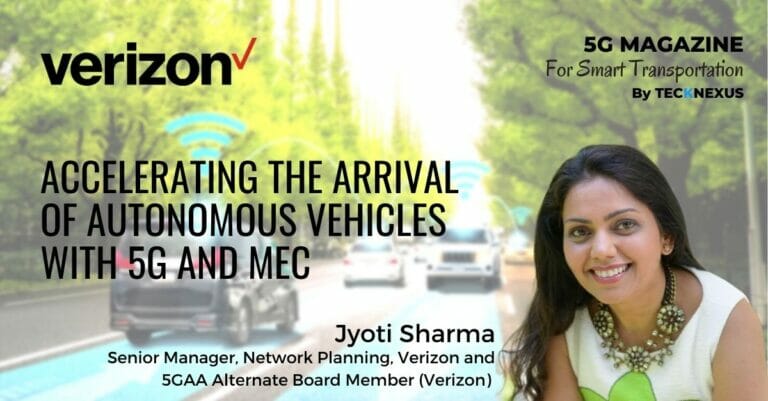 What use cases is Verizon working on in the transportation sector?
The transportation sector is going through a massive transformation. The future of transportation will be connected, autonomous, electric, and shared. At the same time, we are launching the fifth generation of cellular communication standards based on 3GPP. Many other technologies are coming into play, including multi-access edge computing, hybrid precise location services, and CV2X.
Some of these technologies will be the key enablers for the transportation sector to achieve its goals. They are working towards deploying the vehicles of tomorrow that are safer, greener, and more efficient, and we are helping them achieve those goals with our technologies. We would focus on Pedestrian safety and traffic efficiency use cases.
Pedestrian Safety Use Case
Verizon recently demonstrated a pedestrian safety use case in Virginia with Virginia Tech Transportation Institute (VTTI), Virginia DOT, and other ecosystem partners. The pedestrian safety use case alerts the vehicles if a pedestrian is in the path and alerts the pedestrians if a vehicle is approaching. This would help prevent accidents, most of which are related to pedestrians or bicyclists. The use case is enabled via 5G, MEC, and hyper-precise centimeter-level accuracy technologies. More details here.
Verizon also explored another use case where the pedestrian is crossing a street at an intersection with another ecosystem partner. An approaching driver cannot see the pedestrian due to a building obstructing the view. Smart cameras mounted in the intersection relay information to MEC using the 5G network. Verizon's MEC and V2X software platforms detect pedestrians and vehicles and determine the precise location of road users, assisted by Verizon's Hyper Precise Location services. A visual warning message is sent, alerting the driver of the potential danger. More details here.
Traffic Efficiency Use Case
Verizon explored an Emergency Vehicle Warning Scenario with an ecosystem partner. A driver cannot see an approaching emergency vehicle and cannot hear its siren due to the high volume of in-vehicle audio. Verizon's MEC and V2X software receive a safety message from the emergency vehicle and send a warning message to nearby vehicles. The driver receives a visual warning on the approaching emerging vehicle and moves out of the way. More details here.
Another example is related to making our commutes easier – you get green light throughout your commute from home to work. As we are returning from the pandemic, we are not used to those traffic jams and commutes. This technology could make your commute easier. The mentioned use cases are very tangible that the automakers are testing today. Also, the state officials of the Department of Transportation are testing them on live networks and real roads. These are just a few use cases. 5GAA has defined 200+ use cases where both the MNOs and the automakers have jointly worked in defining those use cases and requirements for those use cases. And we have selected a few of them specifically suitable for 5G, MEC, and other technologies like V2X.
Why 5G when Some use cases are already enabled via LTE/4G?
There are many vehicles today on the road equipped with 4G/ LTE, and we are deploying many of these use cases with 4G. So 4G is here to stay. And Verizon always ensures that our cellular technologies are backward and forward compatible. Where 5G really shines is not just with the data rates but also with lower latency, higher reliability, and higher throughput. Within Verizon, we call it eight currencies of 5G. In addition, we are deploying 5G on a mid-band spectrum that provides coverage, capacity, and enables new capabilities.
For use cases such as vulnerable users, we stream video of the pedestrian over the 5G uplink to the MEC and then notifications back to the users. If we consider 100,000 vehicles on the road sending this massive amount of data and videos to the network – there is a need for the bandwidth, capacity, and ultra-low latency that 5G offers. It's no coincidence that we are deploying these use cases leveraging 5G and MEC because the requirements of these use cases are very tight and stringent, and a 4G/ LTE network can not meet those requirements. Hence the need for 5G to support advanced use cases.
What are the 5G adoption challenges in the transportation sector?
The number one challenge is to choose use cases that will have an immediate impact and then deploy them in a public network in a commercial setting. The second aspect has to do with technological challenges. We've already solved most of the technical problems in the last three to four years, and we're working on getting our networks ready for emerging technological demands and challenges. However, the bigger barrier is in the actual commercial deployment of these use cases.
Deploying at scale is another big challenge. When you consider the number of automobiles on the road and the prediction that by 2030, 96 percent of cars on the road will be connected to 5G, which will stream a tremendous amount of data. So the challenge we would face is how to scale this technology? These are bigger challenges than the technical ones. We can tackle these technical challenges with the technological know-how we have within Verizon and our partners, but it's the commercialization, scale, and regulations that will play a bigger role.
Read the complete article in the 5G Magazine
All
2022 Predictions
2023 Predictions
5G Edge
5G for Manufacturing
5G for Transportation
5G Towers
Featured
Foundation
Guest
Leaders
Open RAN | 2021
Open RAN | 2022
Private Networks | 2021
Private Networks | 2022
Security
Telco Cloud
All
2022 Predictions
2023 Predictions
5G Edge
5G for Manufacturing
5G for Transportation
5G Towers
Featured
Foundation
Guest
Leaders
Open RAN | 2021
Open RAN | 2022
Private Networks | 2021
Private Networks | 2022
Security
Telco Cloud
All
Aerospace and Defense
Agriculture
Commerce
Datacenter
Energy & Utilities
Financials
HealthCare
Industrial Automation
Innovation Hub
Manufacturing
Media and Broadcast
Mining
Ports
Public sector
Retail
Smart Cities
Sports
Transportation
University Campus
All
Aerospace and Defense
Agriculture
Commerce
Datacenter
Energy & Utilities
Financials
HealthCare
Industrial Automation
Innovation Hub
Manufacturing
Media and Broadcast
Mining
Ports
Public sector
Retail
Smart Cities
Sports
Transportation
University Campus