Top 5G Automotive Trends and Technology | Harman
Ravi Puvvala reflects on 5G and Automotive top trends and technologies from 2021 and make predications for 2022.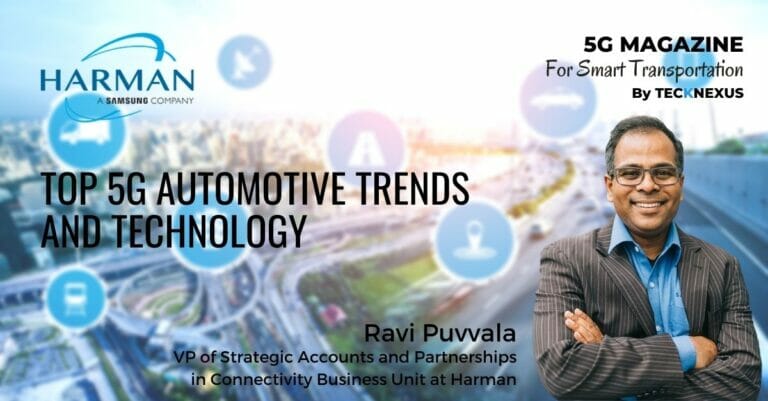 Consumer value will be converted into business potential
Many automotive manufacturers have announced ambitious plans for adding software services like streaming content, usage-based insurance,
Advanced Driver Assistance System features to the consumer ARPU for these services is expected to be about $60 per month (Source: an internal analysis based on multiple sources e.g. GM, Stellantis)
2022 will see a preview of these features from Auto OEMs & supplier
The enhanced in-vehicle experience through 5G & XR technologies
5G is the lifeblood of the future virtual, augmented, and mixed reality entertainment Metaverse, an all-encompassing and pervasive interface for the gaming world, has seen a meteoric rise following Facebook's rebranding to Meta 2022 will lay the foundation to build the trends to make consumers addicted to these features.
Autonomous feature integration into vehicles
According to IDC, more than 50% of the vehicles produced by 2024 will have some level of autonomous features Lidars and V2X sensors will push the ability to improve 360-degree situational awareness 2022 will see more and more premium cars available with level 3 autonomy.
Security & Safety integration into vehicles
The automotive industry is expected to have an impact of $54B by 2024 due to data breaches and ransomware attacks (Source: Cybersecruityventures & internal analysis) 2022 will see demonstrations of how cloud-based security can lay the foundation for preventing cybersecurity attacks.
Prediction of 5G licensing for Auto OEM supply chain
80% of the cars will be cellular-connected by 2025 (Source: Statista)
The world has seen fixed cellular licensing from companies like Avanci 3$/vehicle for e-call only, $9/vehicle for 3G (includes 2G, eCall), $15/vehicle for 4G (includes 2G/3G/eCall)
2022 will lay the foundation for fixed pricing for 5G licensing, we predict a range of $21/vehicle to $27/vehicle (that includes 2G/3G/4G/eCall)
Read the complete article in the 5G Magazine
All
2022 Predictions
2023 Predictions
5G Edge
5G for Manufacturing
5G for Transportation
5G Towers
Featured
Foundation
Guest
Leaders
Open RAN | 2021
Open RAN | 2022
Private Networks | 2021
Private Networks | 2022
Security
Telco Cloud
All
2022 Predictions
2023 Predictions
5G Edge
5G for Manufacturing
5G for Transportation
5G Towers
Featured
Foundation
Guest
Leaders
Open RAN | 2021
Open RAN | 2022
Private Networks | 2021
Private Networks | 2022
Security
Telco Cloud
All
Aerospace and Defense
Agriculture
Commerce
Datacenter
Energy & Utilities
Financials
HealthCare
Industrial Automation
Innovation Hub
Manufacturing
Media and Broadcast
Mining
Ports
Public sector
Retail
Smart Cities
Sports
Transportation
University Campus
All
Aerospace and Defense
Agriculture
Commerce
Datacenter
Energy & Utilities
Financials
HealthCare
Industrial Automation
Innovation Hub
Manufacturing
Media and Broadcast
Mining
Ports
Public sector
Retail
Smart Cities
Sports
Transportation
University Campus