Top 12 telco and IT cloud computing vendors
Who are the global top 12 telco cloud and IT cloud computing vendors? What are their offerings and strategies for enabling telco cloudification?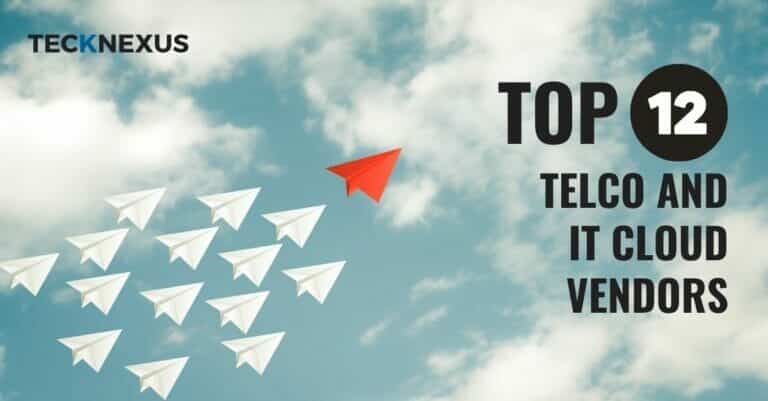 Telco Cloud
The global telecom cloud market is poised for exponential growth, and if market forecasts are to be believed, then its from USD 19.8 billion in 2021 to USD 52.3 billion by 2026 (Source: MarketsandMarkets.com).
The covid-19 pandemic made the industry transition to remote working, paving the way for a transformation of the telecom cloud solution. Cloud solutions come with value propositions of reduced CAPEX and OPEX, powered by virtualization and automation. Under the shackles of the cash crunch, the telcos leaped into the transformation journey.
This journey wouldn't have been possible without the telco cloud companies, which powered the telcos with their industry-leading solutions and products. In this article, we explore the leading telco cloud vendors.
IT Cloud
Cloud Computing brought a paradigm shift from the traditional way businesses think about IT resources. Cloud computing is about delivering computing services (servers, storage, database, software, analytics) over the internet.
Cloud computing brings cost, productivity, performance, and reliability benefits. The Cloud computing vendors provide different services like IaaS, PaaS, SaaS, and serverless. In this article, we also explore the leading cloud computing vendors.
---
1. Ericsson
Telco Cloud Vendor
Ericsson's cloud strategy enables telcos to build telco cloud infrastructure for 5G services quickly and with low risk. Their strategies also help telcos to evolve from existing cloud infrastructure to cloud-native applications for catering to new business needs and revenue streams.
Sample telco cloud solutions include:
Ericsson Cloud RAN: Ericsson cloud RAN is a cloud-native software solution handling compute functionality in the RAN. It is fully compatible with the Ericsson radio system portfolio and supports both 5G in standalone and non-standalone modes.
Cloud Native Infrastructure: Ericsson cloud-native Infrastructure has the capability to deploy CaaS over bare metal servers.
Ericsson Orchestrator: The Ericsson orchestrator product enables automation of telco's hybrid infrastructure, including PNFs and VNFs. It supports resource orchestration, VNF life cycle management, and end-to-end service orchestration.
Cloud SDN: Ericsson cloud SDN provides intra-data center connectivity fabric for workloads in a telecom cloud.
---
2. Nokia
Telco Cloud Vendor
Nokia builds scalable and distributed data centers for Telcos to embrace cloud-native era.
Sample solutions and products for data center networking include:
Adaptive Cloud Networking provides advanced tools and capabilities to transform the cloud network infrastructure to respond to unpredictable demands.
Cloud Data Center Interconnect enables telcos to connect distributed data centers in private, public, and hybrid clouds. Nokia employs data center gateways which help to extend customer data centers over IP/MPLS infrastructure.
Nokia Data Center Fabric: This solution enables the telco operations team to scale the data center networks quickly and efficiently to meet changing business needs.
Edge Network Controller: A lightweight application, the edge network controller, provides a cloud-native network automation function. This is ideally suited to environments with a small footprint.
---
3. Cisco
Telco Cloud Vendor
Cisco is one of the major players in the telco cloud ecosystem. Sample offerings from Cisco for telco cloud includes:
Integrated Solutions: Cisco helps to simplify how telcos can connect, protect and consume cloud in a multi-cloud environment. It provides
Cisco hybrid solution for Kubernetes on AWS: This hybrid solution for Kubernetes combines Cisco, AWS, and open-source technologies to simplify the management of the application lifecycle.

Cisco hybrid cloud platform for Google Cloud and integrated system for Microsoft Azure Stack.
Networking: Cisco networking products securely extend the telcos private networks into the public cloud and ensure security and application experience.
Security: Cisco protects multi-cloud entities, direct-to-cloud connectivity and data and applications including SaaS. To do this Cisco has different products Cisco Cloudlock which is a cloud-native cloud access security broker (CASB) and help to protect cloud users, data and applications.
Management: Cisco helps to securely deploy and manage applications in multi-cloud and container environments. It has two different management suites
Cisco CloudCenter Suite

Cisco Container Platform
---
4. VMWARE
Telco Cloud Vendor
VMware is a strategic and trusted partner for telcos and provides software-driven telco cloud infrastructure. To help telcos keep up with the pace of network transformation, VMware supports them to realize their goal by delivering some market-leading products and solutions.
VMware Cross-Cloud services enable organizations to unlock the potential of multi-cloud with enterprise security and resiliency. It helps to build and operate a cloud-native platform and accelerate cloud transformation.
Application Platform: For a successful cloud transformation, telcos will need innovative products which can be delivered rapidly and provide the value customers expect. VMware's Tanzu is a platform that helps with Kubernetes operation and helps in Telco cloud automation.
Cloud and Edge Infrastructure: VMware cloud helps to run enterprise applications at scale with a consistent cloud infrastructure across public clouds, data centers and edge environments.
---
5. Red Hat
Telco Cloud Vendor
For 25 years, Red Hat has played a leadership role in the transformation story of numerous telcos. It is one of the leading companies in open source. Red Hat enables telco transformation via:
Developing NFV Solutions that are open source and standards based, and can be leveraged for delivering stable and interoperable solution.
Ansible Automation Platform is a foundation for automation and is deployed by multiple telcos and enterprises.
Red Hat's Extensive Ecosystem: Red Hat maintains a large ecosystem of certified solutions with software vendors, system integrators and network equipment vendors. This makes it an enviable proposition for any telco looking forward to a cloud transformation journey.
---
6. Robin.io
Telco Cloud Vendor
Robin.io, now part of Rakuten Symphony is a leading provider of cloud-native platform. Robin solution is based on three pillars:
Robin CNP (Cloud Native platform): It is an open-source Kubernetes platform which is optimized for running storage and network-intensive applications. This is ideal for edge applications and helps in the automation of day 2 operations.
Robin CNS (Cloud Native Storage): CNS is an application-aware container storage that offers advanced data management capabilities.
Robin MDCAP (Multi Data Center Automation Platform): Helps in automation of bare metal management with zero-touch automation.
---
7. Mavenir
Telco Cloud Vendor
Mavenir builds future networks with cloud native software. With a wide portfolio of RAN solutions, core solutions it looks to provide E2E solution for a telco cloud transformation.
MAVcore: Mavenir has a cloud-native, fully virtualized and fully containerized mobile core to provide voice, data, and video services. This has set the stage for telcos who are looking for introducing 5G into their network.
MAVair: MAVair's OpenRAN solutions allow for one architecture that addresses legacy networks as well as densifies the coverage for 5G with aggregation of processing in the CU and DU which simplify the cell site and transform the total cost of ownership.
MAVedge: MAVedge's suite of solutions powers a digital marketplace of applications and devices to offer a true "app store experience" for enterprise and industry.
---
8. Huawei
Telco Cloud Vendor
Huawei's cloud strategy is based on the belief that telco networks combined with the cloud will allow telcos to introduce new services and monetize new revenue streams. Sample products and solutions from Huawei include:
Elastic Cloud Server (ECS) provides secure, scalable and on-demand compute resources enabling telco to flexibly deploy applications and workload. These servers are built with the latest generation Intel Xeon processors and have Huawei 25GE high-speed intelligent NIC to provide ultra-high network bandwidth.
Cloud Container Engine (CCE) is a fully hosted Kubernetes service to build run and scale containerized applications. It helps speed up cloud clusters and ensures high availability and security.
Object Storage Service (OBS): It provides stable, secure, efficient and easy-to-use cloud storage, which allows Telco to store unstructured data in any format and access it from anywhere using REST APIs.
---
9. AWS
Cloud Computing Vendors
AWS is one of the leading cloud computing companies and they are innovating and accelerating both their products and solutions with amazing agility. AWS has dedicated offerings for telcos and enterprises, enabling them to migrate from the traditional data center to the cloud. AWS has partnerships with leading telcos including AT&T, Verizon, Telstra, Vodafone, Dish, SK Telecom, KDDI, Telenor and more. Sample products and solutions from AWS include:
Amazon EC2: Amazon Elastic Compute Cloud (EC2) offers the best-in-class compute platform, which has compute capacity for virtually any workload. It can be used to run cloud-native and enterprise applications and provides a secure, reliable, and high-performance infrastructure to meet demanding customer needs.
AWS Wavelength – combines the high bandwidth and ultra-low latency of 5G networks with AWS compute and storage services enabling developers to build high-performance mobile edge computing applications. Sample 5G applications that can leverage AWS wavelength include game streaming, interactive live video and event streaming, AR/VR applications, in-car telematics, and industrial automation.
AWS Wavelength Zones are AWS infrastructure deployments that embed AWS compute and storage services within an operator's data centers at the edge of the 5G network. So application traffic from the 5G device can reach servers in the wavelength zone without leaving the operator's network. AWS wavelength zones are available in 10 cities within the US with Verizon, Tokyo, Japan with KDDI, and Daejeon, South Korea with SKT.
AWS Local Zones – places AWS compute, storage, database, and other services close to the end-users in a specific geography, enabling them to run applications that need single-digit millisecond latency.
AWS Outposts – allows customers to compute and storage on-premises for meeting the latency requirements.
AWS Snow Family comprises of AWS snowcone, AWS Snowball, and AWS snowmobile. It offers several physical devices, capacity points, and built-in computing capabilities to support applications that require increased capabilities and performance at the edge. Sample use cases that can leverage snow family include IoT for manufacturing and healthcare and private LTE/5G network deployments.
---
10. Microsoft Azure
Cloud Computing Vendor
Microsoft Azure is also one of the leading cloud computing technology vendor. It has mature products in hybrid and multi-cloud solutions. Sample cloud computing products and solutions include:
Azure Edge Zones – connects the Azure services directly to the 5G networks in the operator's data center. It enables developers to build applications requiring ultra-low latency, such as online gaming, remote meetings, and events. Sample operators expanding their collaboration with Microsoft Azure include AT&T, Etisalat, NTT Communications, Lumen, Proximus, Singtel, Rogers, SK Telecom, Telefonica, Telstra, and Vodafone Business.
Azure Private Edge Zones – is a private 5G/LTE network combined with Azure Stack Edge on-premise to deliver ultra-low latency, high-bandwidth, and secure solutions. Sample scenarios that can leverage Azure private edge zones include smart factory/IoT use cases, logistics and operations for retail customers, and smart grids at hospitals for remote diagnostics.
vEPC (Virtual Evolved Packet Core via Affirmed Networks acquisition), which supports 5G NSA (Non-Stand Alone), CUPS (Control and User Plane Separation), network slicing integrated virtual probe, virtualized DPI, GiLAN, analytics and security services, virtualized Wi-Fi, automation and orchestration capabilities.
Fusion Core via Metaswitch acquisition – solution for enterprise 5G/4G networks using CBRS, LTE-U, and NR-U comprising 5G user plane function, control plane functions, network orchestration, and automation capabilities.
---
11. Google Cloud
Cloud Computing Vendor
Google Cloud Platform or GCP as commonly called is the third largest cloud service provider across the globe. The major offerings of GCP include:
Google Distributed Cloud (based on Anthos): It extends Google Cloud's infrastructure and services to the edge and data centers. It is a fully managed product that brings the cloud infrastructure and services closer to where the data is generated. It empowers telcos to run 5G core and RAN functions at the edge.
Google Anthos: Google Anthos for Telecom is a platform for delivering workloads to the network edge on Google cloud. Google partnered with 30+ application providers to deliver 200+ partner applications at the edge with 5G.
Google also has a partnership with AT&T, Orange Business, Telecom Italia and Telefonica to deliver a portfolio of 5G and mobile edge computing solutions.
Compute Engine: Secure and customizable compute service that lets telcos and enterprises create and run virtual machines on Google's infrastructure.
---
12. Oracle Cloud
Cloud Computing Vendor
Oracle although a new entrant in the cloud computing arena but it is slowly picking up space. Its primary offering is OCI (Oracle Cloud Infrastructure).
OCI: OCI is a complete cloud infrastructure platform for every workload. Oracle cloud infrastructure has all the services needed to migrate, build, and run workloads from existing enterprises to new cloud native applications and data platforms.
High Performance Computing: High performance computing (HPC) on Oracle Cloud Infrastructure (OCI) brings powerful, cost-effective computing capabilities to cater to different use cases.
Telcos can migrate their IT workloads, efficiently operate their networks, and develop new applications for enterprise customers — all on a performant and cost-effective cloud platform. Telcos like Vodafone has modernized and migrated many OSS/BSS databases to OCI for some regions.
Read the complete article in the 5G Magazine
All
2022 Predictions
2023 Predictions
5G Edge
5G for Manufacturing
5G for Transportation
5G Monetization
5G Towers
Featured
Foundation
Guest
Leaders
Open RAN | 2021
Open RAN | 2022
Private Networks | 2021
Private Networks | 2022
Security
Telco Cloud
All
2022 Predictions
2023 Predictions
5G Edge
5G for Manufacturing
5G for Transportation
5G Monetization
5G Towers
Featured
Foundation
Guest
Leaders
Open RAN | 2021
Open RAN | 2022
Private Networks | 2021
Private Networks | 2022
Security
Telco Cloud
All
Aerospace and Defense
Agriculture
Commerce
Datacenter
Education
Energy & Utilities
Financials
HealthCare
Industrial Automation
Innovation Hub
Manufacturing
Media and Broadcast
Mining
Ports
Public sector
Retail
Smart Cities
Sports
Transportation
All
Aerospace and Defense
Agriculture
Commerce
Datacenter
Education
Energy & Utilities
Financials
HealthCare
Industrial Automation
Innovation Hub
Manufacturing
Media and Broadcast
Mining
Ports
Public sector
Retail
Smart Cities
Sports
Transportation