The current state of open RAN | June 2022
This article provides an overview of all the Open RAN ongoing deployments and trials, globally, as of June 2022.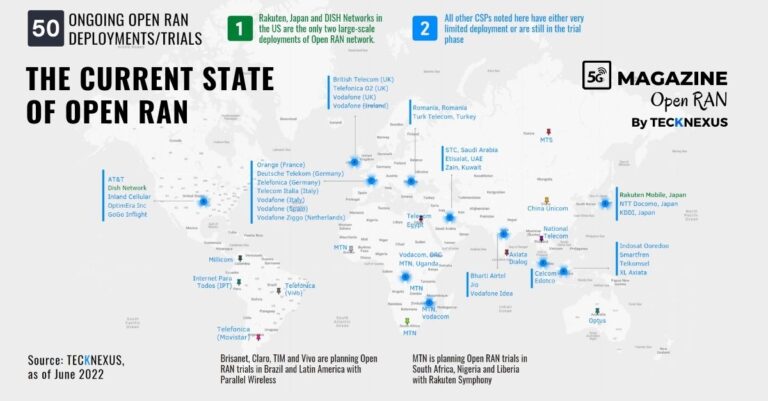 As of June 2022, there are 50 ongoing open RAN deployments and trials. 
Rakuten, Japan, and DISH Networks in the US are the only two large-scale deployments of Open RAN network. 
All other CSPs noted here have very limited deployment or are still in a trial such as: AT&T,  Inland Cellular, OptimEra Inc, GoGo Inflight, Millicom, Internet Para Todos (IPT), Telefonica (Vivo), Telefonica (Movistar), British Telecom (UK), Telefonica O2 (UK) ,Vodafone, (UK) Vodafone (Ireland), Orange (France), Deutsche Telekom (Germany), Telefonica (Germany), Telecom Italia (Italy), Vodafone (Italy), Vodafone (Spain), Vodafone Ziggo (Netherlands), Romania (Romania), Turk Telecom, MTS, Turkey, STC, Saudi Arabia Etisalat, UAE Zain, Kuwait, Telecom Egypt, Vodacom, DRC MTN, Uganda and more.
Read the complete article in the 5G Magazine
All
2022 Predictions
2023 Predictions
5G Edge
5G for Manufacturing
5G for Transportation
5G Towers
Featured
Foundation
Guest
Leaders
Open RAN | 2021
Open RAN | 2022
Private Networks | 2021
Private Networks | 2022
Security
Telco Cloud
All
2022 Predictions
2023 Predictions
5G Edge
5G for Manufacturing
5G for Transportation
5G Towers
Featured
Foundation
Guest
Leaders
Open RAN | 2021
Open RAN | 2022
Private Networks | 2021
Private Networks | 2022
Security
Telco Cloud
All
Aerospace and Defense
Agriculture
Commerce
Datacenter
Energy & Utilities
Financials
HealthCare
Industrial Automation
Innovation Hub
Manufacturing
Media and Broadcast
Mining
Ports
Public sector
Retail
Smart Cities
Sports
Transportation
University Campus
All
Aerospace and Defense
Agriculture
Commerce
Datacenter
Energy & Utilities
Financials
HealthCare
Industrial Automation
Innovation Hub
Manufacturing
Media and Broadcast
Mining
Ports
Public sector
Retail
Smart Cities
Sports
Transportation
University Campus