System Integrators | Leading the industry to a future-proof network ecosystem | TechM
System integrators have a strong role in helping operators and enterprises in planning, building, and managing complex network environments while maximizing performance and minimizing costs by effectively deploying solutions and technologies from diverse ecosystem players. With their deep technical knowledge, competence, and wider industry experience, they can offer tailored solutions that enable the successful deployment of public and private networks and ensure long-term success for those organizations that partner with them.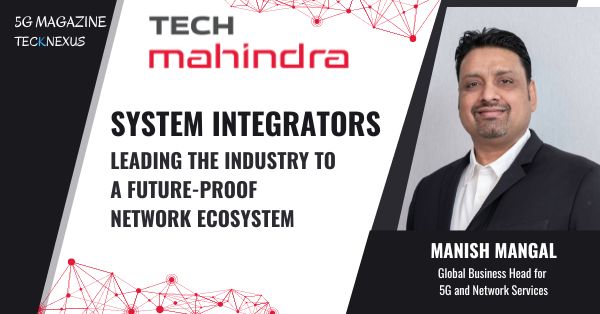 Harnessing connectivity and technology opportunities with a diverse
network ecosystem
As technology continues to advance, businesses need to stay ahead of the curve. To do this, they must understand the emerging technology trends, the underlying network connectivity options, and, more importantly, how to implement them successfully.
Below are the key trends and opportunities that network operators and enterprises can capitalize on in the next few years to introduce innovative solutions, improve productivity, and reduce operational costs.
5G Standalone

Deployments
5G is expected to be the main driver of mobile network growth in 2023.
According to Statista's prediction, subscriptions of 5G will skyrocket worldwide in the upcoming years – from 12 million in 2019 to 4 billion by 2027.
5G standalone deployments enable faster speeds, ultra-low latency use cases, and better coverage than previous generations of mobile networks and 5G non-standalone deployments. Enterprises across manufacturing to healthcare would primarily benefit from the 5G SA deployments as it enables Network Slicing and Network as a Service. Additionally, consumers will also benefit from enhanced customer experiences with the 5G SA deployments.
Fixed Wireless Access (FWA)
FWA is a relatively cost-effective alternative for providing internet access in areas where traditional wired infrastructure is either unavailable or would be too costly to install and maintain. It also enables users in remote locations to access high-speed internet connection with faster time to market and without upgrading the end-user devices. The access to wider channel bandwidths and diverse frequency bands, FWA is a more practical use case with 5G to provide high throughputs.
The recent Ericsson Mobility Report shows that, out of 310 service providers studied worldwide, 238 (or 77 percent) had an FWA offering. During the last 12 months, the number of service providers offering 5G FWA services has increased from 57 (19 percent) to 88 (29 percent).
Private 5G Networks
Businesses and governments across the globe increasingly require secure digital connections that can support more data than ever before. This surge in demand has caused a rise in private mobile networks based on 4G LTE (and now 5G) technologies. In addition, by combining connected systems with big data analytics, enterprises are revolutionizing their operations and automating processes to increase efficiency or offer customers new services.
Verizon's chief revenue officer Sampath Sowmyanarayan said that private wireless's total addressable market (TAM) could be around $7 billion to $8 billion by 2025.

ABI Research has reported that the total market for private network deployments within the enterprise verticals will reach $109 billion by 2030.

The Global Mobile Suppliers Association (GSA) has estimated that at least 955 organizations have implemented LTE or 5G private mobile networks in 72 countries worldwide.
Despite the emergence of 5G, organizations still favor LTE, accounting for 40.9% of all private mobile network deployments. Manufacturing remains one of the most significant sectors for private networks, along with education and mining.
Artificial Intelligence (AI) based Automation
AI has become an essential part of many industries due to its ability to automate tedious processes while providing accurate results quickly and efficiently. For example, AI can help companies make quicker decisions based on real-time data analysis by leveraging machine learning (ML) algorithms that can detect patterns in large datasets faster than humans.
Projections from ResearchAndMarkets indicate that the global AI market in telecommunications will surge by $8.63 billion from 2022-2026, increasing at a rate of 47.33% CAGR during these five years.
The increasing adoption of AI for efficient predictive maintenance and improved customer experience is driving the market.
Edge Computing
Edge computing is a distributed architecture that allows latency-sensitive network functions and compute resources such as servers and storage devices located close to end users rather than in centralized data centers or clouds. This enables the realization of URLLC use cases such as cloud gaming, AR/VR, and industrial use cases.
According to Deloitte Global's projection, the enterprise market for edge computing will experience a 22% surge in 2023. However, during the same period, investments in enterprise networking equipment and overall IT spending are expected to rise only by 4% and 6%, respectively.
Virtual and Open RAN solutions
Operators worldwide are investing heavily in virtualization technologies to evolve their network infrastructures. Virtual & open RAN solutions transform the access network from a proprietary hardware-based network to a software-defined network, making it more flexible, agile, and cost-effective while eliminating vendor lock-ins. It allows innovations in the RAN space like RICs (RAN Intelligent controllers) that simplifies the network decisions via rApps and xApps. Virtualization also helps in leveraging the efficiencies of cloud native designs to bring automation in the ways the networks are planned, deployed, and managed.
According to the recently published report by Dell'Oro Group, near-term Open RAN and virtual RAN is projected to approach $20 B over the next five years and account for around 15 percent of the 2026 RAN market.
"To capitalize on the opportunities generated by above noted

 t

echnologies, 

a diverse network ecosystem is essential

."
System Integrators (SIs) are best positioned to lead the network ecosystem
Who are the players in the diverse network ecosystem?
A telecom network ecosystem is an interconnected system of components and services that form the basis for a telecommunications infrastructure. It covers everything from the physical infrastructure to transmitting voice, data, and video signals to the software and applications used to run all types of communication networks. This comprehensive set of elements enables telecommunications providers to offer innovative services to businesses and consumers.
As the demand for private networks, open RAN solutions, FWA, and other emerging technologies surges higher than ever before, all stakeholders must come together to meet the enterprise and consumer expectations regarding speed, reliability, latency, and security. It is the collaboration of below-diverse network ecosystem players that will eventually enable large-scale public and private networks to reach their full potential.
Mobile Network Operators (MNOs) – MNOs provide the network coverage needed to access 2G/3G/4G/5G services by building out their networks or leasing access from other operators.
Telecom Equipment Manufacturers (TEMs) – TEMs are responsible for designing, producing, and testing radio technology, such as antennas and base stations.
Original Equipment Manufacturers (OEMs) – OEMs are companies that buy products from other suppliers to resell them under their brand.
Telecom Infrastructure Providers – Tower companies build the physical infrastructure required to deploy network technologies, such as cell sites, small cells, switch sites, masts, and towers across large geographic areas.
Industrial Automation Vendors – They automate Operational Technology (OT) for the enterprises, such as introducing industrial connectivity devices into the existing enterprise production ecosystem.
Hyper-Scalers – They provide public cloud infrastructure, including edge computing resources for enterprises and MNOs.
Application Developers – App developers create apps that leverage network capabilities to deliver improved customer experiences. For enterprises, apps are predominately built by industrial automation vendors.
Regulatory Agencies – Regulatory agencies in many countries have a role in issuing spectrum licenses, conducting auctions, defining spectrum regulations, and enforcing related obligations.
Governments – Governments are also actively investing in the infrastructure needed for large-scale deployment of 5G networks providing incentives and grants for required research & development efforts in this sector.
Standards Development Organizations (SDOs) – SDOs develop and maintain technical standards for telecoms and IT. The standards help to ensure interoperability and compatibility among different products and systems and facilitate communication and cooperation among different organizations.
System Integrators – System integrators play a crucial role in the network ecosystem by bringing together various components and technologies from the diverse network ecosystem players to build, deploy, and operate comprehensive end-to-end solutions that meet the specific needs of their clients.
Why are SIs best positioned to lead the network ecosystem?
With their unique expertise, discipline, and familiarity with both legacy and current systems and operations, SIs are the ideal choice to manage end-to-end solutions consisting of one or more technologies, including 5G SA, telco cloud, private networks, IoT, AI/ML, AR/VR, and edge computing. They offer special skill sets that in-house teams rarely possess or can match: an understanding of diverse experiences and specialized knowledge related to the ever-evolving technologies and solutions.
Let's explore these advantages further.
Expertise and Experience 
Every public and private deployment is one-of-a-kind, with its own blend of solutions and technologies. A single ecosystem vendor cannot understand how to get it right. To achieve success, an approach for ongoing advancement must be in place – though some vendors and enterprises do have this ability in practice, the majority lack such a strategy.
SI's, have the expertise in integrating heterogeneous hardware, software, and communication systems – such as networking components, application servers, databases, and cloud services – into unified architecture that enables users to access data securely across multiple locations. This integration involves not just connecting various components but also configuring them in accordance with best practices.
In addition, SIs are experts in providing service excellence. Continuous improvement is at the forefront of their business model. With multiple technology experts on the team, they have an inherent edge over internal teams and other ecosystem players that lack experience or practice haphazardly. The integrators' practices and methodologies far supersede what any single vendor or enterprise could accomplish alone–an advantage that can't be overlooked.
Connecting Operational and Information Technologies (OT & IT)
An inherent IT and connectivity quandary is the integration of legacy operational technology (OT) in industrial and manufacturing contexts. The management of OT necessitates a deep understanding and extensive technical knowledge about both IT and the relevant industry to execute properly.
SIs often specialize in a particular field and gain extensive expertise in the OT, thus providing an ideal foundation for private network projects that involve combining OT, IT, and connectivity technologies and solutions. In addition, SIs are trusted partners for manufacturers looking to introduce new technology into their operations. They also have in place the necessary partnerships with hyper-scalers and infrastructure providers in order to serve as primary liaisons during the deployment of private enterprise networks.
Best of Breed Flexible and Customized Solutions
With their extensive knowledge of technology trends and industry best practices, SIs can develop customized and best-of-breed solutions that are tailored specifically to their client's requirements, including enterprise vertical-specific solutions.
They can advise on which components are the best fit for a particular Telco/ Enterprise use case and can help their clients identify potential risks or security loopholes that could affect network performance or reliability. In addition, they possess the necessary skills needed to ensure optimal deployment of new technologies in existing infrastructure.
Modular Development Approach
SIs understand that starting small is typically the best approach. That's why they make sure to first demonstrate a return on investment model before increasing operations and scale as necessary. Network deployments are complex processes, so SIs know from experience that defining business needs can be one of the most difficult tasks in major projects.
Subsequently, they have the know-how to document business necessities and value at the start of a project. They also recognize the advantages of collaborating with multiple operating units within an enterprise environment to refine requirements and navigate organizational boundaries more easily than the internal teams and other ecosystem players.
Multi-domain and Multi-vendor Expertise
SI's have expertise in multiple domains and have integration capabilities across multiple vendors. This, by far, is one of the most important advantages brought in by a SI as traditional OEMs struggle to resolve multi-vendor integration issues and have expertise only in particular network domains. 
As networks become more and more complex, MNOs benefit tremendously from this single ownership and ease of operations.
Strong Ecosystem Partnerships
To boost their digital transformation initiatives, SIs are able to identify enterprise pain points and constraints (which could be legacy technology landscape and budgetary limitations), then unify a multitude of technologies for an effective digitization solution. Furthermore, numerous leading SIs have built proprietary frameworks to integrate IT and OT domains over various connectivity options.
To foster a successful end-to-end connectivity system solution for enterprises, network ecosystem players are joining forces with other stakeholders to benefit from the partnerships and avoid redundant efforts. It is particularly essential to create robust connections with Hyperscalers and application developers equipped with specialized knowledge in order to produce vertical applications. Traditional telcos often struggle in this area. 
However, SIs are already equipped with the necessary cross-domain partnerships. Moreover, they have an incumbent advantage through their technical expertise in integrating components from diverse network ecosystem players to bring comprehensive end-to-end solutions tailored specifically to each of their clients.
Conclusion | Why are SIs best positioned to lead the network ecosystem?
In summary, system integrators have a strong and important role in helping operators and enterprises to manage complex network environments while maximizing performance and minimizing costs by effectively deploying solutions and technologies from diverse ecosystem players and bringing the automation platforms on top of the deployed infrastructure.
With their deep technical knowledge and wider industry experience, they can offer tailored solutions that enable the successful deployment of public and private (industry-specific) networks and ensure long-term success for those organizations that partner with them.
How is Tech

Mahindra

Leading the industry to a future-proof network ecosystem?

The communications industry is entering the next phase of revolution fueled by 5G, Hyper-Automation, Artificial Intelligence/ Machine Learning, and Private/Public Cloud. The convergence of these technological and business model transformations creates new possibilities for our customers – to reimagine and reshape the future of consumer and enterprise services.

The challenges in this new world cannot be solved with traditional processes and redundant practices, instead requires skilled partners who can provide solutions. Tech Mahindra is the world's largest independent network services provider with a proven track record in delivering best-in-class services. Telecom Networks is Tech Mahindra's forte. We have been transforming and modernizing networks for our customers for over 25 years and are ready to reimagine, reinvent and reshape the future.
CI.NXT Approach | A pre-integrated solution platform for strategic network and service transformation
5G has fundamentally changed the way networks are deployed and maintained. The cloud-native and open architecture allow best-of-the-breed innovative products to be mixed in, creating a future-ready solution. However, the traditional SI approach of custom integration is a deterrent to adopting the best-of-the-breed solution. Instead of adopting a traditional custom SI approach, Tech Mahindra has created an innovative integration approach – the Continuous Integrator framework (CI.NXT).
The CI.NXT framework establishes integration points across end-to-end technology functions and enterprise processes. The Technical Integration architecture in the CI.NXT framework enables mix and match of OEM/TEM products while keeping the sanctity of open interface intact for the highest level of flexibility and future readiness. The Process Integration architecture empowers the deployment and operations team to adopt new lightweight processes for an open network while co-existing with legacy BSS/OSS platforms.
CI.NXT is Tech Mahindra's approach to strategic network and service transformation for operators and enterprises. It is built on Netops.ai, the company's next-generation automation product framework, and it is developed based on building blocks such as DevOps, Multi-domain Orchestration, Observability artifacts, Release, and test management.
CI.NXT functions as a ready-to-deploy pre-integrated 5G platform solution. Upon its implementation, businesses may look forward to quickly and easily integrating, deploying, and testing a range of technologies and features in a completely stable and secure environment. Increasing efficiency, reducing operating costs, and improving customer experiences are part of the parcel.
Next Gen Automation Product – netOps.ai
netOps.ai is a unique product that enables DevOps, multi-domain Orchestration, Test Automation, Service Assurance, and Predictive Operations in a single platform and works across hybrid private and public cloud infrastructure.
netOps.ai product, combined with Tech Mahindra's deep industry and network domain experience, helps to provide a seamless and highly modular end-to-end network lifecycle management offering that makes it faster, cheaper, and easier for customers to design, develop, deploy and manage networks of the future.
Envisioning beyond 5G: SI glance on 6G
As we evolve from the current state of 5G to 5G+ and ultimately to 6G, there will be incremental and enhanced expectations from 6G in terms of unified technologies (Terrestrial and Non-Terrestrial), wider spectrum, robust security and high capacity and high-density hyperconnectivity. This connectivity will bring seamless communication that connects people's devices to the network and allows sensors, vehicles, and a variety of other products and technologies to communicate with one another.
More importantly, 6G is expected to be built on the principles of a diverse ecosystem with open interfaces and AI-native design. This will enable access to more advanced AI capabilities by principle, compared to current technologies where AI is built on top of the technology layer. 6G will enable many additional use cases and enhancement of current use cases and will transform the level of interaction between the human and digital world, such as in the metaverse and extended reality.
The next-generation networks will unify our experiences in the physical and digital worlds to create an extrasensory experience across all aspects of life. 6G will evolve into multiple dimensions. 
The first is infrastructure. 6G's infrastructure will require an enhanced interconnection between nodes that facilitate a multi-static sensory mesh. It will also require fully automated, cloud-based, rapidly scalable, and AI/ML-based real-time monitoring software functions and platforms. The application process is another important layer, which calls for more automation of how information is consumed and controlled, opening new avenues for business growth.
Lastly, technology and network providers must ensure a layer of enhanced security using the concepts of Quantum communication, which can be achieved through leveraging the authentication and encryption algorithms to avoid unauthorized access to sub-networks, etc.
Looking ahead to 2030 and beyond, the possibilities for 6G are seemingly limitless. Harnessing the current capabilities of 5G networks, the time is ripe to work towards building infrastructure to enable the 6G future.
Tech Mahindra's ready to deliver CI.NXT framework enabled by netOps.ai product empowers its customers to effectively and successfully deploy the network of the future today and be ready to face and embrace a decade of technology advancements that will thrive on digital transformation.
Read the complete article in the 5G Magazine
All
2022 Predictions
2023 Predictions
5G Edge
5G for Manufacturing
5G for Transportation
5G Monetization
5G Towers
Featured
Foundation
Guest
Leaders
Open RAN | 2021
Open RAN | 2022
Private Networks | 2021
Private Networks | 2022
Security
Tech and Connectivity
Telco Cloud
All
2022 Predictions
2023 Predictions
5G Edge
5G for Manufacturing
5G for Transportation
5G Monetization
5G Towers
Featured
Foundation
Guest
Leaders
Open RAN | 2021
Open RAN | 2022
Private Networks | 2021
Private Networks | 2022
Security
Tech and Connectivity
Telco Cloud
All
Aerospace and Defense
Agriculture
Commerce
Datacenter
Education
Energy & Utilities
Financials
HealthCare
Industrial Automation
Innovation Hub
Manufacturing
Media and Broadcast
Mining
Ports
Public sector
Retail
Smart Cities
Sports
Transportation
All
Aerospace and Defense
Agriculture
Commerce
Datacenter
Education
Energy & Utilities
Financials
HealthCare
Industrial Automation
Innovation Hub
Manufacturing
Media and Broadcast
Mining
Ports
Public sector
Retail
Smart Cities
Sports
Transportation