Real-World Open RAN Deployments and Challenges
Zahid Ghadialy, Principal Analyst & Consultant at 3G4G provides us a background for the need to support Open RAN across 2G/3G/4G and 5G. What are the common challenges, capacity enhancement challenges and coverage challenges? How operators and vendors is addressing those challenges in developing and developed countries?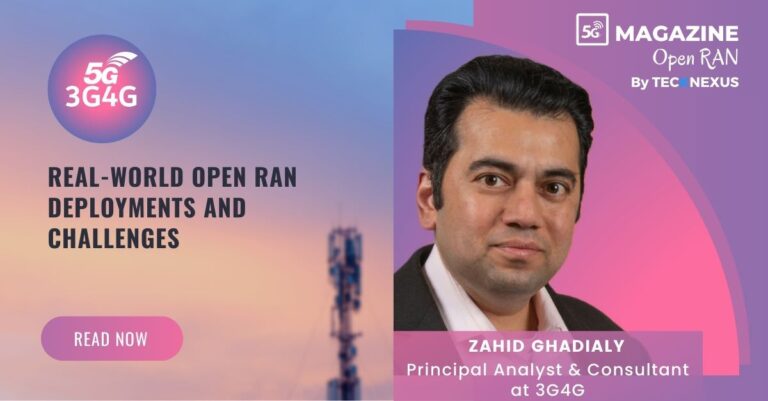 Background
One of the unexpected outcomes of the pandemic was that many people who started working from home, realized the need for optimal connectivity, not just for data but also for voice.
Western countries may be moving on from legacy 2G/3G technologies, but those legacy technologies still have a big role to play in many developing countries, specially. In particular, 2G and 3G have active roles in African countries. One needs 2G/3G for IoT, roaming, and for voice fallback in devices that do not support voice over 4G/5G (VoLTE/VoNR)
Researchers and analysts are also highlighting that as legacy technologies are being phased out in the USA, emergency calls for roaming devices may not work, causing delays that could cost lives.
In the EU and UK, eCall devices were made mandatory in all new cars sold since April 2018. If a vehicle with an eCall device is involved in a serious accident, it will be connected with the nearest emergency-response network regardless of where the vehicle was purchased or registered. The eCall devices rely on the 2G/3G circuit switch (CS) core network and would not work if 2G or 3G was unavailable. Next Generation eCall (NG-eCall) will overcome this restriction by enabling emergency calling over IMS; however, it will take time to be deployed. Also, the existing vehicles expect eCall support for at least 15 years, which is a long time.
Read the complete article in the 5G Magazine
All
2022 Predictions
2023 Predictions
5G Edge
5G for Manufacturing
5G for Transportation
5G Towers
Featured
Foundation
Guest
Leaders
Open RAN | 2021
Open RAN | 2022
Private Networks | 2021
Private Networks | 2022
Security
Telco Cloud
All
2022 Predictions
2023 Predictions
5G Edge
5G for Manufacturing
5G for Transportation
5G Towers
Featured
Foundation
Guest
Leaders
Open RAN | 2021
Open RAN | 2022
Private Networks | 2021
Private Networks | 2022
Security
Telco Cloud
All
Aerospace and Defense
Agriculture
Commerce
Datacenter
Energy & Utilities
Financials
HealthCare
Industrial Automation
Innovation Hub
Manufacturing
Media and Broadcast
Mining
Ports
Public sector
Retail
Smart Cities
Sports
Transportation
University Campus
All
Aerospace and Defense
Agriculture
Commerce
Datacenter
Energy & Utilities
Financials
HealthCare
Industrial Automation
Innovation Hub
Manufacturing
Media and Broadcast
Mining
Ports
Public sector
Retail
Smart Cities
Sports
Transportation
University Campus