O-RAN Sustainability from 4G/5G to 6G Networks | O-RAN nGRG
Ravi Sinha, Co-Chairman nGRG O-RAN Alliance provides an overview of the next generation research group mission, ecosystem, & research streams.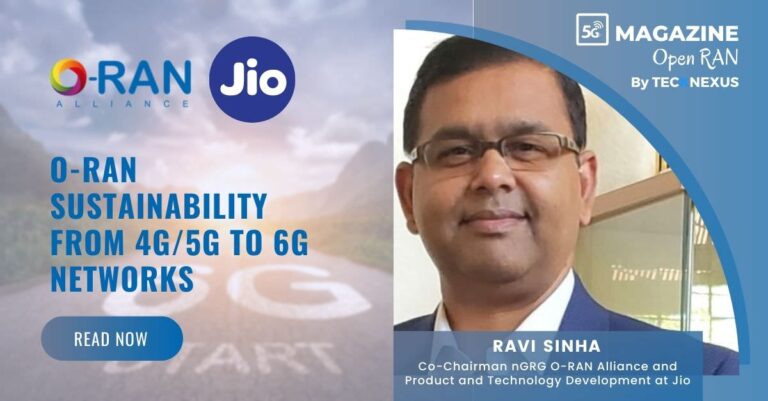 nGRG: An O-RAN Alliance, Next Generation Research Group
Mission – Engage academia more broadly in addition to industry partners in future networking research. Achieve O-RAN sustainability from 4G/5G to 6G . Unified 6G technology path and timeline in the industry to avoid incompatibility b/w O-RAN and other SDOs.
Partnership – The nGRG group will work in a partnership approach, where Academia and Industry will be jointly researching and publishing Research Reports covering various research streams within the nGRG group.
Key Activities -Under the oversight of O-RAN TSC define, O-RAN 6G research agenda and key priorities. Establish research/study items based on defined research priorities, and form research streams to conduct the studies and report the outcomes in technical reports. Publish white papers and technical reports based on the outcomes of the studies in the Group.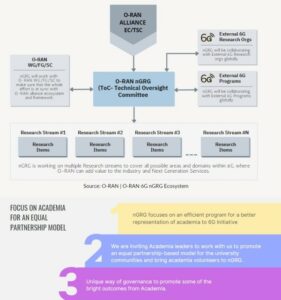 Read the complete article in the 5G Magazine
All
2022 Predictions
2023 Predictions
5G Edge
5G for Manufacturing
5G for Transportation
5G Monetization
5G Towers
Featured
Foundation
Leaders
Open RAN | 2021
Open RAN | 2022
Perspective
Private Networks | 2021
Private Networks | 2022
Security
Tech and Connectivity
TechFusion
Telco Cloud
All
2022 Predictions
2023 Predictions
5G Edge
5G for Manufacturing
5G for Transportation
5G Monetization
5G Towers
Featured
Foundation
Leaders
Open RAN | 2021
Open RAN | 2022
Perspective
Private Networks | 2021
Private Networks | 2022
Security
Tech and Connectivity
TechFusion
Telco Cloud
All
Aerospace and Defense
Agriculture
Commerce
Datacenter
Education
Energy & Utilities
Financials
HealthCare
Industrial Automation
Innovation Hub
Manufacturing
Media and Broadcast
Mining
Ports
Public sector
Retail
Smart Cities
Sports
Transportation
All
Aerospace and Defense
Agriculture
Commerce
Datacenter
Education
Energy & Utilities
Financials
HealthCare
Industrial Automation
Innovation Hub
Manufacturing
Media and Broadcast
Mining
Ports
Public sector
Retail
Smart Cities
Sports
Transportation