AT&T – Driving 5G in the Automotive Sector
Jason Inskeep updates AT&T's strategy for 5G and Smart transportation, related use cases, and the challenges being addressed for the adoption of 5G in the transportation sector.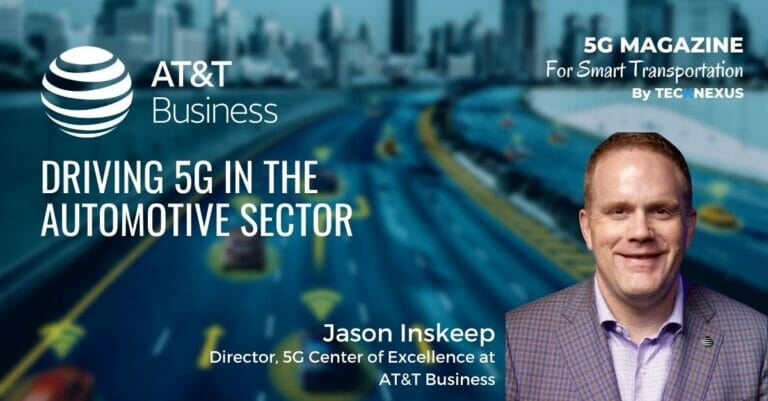 What is AT&T's vision for 5G and the transportation sector?
Cellular by design is made for the macro network and is built out to scale across large geographic regions. Historically, the big carriers, such as AT&T, have had robust networks, especially domestically. What's more, FirstNet has compelled us to cover 99.99% of the country for first responders.
We have also continued to improve our public 5G and LTE networks at scale, acquiring more spectrum, fiber, and everything else it supports the contractual obligations. However, as you examine the automobile companies and the transportation partners we collaborate with, they ask for more than a simple connection.
Automobile companies are looking for more throughput, next-generation applications from autonomous driving to platooning, and better connections through the supply chain for their vehicles and fleets.
So we must look at how the network builds and how the construct comes together to converge. How do applications and networks converge to drive the next generation of experience that these companies and their customers are starting to ask for more and more every day?
Who are some of the customers that AT&T is working with? What are the use cases?
The first is General Motors (GM), with whom we have a multi-year collaboration for their connected cars and fleet that is rolling off the assembly line. We are trying to have an impact from the moment that GM places the module on the production line. When looking at it from an inside out topology – whether it's the worker that's in there working and putting the machine together or the machine putting the machine together, making sure we can interact safely with the environment around it. At the same time, as soon as that component is put in the vehicle, they can light it up and begin pulling down the updates it needs to ensure that it's completely prepared when the vehicle rolls off or comes ready to roll out.
From a supply chain standpoint, they'll move it from the factory to the dealership, and we want to make certain that the dealership is a microcosm of the macro world so that future upgrades are available. We're looking at it from an end-to-end perspective, not just in terms of what's in the vehicle and what will drive the experience inside the vehicle. But also how that vehicle interacts with the rest of the world around it. e.g., in terms of new smart city applications. 5G will offer even higher quality for many digital in-car services in the future. In the same way, our partners at Ford have many ideas about how to improve the customer experience when they are looking for automobiles.
AT&T and General Motors
5G connectivity from AT&T will first be available in 2024 in select GM models. Network enhancements will include: Improved roadway-centric coverage Faster music and video downloads with higher quality Faster, more reliable, and secure over-the-air software updates Faster navigation, mapping, and voice services When launched, GM will provide access for its strategic partners to connect over AT&T's 5G network, raising the bar for the interoperability and scale necessary to deliver future mobility services, such as e-commerce, smart city, and vehicle-to-electric grid. 
AT&T and Ford Motor Company
Ford Motor Company and AT&T have partnered to enhance the Rouge Electric Vehicle Center on Ford's historic Dearborn Rouge site by outfitting it with 5G cellular connectivity to help build the new all-electric Ford F-150 Lightning pickup.
Ford's private 5G network based on AT&T 5G with AT&T's Multi-Access Edge Computing (MEC) technology will support the 2022 Ford F-150 Lightning F-Series truck production. 5G connectivity can help support the electric vehicle landscape by enabling future capabilities at the Rouge Electric Vehicle Center, including the ability to: Support New Technology – Employees use tablet computers to send and receive information about equipment status and material supply on the production line.
Phones are also used as a vision system to scan specific components of the vehicle for accuracy. Both phones and tablets will have 5G capability for faster processing times and better connection. 5G will support additional applications as the devices are updated to enable 5G connectivity. Improve Automated Industrial Vehicles and Machinery – Employee safety is the highest priority for any production facility.
The lower latency of 5G can help automated robotics and machinery make better decisions and faster reaction times to improve workers' safety. Enable Faster Wireless Vehicle Updates – Previously, vehicle software updates had to be made using mobile computing hardware, but now Ford makes these updates wirelessly. The 5G technology at the Rouge Electric Vehicle Center will provide a better connection for these updates, saving processing time. 
What are 5G adoption challenges in the transportation sector?
First and foremost, 5G is an evolution of LTE. So the traffic capacity and speeds are table stakes. But now, as we have moved past LTE, software-defined networking has emerged. Spectrum options and new methods to use the spectrum are also becoming apparent. It has opened up the possibility of various things, some of which we are yet to discover. That is the real beauty of adopting 5G. Beyond traffic capacity and speed, how we accomplish the following stage is interesting, and it involves ecosystem play. The customers provide us with suggestions that go beyond the requirements for speeds and feed The good news with software-defined is you can do more with it. But, as with any other software, if it isn't user-defined, you may not get the experience you desire on the other side.
The advanced capabilities and setups we're trying to create require us to work together to reach the true potential of this converged architecture that everybody's talking about. We are beginning to see coming together in small pockets, starting in the labs. But now, how can we scale this? We look at some of the environments we've created together with our research partners, such as Texas A&M University and JBG SMITH's National Landing smart city project in Northern Virginia with Amazon. How can they participate and assist our partners to feel that they can test these technologies in real live environments? And that's where we'll get to see the next generation of adoption when companies will be able to try and test some of these technologies in real-time & in real environments.
AT&T and Texas A&M University
AT&T and The Texas A&M University System's RELLIS Campus partnered to launch 5G technology to promote 5G innovation, exploration, education, and training. The campus is open for public and private sector participants to access the testbeds to explore 5G-powered autonomous vehicles, robotics, roadside safety, physical security, large-scale infrastructure, autonomous agriculture, the Internet of Things, and smart cities, among other predicted use cases.
Research in the area of autonomous vehicles and roadside safety will have direct impacts in a variety of fields, including ground and aviation transportation. Researchers will test the use of smart intersection grids that allow sensors and human factors for decision-making on the road, and precision navigation, so a vehicle knows its surroundings for safe operations. 
AT&T and JBG SMITH
AT&T and JBG SMITH are collaborating to deliver the first 5G Smart City at scale in National Landing, home to Amazon's second headquarters and Virginia Tech's Innovation Campus, in the first half of 2022. 5G, with local area compute edges, could make National Landing a prototype for smart cities of the future and create a unified consumer experience across asset types.
The area could also enhance offerings in mobility and self-driving vehicles, immersive retail and entertainment, building automation, and environmental sustainability. A combination of mmWave and sub6 5G spectrum will be enabled by an interconnected series of building side-mounts, street furniture, and underground network infrastructure. AT&T and JBG SMITH envision National Landing as a canvas for smart city innovation in industry clusters such as defense, cybersecurity, cloud/edge computing, internet of things (IoT), and artificial intelligence (AI). The robust technology infrastructure that is expected could give businesses, residents, and visitors the opportunity to connect everything and everyone in near real-time. 
Read the complete article in the 5G Magazine
All
2022 Predictions
2023 Predictions
5G Edge
5G for Manufacturing
5G for Transportation
5G Monetization
5G Towers
Featured
Foundation
Leaders
Open RAN | 2021
Open RAN | 2022
Perspective
Private Networks | 2021
Private Networks | 2022
Security
Tech and Connectivity
TechFusion
Telco Cloud
All
2022 Predictions
2023 Predictions
5G Edge
5G for Manufacturing
5G for Transportation
5G Monetization
5G Towers
Featured
Foundation
Leaders
Open RAN | 2021
Open RAN | 2022
Perspective
Private Networks | 2021
Private Networks | 2022
Security
Tech and Connectivity
TechFusion
Telco Cloud
All
Aerospace and Defense
Agriculture
Commerce
Datacenter
Education
Energy & Utilities
Financials
HealthCare
Industrial Automation
Innovation Hub
Manufacturing
Media and Broadcast
Mining
Ports
Public sector
Retail
Smart Cities
Sports
Transportation
All
Aerospace and Defense
Agriculture
Commerce
Datacenter
Education
Energy & Utilities
Financials
HealthCare
Industrial Automation
Innovation Hub
Manufacturing
Media and Broadcast
Mining
Ports
Public sector
Retail
Smart Cities
Sports
Transportation