5G Private Network Blueprints Automotive and Federated AI | SCF and Jio
Ravi Sinha provides an update on the current status of the blueprints, with a focus on the automotive sector blueprint and federated artificial intelligence.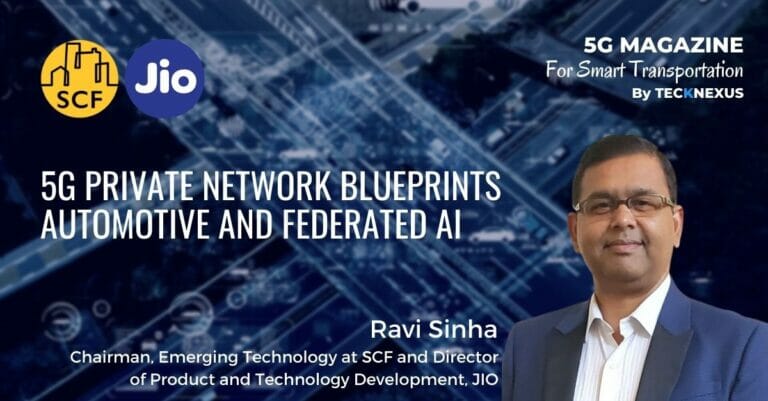 SCF Private Network Blueprints
Ravi provides an update on the current status of the blueprints, with a focus on the automotive sector blueprint and federated artificial intelligence.
SCF started the blueprint initiative last year in October. As a part of this 5G enterprise private network blueprint initiative, SCF is developing a series of technical and deployment blueprints to address an important gap in the mobile network market. These will provide common reference designs and deployments that reduce the time, cost, and risk of developing small cell networks. Nowadays, many smaller private network operators are getting hundreds of millions of funding.
That means the private enterprise market is hot, and our work will positively impact the industry. SCF has done great work developing components around FAPI, N-FAPI, and Sub-6 reference designs, neutral host-related interfaces, open6, etc. The target is to develop a whole ecosystem and develop a marketplace on top of it to take small cells to the next-generation services.
The functional layout of dedicated enterprise private small cell networks
See the related architecture diagram in the 5G Magazine.
SCF is currently making good progress on the blueprints and developing Minimum Viable offerings (MVPs). A lot of work is already in place. We are always looking for partnerships and collaborations to grow and provide highly packageable blueprints and frameworks for the world.
The October press release mentioned that SCF is working on blueprints for several verticals, including automotive, industry 4.0, and smart city. In that context, SCF would like to collaborate with many Standardized Development Organizations (SDOs) and other industry players.
SCN Service Slice: Automotive
One of the SCF goals is to promote and ensure smartly stitched cognitive connectivity frameworks that will support the connectivity piece or infotainment piece in automotive, focusing on outdoor small cells, sub6 or millimeter-wave. This is an area where SCF is developing blueprints and building a small cell ecosystem around it.
But the most important piece that SCF can add to the automotive SDOs like 5GAA is
How to bring the roadside units and small cells together
How to bring the edge infrastructure together in such a way that this becomes a common fabric, and
How the telco edge and an automotive edge become a common fabric
Federated AI platform Play: Automotive Use Case
See the architecture diagram in the 5G Magazine.
The above diagram shows different layers forming a complete automotive ecosystem. The top layer is a software-defined car consisting of a vehicle, vehicle mobile edge infra, central ECU, vehicle sensors and IoT networks, infotainment, CV2X platforms, vehicle OTA platforms, and cloud-native centralized EEA. They are all integral parts of the next-generation cars.
Multiple networks interface inside the car based on regulatory aspects. The car interfaces with smart city networks and hyper-scalar networks to access some of the specific cloud-based applications. All those areas need different layers of support. E.g., 5G connectivity for infotainment from the MNO, CV2x connectivity from RSUs and infrastructure vendors. There is a possibility of combining two or more boxes and building a cost-effective solution.
The CV2X RSU piece and the 5G RAN can coordinate from the 5G network connectivity side. The county smart city network consisting of smart security, smart traffic infra, smart city, and other smart city services can provide connectivity from another side. All these components need coordination to converge into a single-edge infrastructure.
Additionally, coordination with the marketplace hyper scalars like AWS, Azure, Google, and others related to mobility service, infotainment, automotive app, advanced analytics, industrial cloud, enhanced autopilot, and OTA platforms is also required. All four layers need to coordinate, operate, and cooperate to build a real ecosystem and smart service like CV2X. This would be possible when multiple SDOs like 3GPP, SCF, ORAN, 5GAA, and county network providers work together under a common orchestration or automation framework.
A federated AI/ML engine on the top can coordinate across the layers to allow for data monetization and federated learning – that is the goal. Different SDOs, at their own capacity, are doing their level best, but coordination and cooperation are the mantras of success, especially in enabling the CV2X.
This would enable innovation, and SCF is in a good place to collaborate with some of the forward-thinking SDOs like 5GAA. Other SDOs, like ORAN, are also interested in going in that direction. We all can work together to create an effective, optimal, and flexible ecosystem in terms of connectivity that will be good for service chaining and next-generation service infrastructure.
5G/ 6G Telco-based wireless MNO and FWA industry is governed and regulated by 3GPP, ORAN, ETSI, SCF, and other SDOs, whereas Productization and Certification framework is going to Facebook TIP initiative and similar organizations. Data processing (Data Lake, Data Warehousing, and Analytics ) proposal is guided by ORAN.
Automotive is regulated and governed by 5GAA like organizations, which define Automotive Edge Fabric as well as Roadside and Car Modules for V2I and V2V communications. Smart City Networks (Traffic Light Networks, Hazard Warnings, Pollution Level- Air Quality Index, and more) have no global SDO. Federated AI can bring all three platforms to one so that a combined Data Lake and warehouse with all analytics needed to cross communicate and a common data framework are available for Public consumption.
Read the complete article in the 5G Magazine
All
2022 Predictions
2023 Predictions
5G Edge
5G for Manufacturing
5G for Transportation
5G Towers
Featured
Foundation
Guest
Leaders
Open RAN | 2021
Open RAN | 2022
Private Networks | 2021
Private Networks | 2022
Security
Telco Cloud
All
2022 Predictions
2023 Predictions
5G Edge
5G for Manufacturing
5G for Transportation
5G Towers
Featured
Foundation
Guest
Leaders
Open RAN | 2021
Open RAN | 2022
Private Networks | 2021
Private Networks | 2022
Security
Telco Cloud
All
Aerospace and Defense
Agriculture
Commerce
Datacenter
Energy & Utilities
Financials
HealthCare
Industrial Automation
Innovation Hub
Manufacturing
Media and Broadcast
Mining
Ports
Public sector
Retail
Smart Cities
Sports
Transportation
University Campus
All
Aerospace and Defense
Agriculture
Commerce
Datacenter
Energy & Utilities
Financials
HealthCare
Industrial Automation
Innovation Hub
Manufacturing
Media and Broadcast
Mining
Ports
Public sector
Retail
Smart Cities
Sports
Transportation
University Campus